The time for postponing discussions of environmental issues is over. This is the main thrust of two music-and-sound-powered documentary projects, both of which aim to encourage honest conversations about climate change and to explore the many ways our lives intertwine with—and impact— the fate of the natural world. In her documentary theatre work Tar Sands Songbook, Brooklyn-based Canadian composer, educator, and violist Tanya Kalmanovitch returns to her childhood home in Fort McMurray, Alberta, to look at the catastrophic effects of the province's crude-oil production. On the B.C.-based podcast Future Ecologies, a different kind of audio documentary, coproducers and cohosts Adam Huggins and Mendel Skulski invite an array of voices to illuminate for listeners a wide variety of ecological topics. In both projects, music and sound design are key storytelling elements, taking us on an immersive journey into the sources of life on our ailing planet and exploring what can be done to reverse the damage we have caused.
"I spent thirty years trying to keep the two parts of my life separate: oil and music, Fort McMurray and New York. Now it was like the tectonic plates of my life were colliding inside me."
This evocative image is shared in the opening monologue of Tanya Kalmanovitch's Tar Sands Songbook. Compelling, critical, and compassionate, the deeply personal project combines the violist's recollections of growing up in Northern Alberta with oral histories of the land contributed by people who have spent their whole lives in the area. Kalmanovitch's voice is joined by recordings of Indigenous elders, oil-patch workers, and others affected by their proximity to the Athabasca Oil Sands (also called the Athabasca Tar Sands), which she calls "the largest and most destructive industrial outpost in human history."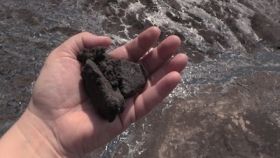 The story begins with a black, viscous mixture of quartz, sand, and oil: bitumen. The mining and extraction of the semi-solid form of petroleum (also known as asphalt) has resulted in devastating pollution in the land surrounding Fort McMurray. Citing statistics from the Pembina Institute, a Canadian nonprofit think tank focused on clean energy, Kalmanovitch explains during a video call from her home in Brooklyn how 1.36 trillion litres of toxic liquid waste have leached into the groundwater of the Athabasca River since oil-sands mining started in 1967, causing rare cancers and health problems downstream in Fort Chipewyan. The interview clips on this topic that appear in Tar Sands Songbook are combined with stunning photographs, field-recording samples, and an improvised score, as Kalmanovitch turns her performances into a safe space for urgent conversations.
"What has happened in Fort McMurray represents a massive trauma on human, social, and environmental levels," says Kalmanovitch. "By giving testimony to my implication in this history, I create a space for other people to do a similar reckoning. Inside the ritual space of performance, I create this envelope that draws them inside. I say it's OK for them to be there with me. We're going to cry, tell some jokes, listen to some fiddle tunes, and see some scary shit. But you're in good hands. I've got you."
In 2015 Kalmanovitch was speaking on an Earth Day panel discussion about climate change, in her faculty position at the Mannes School of Music at The New School in New York City. As conversation turned to the Keystone XL pipeline, Kalmanovitch suddenly realized they were talking about Fort McMurray. Although she had left her family home in the northern province long ago, earning a degree in psychology and a Ph.D. in ethnomusicology before leaving Alberta behind, Kalmanovitch was struck by a revelation that the environmental effects caused by oil mining near her birthplace had become a hot-button international issue. "I felt ashamed for reducing this complicated place—my family, this wound—into a perfect soundbite," she says. "It wasn't like the world needed another panel discussion. I needed to go home."
Kalmanovitch, who grew up in an Edmonton neighbourhood called Petrolia, recalls the Esso gas station owned by her stepfather and a McDonald's restaurant that was proudly decorated with an oil pumpjack. She was conditioned to ignore oil at an early age, even as it seeped into her life from all directions. Kalmanovitch says these deliberate, longstanding efforts to normalize oil, which date back to 1930s marketing, promote "a modern, efficient, progressive energy source to meet the needs of human beings."
Alberta's official rhetoric—that the province produces clean energy with the highest environmental standards in the world—continues into the present day, while the petroleum reserves of Saudi Arabia have long been smeared as dirty oil. This spin was introduced in a speech given by former Alberta premier Ernest Manning in 1967 (he sounded like Walt Disney, Kalmanovitch says) to celebrate the opening of the Great Canadian Oil Sands plant. This event heralded the world's first large-scale commercial factory built for mining and refining, with pioneering technology in bitumen extraction.    
"You don't notice that you're surrounded by oil because it's utterly normal," she says. "It never occurred to me that petroleum had anything to do with where I lived. It never occurred to me that petroleum jelly, which was on the label for Vaseline, was an oil product. There's a way in which brand identities have a sanitizing quality. On top of that, there's an extra layer, because oil is seeded so seamlessly into everyone's lives. In a petroleum state like Alberta, it has numerous positive benefits attached, and there's a huge social cost to speaking out against it."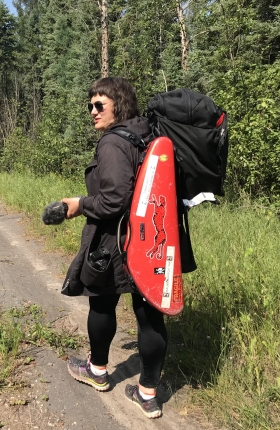 Kalmanovitch learned how to play the violin in a Suzuki music program, which she began at age three. At thirteen, she learned that the oil industry surrounding her wasn't as clean or progressive as its officials claimed. In January 1984, CBC-TV's current-affairs program The Journal devoted an entire episode to the dangerous connections between fossil fuels, greenhouse gases, and climate change. (In 2011, the program host, Peter Kent, became Minister of the Environment under Prime Minister Stephen Harper, of the Conservative Party of Canada. "[Kent] went from being a journalist who reported on this story in a responsible way to becoming the politician who repealed three major omnibus bills protecting plants, animals, and water life," Kalmanovitch sighs. "They buy people. That's how power works.")
Immediately after high school, Kalmanovitch moved to New York. After receiving a Bachelor of Music in viola performance from The Juilliard School in 1992, Kalmanovitch joined the genre-spanning Turtle Island String Quartet (now known as the Turtle Island Quartet), and more recently has received acclaim for Heart Mountain (a 2007 duo album with pianist Myra Melford) and Magic Mountain (a 2016 album with fellow violist Mat Maneri).
At the tail end of the 2000s, the international outcry against the Athabasca Oil Sands grew louder. Working in solidarity with frontline Indigenous communities, the activist organization UK Tar Sands Network (now known as No Tar Sands) challenged oil companies such as BP and Shell for their investments in the Canadian industry. Protests against the Tate Museum in London for accepting sponsorship money from BP earned front-page coverage in The Guardian. Kalmanovitch says the impact these international campaigns had on Albertans were simply interpreted as "more anti-oil noise." Yet for people outside of the province, seeing for the first time images of its toxic tailing ponds and oil-soaked animals was shocking.
During this time, Fort McMurray became a popular target for crusading celebrities. Perhaps the harshest words came from legendary rocker and activist Neil Young, whose 2013 visit to Northern Alberta prompted the environmentally outspoken artist to compare the oil sands to Hiroshima and describe them as a wasteland. "That was seen by people in Alberta as a total betrayal," says Kalmanovitch. "It was during that moment when everybody was piling on." While shooting his Oscar-winning performance in the frontier survival film The Revenant (2015) in the wilds of Alberta, actor Leonardo DiCaprio visited the oil sands to create the environmental documentary short Carbon and took the ice bucket challenge with residents of Fort Chipewyan. Rallying against corporate greed, DiCaprio argued that "history will place the blame for this devastation squarely at their feet."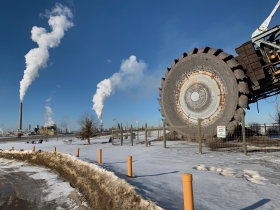 As she continued her process of self-excavation throughout the past decade, Kalmanovitch became increasingly frustrated with the limitations of her creative vocation. Though she had achieved goals that once seemed impossible for a musician growing up in an area she describes as "geographically and culturally remote," her values as an artist were still defined in external terms. "It started to trouble me that the work I was doing had no relation to who I am and where I come from," Kalmanovitch says. "The work that I do in improvised music seems to be about playing to the same small cohort of mostly white, upper-middle-class men. All of that occurs within an ecosystem that is always funded by foundations and federal or provincial support. It doesn't live anywhere except in a way of reifying or upholding the role of institutions, when it should be questioning them."
To reduce these growing resentments, Kalmanovitch headed home to Fort McMurray. Initially, she planned to do interviews, capture field recordings, and document her experiences in a book of graphic scores, but the project expanded into an ambitious performance piece. Early versions of Tar Sands Songbook featured two actors alongside Kalmanovitch, until she stripped it down to feature just herself accompanied by voice recordings and pianist Andrew Boudreau. To make the work more accessible to audiences in more remote locations, it has not been designed for large concert halls that could be prohibitively expensive. Kalmanovitch prefers intimate spaces such as community centres, living rooms, or garages. She has even presented the piece inside a teepee at the Healing Gathering for the Land and Water hosted by Fort McMurray First Nations.
In early 2020, Kalmanovitch received funding from the Canada Council for the Arts to extend Tar Sands Songbook into a ten-year durational performance. "My decision to turn this into a longer-term project was a deliberate move away from colonial and imperialist knowledge strategies in the performing arts," she says. "The idea is usually that you have a product that you take to market. You take it to the Edinburgh Fringe Festival and are paid $50,000 to perform it once—then, what's your next show going to be? I can't do this piece in the same way because it's quite literally the story of my life. With each iteration, we return continually to the source but shift the narrative, the music, and evolve it."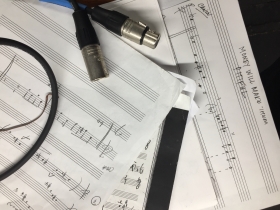 Prior to COVID, Kalmanovitch had planned to set out for a series of performances in locations tracing the pipeline, railway, and truck routes carrying Alberta oil into global markets. Her tour (currently taking place over Zoom, in communities where people live in close proximity to oil) will end in 2030, the year the United Nations' Intergovernmental Panel on Climate Changes predicted that catastrophic effects would befall us. Once again, this is based on her efforts to combat cultural gatekeeping.
Beyond oral histories, Kalmanovitch highlights how Tar Sands Songbook centres music and sound as forms of storytelling. "A lot of my work onstage is not with an instrument in my hand," she says. "It's about uncovering what it means to listen." In the graphic score presented to the pianist who accompanies her onstage, dots in various sizes represent the explosions of propane cannons surrounding tailing ponds. The first notes you hear in the piece are a transcription of the bird call from a white-throated sparrow, which is woven into the fabric of Kalmanovitch's life with the same invisible quality as oil. When she heard these distinctive, recognizable sounds in New York, she realized that the sparrow was also born in the region of Fort McMurray before migrating down to the East Coast of the U.S.
"Playing the birdsong requires you to abandon the idea that we are not all living creatures, part of the same interdependent living, breathing system," says Kalmanovitch. "When I turned fourteen, I said I was going to become a musician because it has nothing to do with oil. Thirty years later I turned forty-four and discovered I had achieved my goal, but could I really say I was doing anything? The idea of anyone who becomes a successful musician involves flying around the world and leaving a huge carbon footprint. I realized that music is very oily indeed."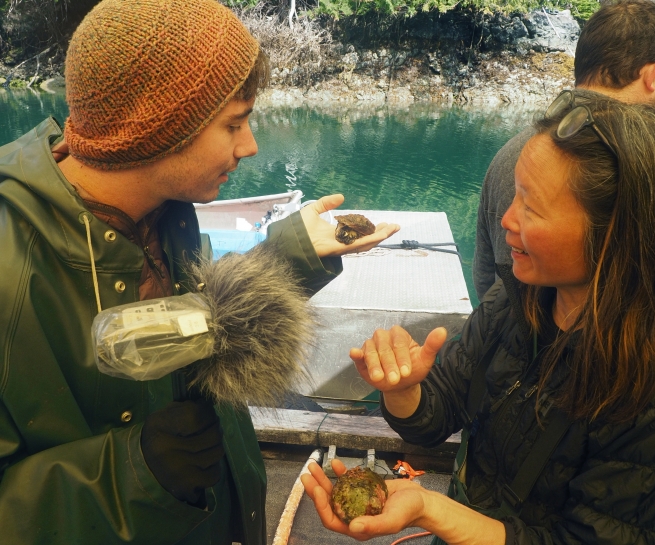 Future Ecologies shares many qualities with Tar Sands Songbook, combining poignant storytelling with spellbinding soundscapes and heartfelt discussions of the natural world. Now midway through its third season, the B.C.-based podcast series led by coproducers and cohosts Adam Huggins and Mendel Skulski has taken deep dives into topics that include kelp, controlled forest fires, and what they call "freakological fallacies." They have interviewed the likes of guerilla gardener Oliver Killhammer and ethnobotanist and self-described "Indigenous plant diva" T'uy't'tanat Cease Wyss. Even soundscape-ecology luminaries Hildegard Westerkamp and Bernie Krause have made an appearance.
"We're passionate about sound, and big nerds when it comes to nature," says Skulski. "At the time we were getting started, the show we wanted to listen to didn't exist. When I first got into podcasting, I fell in so deep and started listening all the time, but I was upset because it pushed out the music listening I had done previously. I wanted to hear that information overload shared by people talking with passion, but was also missing the amount of sonic richness that I had before. Right off the bat, we agreed to try really hard to produce the heck out of this thing."
Like so many labours of love, Future Ecologies began as a school project. Huggins moved to Canada from California's Bay Area to study film at Simon Fraser University, but dropped out after realizing that his time and energy could be better spent elsewhere. His introduction to ecological restoration came when he found his way to the Purple Thistle Centre, a youth-run anarchist art space and hub of social activism in East Vancouver. After transferring to the University of Victoria to pursue a degree in biology and environmental studies, Huggins took on the creation of a podcast as an alternative to essay writing. His professor had already moved the classroom onto a sailboat, presenting an invitation to explore new media forms.
Huggins had experience with audio editing from his time at film school and a parallel practice as a musician, but he still needed help. Through mutual connections between their households, he was introduced to Skulski, a fellow Purple Thistle Centre alumnus. As a member of the Vancouver Mycological Society, Skulski's interest in mushrooms has become another recurring theme throughout the series. The two bonded over an appreciation for heavily produced podcasts such as Radiolab and Love + Radio, aiming to create a project with a similar audio-documentary approach. Future Ecologies weaves the cohosts' commentary into immersive sound collages featuring quotes from their subjects.
"There are so many interview shows out there," says Huggins. "With really good speakers, you sometimes have the chance to hear them on ten different podcasts talking to ten different interviewers. Sometimes the information is redundant, sometimes it's not, but the format just isn't that interesting to me. Whereas, if a show is produced beautifully with a narrative, I don't care if it's a topic that I've never thought about before, I'll listen to it if it's really well done!"
Like Kalmanovitch's efforts with Tar Sounds Songbook, Future Ecologies aims for inclusivity. The information discussed may be complex, but it is presented in an engrossing format so that listeners from various backgrounds can gain an understanding.
"We wanted to reach people who might not have a lot of ecological literacy but might still be interested in the ideas we raise," explains Huggins. "There are aspects of philosophy, social justice, history, and political ecology in there as well. At this point, we're not thinking that we're going to reach Joe Blow, but we do want to keep that door open. People who tune in don't have to look past the quality of the podcast to get to the content. Our goal is that they'll actually be hooked by how great it sounds, even if they weren't sold on what we were talking about."
Huggins is the musical half of the duo. During a video chat from his home on Galiano Island, a collection of instruments and recording equipment can be seen just out of frame, while he proudly sports a Radiohead hoodie. Under the moniker Sunfish Moon Light, he composes a large portion of the ambient soundscapes featured in each episode. The series has also showcased an impressive selection of independent artists that includes Toronto's retro-futuristic synthesist Leucrocuta, Vancouver bowed guitarist C. Diab, and left-field dance music producer Yu Su. Whenever possible, the music featured on the show connects with a theme that the hosts are discussing, such as the instruments made from locally sourced, renewable materials used by The Legion of Flying Monkeys Horn Orchestra— a travelling road show with elements of audience participation created and presented by Vancouver instrument-maker Mr. Fire-Man.
"Speaking as somebody who doesn't have musical skills to make what I want a podcast to sound like, I'm more limited to going out in the world and finding things that fit our motifs," says Skulski. "It's such a joy for me to feature music I really love, especially local bands or people we've found from around the world. I really aspire to having one dimension of Future Ecologies become a music discovery platform, where people will be inspired to learn more about these artists and then go support them."
"My critique of environmentally [themed] music is that a lot of it ends up being plaintive eco-folk [material]," adds Huggins. "It's produced primarily by white people, like us, and reflects their experience in nature. But that isn't the kind of music we're trying to feature, [which is] music that reflects natural phenomena, that can sometimes be dirty or have different moods. It's not just that folky, wordy form of expressing an appreciation. Sometimes we're aiming for discomfort sonically because the natural world isn't always harmonious. Maybe it is internally, but that's not our experience. There's a lot of instrumental and ambient music that makes me feel like a soil microbe."
---
Photos of Tanya Kalmanovitch performing her Tar Sands Songbook, field recording, and score by Tanya Kalmanovich. Bitumen photo by Reuben Radding.  
Photo of Future Ecologies' cohost Adam Huggins interviewing Lynn Lee by Mendel Sulski.  Animation for the Future Ecologies podcast was made by Maya Motoi. 
---
AUDIO: Money Will Make Them Pitiful (Kalmanovitch).
Two tracks from Tanya Kalmanovitch's Tar Sands Songbook and a specially edited excerpt from Future Ecologies episode 2.5 ("The Nature of Sound") are included on the Musicworks 139 CD - available from our shop!
---