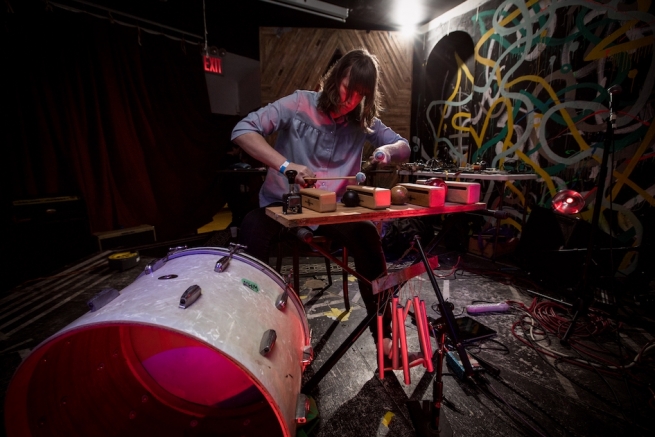 Identity is a deeply personal, elusive, and complex thing, and thus, a common source of creative fuel. Yet for the endless variety of discrete identities and individual perspectives on the topic, there is a dominant set of tropes around the way that identity is addressed artistically. The supposed concreteness of narrative is often turned to, when grappling with these troublesome questions—even for artists of an abstract bent. After all, telling one's own story, and doing so clearly, can have an affirming impact on audiences and artists alike. It can serve to reify and validate things people feel and that they're experiencing in isolation.
American composer and percussionist Sarah Hennies' work subverts almost every aspect of this narrative paradigm, and yet still reflects these insights and truths. Over the past decade, Hennies has unfolded a varied body of work that seems to chisel away at its own surface, until an alternate reality is revealed. Some of these dazzling environments push to the breaking point listeners' assumptions about sound. Recent works in which she centres her subjectivity as a transwoman—such as Contralto, premiered at Brooklyn's Issue Project Room in November 2017—convey a rich landscape of critiques and emotions through embodiment, rather than narration.
"This sounds like a total cliché," she begins, characteristically self-aware, "but for literally as long as I can remember, I was totally obsessed with music."
Born in 1979 in Louisville, Kentucky, Hennies quickly graduated from playing with musical toys to requesting piano lessons at age five. After a few years in band at her elementary school, she began private drum lessons at a local store. The first punk show she attended opened a window to another expressive realm. By age thirteen, Hennies had joined some older acquaintances in a local band called The Telephone Man. Louisville was a fertile place for young independent rock misfits in the early 1990s, with notable math-rock bands Slint, Crain, and Rodan, the avant chamber ensemble Rachel's, and a bountiful hardcore scene. The abundance of all-ages shows ensured that kids had access to all this as listeners and performers. Far from the flailing abandon one might expect, recordings of Hennies' playing from that time display a dynamic sophistication and precise, clean ornamentation that belie her age.
"If I hadn't been in bands in middle school or high school, I don't know what I would've done. This sounds dramatic, but I don't know that I would've survived being a teenager, because I was just that unhappy."
The music of Pitchblende was Hennies' first nudge along a more adventurous path. The band's dissonance, noise, and jagged rhythms felt revelatory to her at the time. Curiosity piqued, she began flipping hungrily through the well-stocked bins of local record stores Ear X-tacy and Ground Zero, and through whichever books, fanzines, and magazines she could acquire. Her creative pursuits began to match the wayward breadth of her listening habits—solo four-track experimentation with synthesizers and other implements, drumming with angular rock trio Nero, and sprawling communal jams.
In eleventh grade, Hennies transferred to duPont Manual High School, which offered a performing arts program with a full complement of orchestral and keyboard percussion instruments, affording further scope for exploration. "I don't think I saw it (classical percussion repertoire) as oppositionally different from rock music," she says. "I just was excited to find another thing that was weird, unusual, and that I hadn't heard before." And indeed, Hennies subjected this body of work to the same intense scrutiny and rapturous appreciation she had begun to bestow upon other outside music canons—noise, improv, drone.
"I bought a recording of Xenakis' Pleiades in my senior year of high school, because I saw that it was a percussion CD and that the composer had a weird name, and so I figured it would probably be good," she deadpans. Hearing older schoolmates rehearse Elliott Carter's Eight Pieces for Four Tympani, she wasted no time ordering a recording of it—a disc which also featured John Cage's Second Construction. Her mind blown again, she procured Silence and the score for One4, a solo percussion piece from Cage's beguiling Number Pieces series, which she eventually recorded in 2013.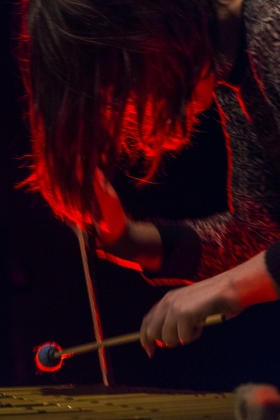 Music school seemed like it would deliver all of Hennies' primary needs: a ticket out of Louisville, a college education to satisfy her parents, and a means to sustain the joy she derived from music-making. But University of Illinois Urbana-Champaign, where she pursued a performance degree, was not exactly the utopia of inquisitive young musicians she had hoped for. Hennies' response was to continue her personal research. Being able to tap into the school's resources to unearth scores, digest recordings, and absorb repertoire was decent compensation for the lack of aesthetic allies. She tentatively began working on notated compositions and after a few fitful outings in different styles, and some circumspect contributions to concerts, she arrived at the first work she deemed worth keeping. "I had written one piano piece in 1998 that I thought was very good. And it was almost totally silent. It was kind of a theatre piece—but not really," she recalls wryly.
Enrolling in composer and philosopher Herbert Brün's experimental composition seminar gave Hennies a sense of community. Only about ten per cent of the class comprised music students—and that number plummeted, as Brün, noted for his curmudgeonly demeanour, peppered his provocative lectures with contempt for the music department. Despite being painfully shy, Hennies was charmed by Brün's combination of antagonism and intellectual bombast—it reminded her of Cardew's biting screed Stockhausen Serves Imperialism, which she had recently read. Her grasp of Brün's unsung innovations certainly helped too.
One day, without prompting, Brün demanded that Hennies bring him some of her compositions. She complied, muttering a disclaimer about having outgrown the work's central concerns. "Stop apologizing, I'm already looking at it," Brün interjected. Quietly perusing it, he praised her, concluded that her investment was not only evident in the score, but captivating. The comments—especially given that they were unsolicited—were tremendously heartening.
Under the influence of Brün and the aforementioned Cardew manifesto, Hennies had stopped playing in bands, adhering to the hardline dictum that "anything related to rock music is a tool of capitalist oppression." But by the time she reached the University of California San Diego, she had not found an adequate substitute for playing rock, leaving her thirsty for collaboration. Her grad-school cohorts were thoroughly ensconced in their own specializations. The cumbersome material and financial realities around becoming a professional percussionist also started to weigh on her and she became restless.
"The way I respond to sound is much different from how I respond to getting really good at my instrument," Hennies explains. Although composing still wasn't her focus, her work left an impression on her primary instructor, celebrated percussionist Steve Schick. "She was working on vibraphone pieces of a sort that produced Settle [one of Hennies' most widely performed works] and other things that were extremely minimal in their quality," recalls Schick, co-artistic director of Banff Centre for Arts and Creativity's Classical Summer Music. "She didn't, in essence, come to San Diego to learn my repertory and play thorny, big, virtuosic modernist percussion music. Whatever I gave her, I hope it was half as much as she brought to us." Schick introduced Hennies to Greg Stuart, whom Hennies regards as one of the most important percussionists active today. The two became friends and remain frequent collaborators.
Upon finishing grad school, and with her anti-rock idealism flushed away, Hennies was eager to join a band, which she did upon relocating to Austin, Texas, in 2003. Having made contact with musicians in the local community before moving, Hennies soon began collaborating with guitarist Aaron Russell in the duo Weird Weeds, which rapidly expanded to a quartet, thanks to the enthusiastic elasticity of Austin's experimental music community: guitarist and vocalist Sandy Ewen, then a precocious college freshman, was recruited at a party hosted by Josh Ronson, who had run a mailing list devoted to exploratory sounds for many years, and Toronto-born Kurt Newman joined as a third guitarist shortly thereafter, on the condition, according to Sarah, that he only play solos.
The Weird Weeds discography, which spans 2004–2012, is rife with traces of the players' 1990s independent rock pedigrees, but the band was a far cry from any group Sarah had played in before. The raw immediacy of its sound and its penchant for formal fragmentation evokes the music of U.S. Maple, yet that impression is tempered by a rustic chamber-music feel—folksy high-register vocals (from Hennies and Ewen), and audacious, economical percussion. A track like "Fifty Dollars" from Hold Me, their recording debut, is the quintessence of their early sound. Over Russell's clean scaffolding, Ewen's bent twinkles bubble forth as Newman decorates the coda with fried bluesy polytonality.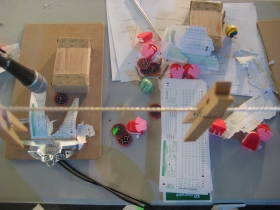 Austin gave Hennies what she'd been seeking throughout school—a stimulating collaborative milieu. "I played with anyone that asked me to, for the most part," she recalls, vigorously rhyming off singer-songwriters, bands, and improvisational groupings. Her nine-year stint with the Austin New Music Co-op saw Hennies nurture an interest in interpretation, performing music by Alvin Lucier, Ellen Fullman, Jeph Jerman, and Arnold Dreyblatt, in various ensemble formations. She and Newman—both studiously adventurous listeners with roots in, to quote the latter, the "horn-rimmed glasses and Dickies-jacket era of indie rock"—became friends outside of Weird Weeds. Their shared love of shred metal and reductionist improv led to their duo The Long Telegram, whose music features pregnant pauses ravaged by grisly bursts of guitar and drum thrash.
Chris Cogburn, a noted percussionist with predilections similar to Hennies', met her on one of her initial apartment-hunting trips to Austin. He had just organized the inaugural No Idea Festival—now an annual event that showcases most exciting and abstract practitioners of abstract music—and Hennies became a staple of his programming, which offered her a boon of personal outlets and meaningful exchanges with other musicians. At one notable "blind-date" concert she played with percussionist Tim Feeney, with whom she and Greg Stuart later formed Meridian. The trio's collective natural inclination toward focused, sculpted intensity sustained Hennies' interest in the band despite her having largely departed from improvisation in recent years.
Hennies' 2010 solo album Psalms marked a small-scale, yet crucial, upheaval. "I finally found a way to make music that felt like it was me," she recounts, describing the epiphany. "It felt that way, unlike anything else I had ever made." That realization, and the album itself, emerged in relation to two compositions included at the end of Psalms. Alvin Lucier's solo triangle piece Silver Streetcar for the Orchestra is a steady fifteen-minute dance of luminous and unpredictable upper partials. In 2009, during rehearsals for a Co-op show featuring Lucier works, Hennies noted the piece's resemblance to her 2001 solo vibraphone piece untitled (1918–2000), a memorial to Herbert Brün, which also employs pulsed repetition to call forth cascades of hidden resonance. During that same rehearsal, cellist Charles Curtis mentioned to Hennies that he had once been asked why Lucier is, in his work, preoccupied with echoes; Curtis had responded that, essentially, it's just who he is. This remark about Lucier suddenly gave coherence to Hennies' compositional impulses.
"If Alvin Lucier is just making work based on the thing that he's naturally inclined to be interested in, maybe I can do that too. It was a clear conscious shift from 'maybe I'll try a string quartet' to asking myself, 'What is the thing that I am interested in?'" Hennies recalls. The steadfast pulses of her three-part composition Psalms (one part each for snare drum, woodblock, and vibraphone) reveal one possible answer to that query. With every consecutive, seemingly identical impact, its rigid sonic shell crumbles away, revealing a core of intrinsic and irrepressible fluidity. Another response to that question was more straightforward and practical: composition was a primary interest. Hennies streamlined her practice accordingly.
Hennies' kaleidoscopic ultraminimalism sharply contrasts with ostensibly similar music of other composers—the sort of music that evinces an almost clinical interest in psychoacoustic phenomena. In her hands, these precise perceptual shifts instead open secret passages into the visceral realm—both for listeners and for her. They tease auditory intoxication and acute lucidity from the same surface, but also burrow into an abstract autobiographical dimension and project her subconscious outward.
"I wanted to make music to learn about myself because my self didn't make any sense to me," she recalls of that time. The pieces on the albums Work (2014) and Clots (2015) manifest a particular facet of that research in their deliberate exploration of the physical labour that goes into music-making. Hennies played a gruelling out-of-town engagement, lugging all of her gear upstairs after driving without air conditioning in the searing Texas heat. Rather than causing her to end up exhausted, the show left her energized by her own exertion. The monotony of an exceptionally tedious bill-processing job that she held at the time was an additional source of inspiration. Phrases on Clots were matched to the exact duration of that very task. "I got really into this idea of taking things that cause you difficulty and putting them into music—to turn them into something that was valuable, rather than just a drag on your spirit," she explains.
 "My music started engaging with the question of identity before I was engaging with it myself on a more literal level." Hennies' realization that she is trans arose seemingly out of nowhere, at a June 2014 gig by noted trans and queer punk band Spook School. Once she eventually sifted through her past in an effort to excavate some sort of context, she discovered that her music had, in some sense, eased her toward that moment. Everything about it—its intimation of hidden resonances, interrogating the limits of her own body, even her attraction to the "unknowable identity" of percussion—assumed new magnitude. "It's the idea of taking something that you have a lot of assumptions about, that you think you understand, and also that you think has no further possibilities, and then it turns out you know very little about it, it's very different than you thought it was and it's more interesting than you thought it was," she says. "So—if you want to read that in the context of a person that is thirty years old and doesn't realize that they're trans—that makes a lot of sense."
Apart from being plagued with confusion and self-doubt her whole life, not much else aligned with the cisnormative coming-out stories trotted out by the media and mainstream culture. In discussing her 2016 work Falsetto for the Web site Lateral Addition, she writes that she "lived mostly cluelessly outside the worn-out 'ever since I was a little kid, I knew I was different' trope. In fact, even among my other trans and queer friends, I don't know a single person whose experience resembles my own (which, as it turns out, is a common feeling among many trans people . . . that we can't relate to anyone, including other trans people)."
Falsetto is a solo piece that repurposes the diligent work ethic of earlier pieces as a potent, multifaceted commentary on being trans. Its patently ridiculous demands on Sarah as a performer produce a tense metaphor-rich theatricality. Every limb is engaged in maintaining a patina of constant metallic jingling, yet they're also responsible for carrying out an obsessive agenda of discrete musical duties. The result is half an hour of Hennies contorting uncomfortably, prodding wind chimes with her knees, occasionally dropping drumsticks, and missing beats, as she struggles to keep throngs of thrift-store bells sounding between each of her digits. The meticulous structure she's very palpably striving to uphold inevitably collapses in on itself. The performance's relentless physical awkwardness evokes the manifold work that transpeople endure in order to navigate the mundane aspects of life. The sardonic preamble she provides before performing it helps to cement this impression. In it, she singles out a phrase that was misguidedly supplied for participants of voice-training class for transwomen that she took. The sentence defined the proverbial pot of gold at the end of the rainbow as "man striving for the unattainable."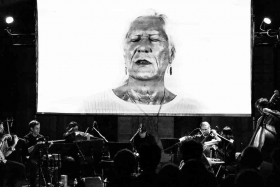 Contralto, arguably Hennies' most tender and most ambitious work to date, applies these concerns to a much larger canvas. It's an hour-long abstract documentary film featuring seven different transwomen and the live accompaniment of a string and percussion ensemble. The character of each of the film's subjects comes across clearly, even though very little is disclosed verbally. Their utterances are mostly puzzling—either vocal exercises from the aforementioned class, sung notes, or judiciously edited-down statements. Instead of watching a narrative unfold, audiences are privy to the most intimate minutiae of these individuals' selves—how their personalities animate their faces, how they respond to absurdity, how they sing a phrase or plain tone. Although the piece is full of delicate humanity, Hennies refers to it as a "protest piece," asserting that scenarios in which transpeople steer the discourse are radical by default.
"Sarah's humour is always present in her work," remarks Philadelphia-based percussionist Ashley Tini via email. Tini performed at the premiere of Contralto at Issue Project Room, and Duono (her duo with Emily Strachan) counts Hennies' Settle and Flourish among its repertoire. "She made a serious film about the effort involved in keeping a transwoman's voice soft. Some of the women talked about not drinking orange juice. There's a five-minute scene of singing high-pitched riddles to earn an identity that they felt was their own all along. This piece helped educate and validate the trans community, while simultaneously opening a door of discussion for the folks who were completely unaware of this daily struggle. Hearing the audience laugh and then applaud with tears in a standing ovation at the end kinda said it all."
Falsetto and Contralto are certainly major achievements, but they are far from the only things that Sarah's done over the last while. She's written substantial pieces for leading interpreters like pianist R. Andrew Lee and guitarist Cristián Alvear. In addition to a forthcoming LP with the Blume imprint, there have been a number of other releases—Fleas (listen to a sizable excerpt on the Musicworks 130 CD), Everything Else, and Orienting Response, the aforementioned guitar work. Gather and Release—two of her most personal works—comprise a titular recording, the first from this recent period. Her deft percussion is woven into a series of cryptic, emotionally charged soundscapes, including an eruptive hiss from a broken heating valve, bi-lateral stimulation (used in EMDR therapy), and a tape of her grandfather reciting poetry.
Hennies' label Weighter Recordings documents exploratory voices on the peripheries. She also hosts Queer Sound Ithaca, a concert series that features queer and trans practitioners of experimental music, and she is still active as a collaborator. She and her partner, artist Mara Baldwin, are currently researching a new work based on the Shakers.
Steven Schick invited Hennies to join the faculty of Banff's 2017 Roots and Rhizomes percussion residency. "Sarah's one of these people that is redefining percussion—an explorer, a linguist in the land of noises," he says. And it rings true. Beyond her generous and intriguing material contributions to music, Sarah has developed unique and uncompromising expressive models—ways to articulate challenging questions around selfhood through sound. For her, these concerns are neither extramusical nor programmatic; they are part of the actual flesh of the music itself.
Audio:
Fleas
, excerpt. Composer and performed by Sarah Hennies.
Learn more.
Photo credits, top to bottom: (1) Walter Wlodarczyk, (2)© Micke Keysendal, (3) Courtesy Sarah Hennies and Jason Zeh, (4) Courtesy of Issue Project Room.