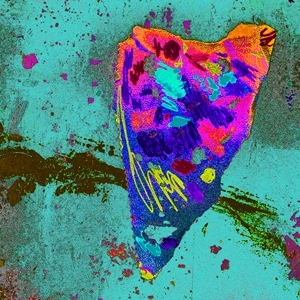 The last place you'd expect to hear a comprehensive showcase of a modern experimental music community is on a dance mix. But with Heart of Toronto, a 2013 CD and download compilation, the Toronto-based label Healing Power has done just that. A compelling snapshot of North America's fourth-largest city's dizzyingly interconnected underground music scenes, Heart of Toronto cross-fades smoothly from tribal protest music by Mas Aya to moody synth-pop from Fan Fiction and Seance Centre, from Ethiopian-inspired free-jazz by Nifty and Brodie West to pummelling techno by Guy Dallas and squelchy electro by Piège (a.k.a composer Nick Storring). The result is simultaneously deep-listening music and something you could safely throw on at a party.
It took Healing Power cofounder Wolfgang Nessel two years to realize his long-standing dream of a Toronto underground dance mix—a testament to his shared slow-burning passion with partner Victoria Cheong for local music, or more specifically, music made by their friends. "Friends" is how Nessel sums up Healing Power's artistic mandate, when asked to define it. "New music, new sounds, new ideas," he goes on to explain.
"We like things to feel new and exciting," Cheong concurs. "People that push themselves as artists within music or sound is what we're interested in. We find an underlying comfort in this idea of the healing power of music and art—for artists and for everyone that listens, and for the community around them."
The sincerity that drove them to christen their label Healing Power may have unwittingly attracted the attention of New Age musicians—ironic given their penchant for unsettling noise alongside more meditative drone music—but their sincere desire to help out their friends has driven them since their first release, a twelve-inch LP for Residents-inspired synth-funk performance-art prankster Man Made Hill (a.k.a. Randy Gagne), co-released with Bennifer Editions in 2010. Observing a lot of creative musicians in their social circles who had yet to release a record, the pair saw a void to be filled.
"It's just a lot of friends who haven't put things out—like Hoover Party," says Nessel. "I just bug Jonathan [Adjemian] every year to see if he has a new record."
Having released two cassettes' worth of synth-based instrumental abstraction (Some Liquidity for These Troubled Times, Vol. 1, HPR 08, and Vol. 2, HPR 15), Hoover Party is now one of the label's core stable of artists—though their relationship remains informal, as it does with the rest of their roster. Other artists Healing Power has recently released demonstrate a deeply interconnected family tree: esteemed improv–noise–global-rhythm duo Not the Wind, Not the Flag (Garments of Light, HPR 21); solo releases by that band's members Colin Fisher (Original Face, HPR 20) and Brandon Valdivia, a.k.a. Mas Aya (Kairos, HPR 19); Valdivia's percussion-and-vocal duo with Alexandra MacKenzie, Pachamama (s/t, HPR 16); and MacKenzie's solo project, Petra Glynt (Of This Land, HPR 14).
"Since it started, Not the Wind, Not the Flag has been my favourite band in the city," says Nessel. "They just work so well together, they always 'go off'—always into space. Anything Brandon touches is golden. He's always pushing himself, finding new rhythms, new ways to express himself."
Cheong concurs: "With Mas Aya, Brandon is writing songs, which is very different for him, to be that raw and vulnerable, because as a percussionist he's such a master."
As for Petra Glynt, MacKenzie's loose overtures to pop, in terms of vocal delivery and song structure, combined with her unique DIY fashion-sensibility and acclaimed visual-art practice have led some pundits to label her a "next big thing" contender—but she seems too focused on making art to go the route of mass appeal. Of This Land's intricate cassette packaging would also raise eyebrows around music-industry marketing tables. Likewise, the label founders and much of their roster live their lives as "total artists," often working unrelated jobs to make ends meet. Nessel is a DJ who also works at the Tranzac, a long-running venue for experimental music in Toronto, while Cheong is a video artist, who also works as an editor.
"However it takes shape, Healing Power is people living and working as artists," says Cheong. "And that is a really rewarding and interesting and beautiful and amazing and uncertain life. But you're living with that risk and gaining those rewards."
Ever fans and supporters of their local community, Healing Power kicks off 2014 by releasing a ten-inch vinyl record by another one of their friends, alto sax man Brodie West, and his warped calypso jazz sextet, Eucalyptus. Of West, Cheong says: "He's endlessly curious and wandering and searching, and that comes out in his music."
When they're not helping out the rest of the scene, Cheong and Nessel make their own music as HVYWTR, a project that began as "loops and drones" but is now "psychedelic techno."
"As mixed up as the label is, that's how mixed up HVYWTR is," says Cheong.
"Whatever sounds we are imagining from what we're hearing all the time, that gets filtered through and ends up influencing us."
"I think it has to be. Yeah," says Cheong. "I think that's a good thing to aspire to."
---
Image: Artwork for Heart of Toronto compilation from Healing Power Records. Image by: Victoria Cheong and Sandy Plotnikoff.