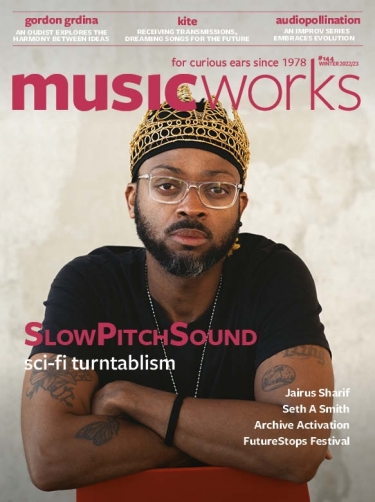 Cozy up with the Winter 2022–23 issue and discover new pathways of sonic connectivity!
ON THE COVER: SLOWPITCHSOUND
With roots in turntablism that extend into the likes of classical composition, sound design, and theatre, Toronto-based artist and musician Cheldon Paterson—aka SlowPitchSound—is an artist whose music is difficult to define. In an interview with Musicworks contributing editor Sara Constant, he sheds light on the moments that have sculpted his uniquely experimental approach to sound, scratching, and sampling. From his first musical experiments to his most recent compositions, Paterson traces how his background as a turntablist has shaped his richly interdisciplinary career—and helped him to self-define his own singular sound.
Kite
Oglála Lakȟóta performance artist, visual artist, composer, and scholar Kite is imagining and authoring worlds that honour Lakota visions and connect past and future generations, and place humans in a cosmology that holds many beings. One of the first Indigenous artists to use machine learning—notably through a hair-braid interface she has designed—Kite imbues her work with Lakota ontology, in which all objects are alive with spirit. She follows and encourages dreaming, breaks down time to rejoice and mourn non-human kin, and questions settler futurities. Writer Terri Hron focuses on scores and sound works from 2021, as well as pre-pandemic works.
Gordon Grdina
Vancouver guitarist and oud player Gordon Grdina has crafted a unique soundworld combining jazz, free improvisation, Arabic music, and rock. Grdina's prolific output has appeared on many labels over the years, most recently on his own Attaboygirl imprint, and his numerous bands range from duos to large ensembles that include top Vancouver, New York and international improvisors. This interview with writer Lawrence Joseph highlights the subtle undercurrent of social justice across his diverse activities, which emerges not from overt statements, but rather as a model of equality and cooperation.
Audiopollination
Toronto's Audiopollination series, which celebrated its tenth anniversary in December 2022, has seen the creation of some incredible music but the sounds may not be its most interesting legacy. As an ongoing experiment in fostering community and creating safe spaces for creative expression, the series is working to transcend the concept of curation to become radically inclusive. This article spends time with series founder Mike Lynn, then radiates outward to Guelph—which now has a local version—while considering the perspectives of long-time series performers, including the author, Joe Strutt.
Multi-instrumentalist and punk-rock jazz outsider Jairus Sharif breaks out of the Calgary scene with Water & Tools. 
Sound artist Seth A Smith builds unique acoustic instruments and creates music that is designed to give temporary relief to those suffering from tinnitus. 
We've got a blow-by-blow account of the inaugural FutureStops, a star-studded pipe-organ festival that took place Toronto last fall. 
Bright ideas from authors Adriana Barton, Danielle Shlomit Sofer, and Paul Steinbeck feature in an extended book-review section. 
And we recap the inaugural Musicworks Live event, Archive Activation, which featured world premieres of graphic scores that were originally published in our earliest issues.
On the CD: 15 tracks of new and rediscovered music from artists featured in the Winter 2022–23 issue.
MUSICWORKS 144 CD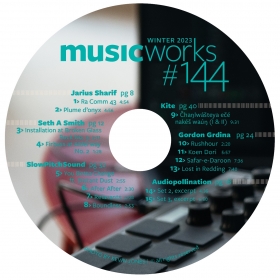 Jarius Sharif
1> Ra Comm 43 4:54
2> Plume d'onyx 4:56
Seth A Smith
3> Installation at Broken Glass Rock No. 3 2:11
4> Firbass at Alderway No. 2 1:28
SlowPitchSound
5>  You Betta Change ft. Distant Dust 2:55
6> After After 2:30
7> Relaxants 2:08
8> Boundless 2:53
Kite 
9> Čhaŋlwášteya ečé nakéš waúŋ (I & II) 9:31
Gordon Grdina
10> Rushhour 2:20
11> Koen Dori 5:57
12> Safar-e-Daroon 7:36
13> Lost in Redding 7:40
Audiopollination
14> Set 2, excerpt 4:35
15> Set 3, excerpt
PHOTO BY KEVIN JONES
© all rights reserved