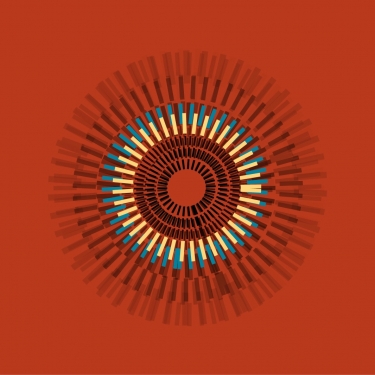 I first encountered Alanna Stuart on a mid-November evening in 2018. After an exhilarating trudge through the snow-muted streets of Toronto's Stanley Park neighbourhood, I made what felt like a heroic landing at Array Space, where a few dozen or so hearty souls were gathering for a social event—punctuated with short sets of music—celebrating the fortieth anniversary of Musicworks.
Bonjay, Stuart's experimental dancehall duo with Ian Swain, performed the opening set, energizing the room with renditions of a few songs from their album Lush Life, which had been released earlier that year. With her high, pitch-perfect voice, eloquent phrasing, and sinuously graceful presence, Stuart radiates a je ne sais quoi that is both warm and mysterious. The music reminded me of something I knew while sounding unlike anything I'd heard before.
My editor antennae picked up Stuart's signal again two years later, when Bonjay and the Queer Songbook Orchestra released a gorgeous version of Lush Life track "Medicine for Melancholy." Orchestrated by La-Nai Gabriel and performed by the aforementioned chamber pop ensemble, of which Stuart is a member, the track, which was released as a single, has been heavy-rotation comfort listening in my home office during the pandemic.
The sentiments Stuart expresses in the chorus may be personal—"On some days / I don't think / I wanna stay / Where I came from / These days / I don't think I belong / Anywhere"—but they are also, and most definitely, universal. (The track deserves to be heard more widely and, in my humble opinion, should be enshrined in a Canadian-music hall of fame.) When the Music Gallery announced that Stuart would be part of its 2021 X Avant festival, it felt like a good time to learn more about how she's been applying her investigative tendencies and scholarly chops to her artistic process and solo projects.
While reading Gloria Blizzard's cover story on Stuart, I took a couple of crate-digging detours to haul out a few the classic late '70s / early '80s albums featuring the Compass Point All Stars, the influential Island Records backing ensemble anchored by the innovative duo Sly & Robbie—drummer Sly Dunbar and the late bassist Robbie Shakespeare. Stuart talks about her recent travels to Jamaica, where she listened to and worked with several luminaries of Jamaican music, including Dunbar and Shakespeare, while exploring new dimensions of her music.
The influence of Jamaican music is also keenly felt in Jesse Locke's interview with Vancouver duo New Age Doom, who were, very possibly, the last musicians to work with the late Lee "Scratch" Perry, another luminary of Jamaican music, who passed away last summer.
It's not often a magazine can boast that its French translator is also "Canada's most unappreciated and brilliant improviser." That's how writer Stuart Broomer described saxophonist Yves Charuest in an email exchange that began as a suggestion for a recording review and turned into a wonderful long read that traces the development of Charuest's distinct identity in jazz and improvised music.
You'd have to read and listen closely to identify the most unexpected common "frequency" in this issue, so I'll tell you: it's the flute. The issue opens with short features on Beny Esguerra, Jessica McMann, and Juro Kim Feliz—composers whose music connect ideas, instruments, and structures from different genres and cultures; the compositions they share on the CD companion to this issue all feature flute. The strange image on the CD label is close-up detail a porcelain bell made by composer Roxanne Nesbitt, who is interviewed by regular contributor Sara Constant . . .  who is also a flutist!
---
Graphic designed by Thang Vu.