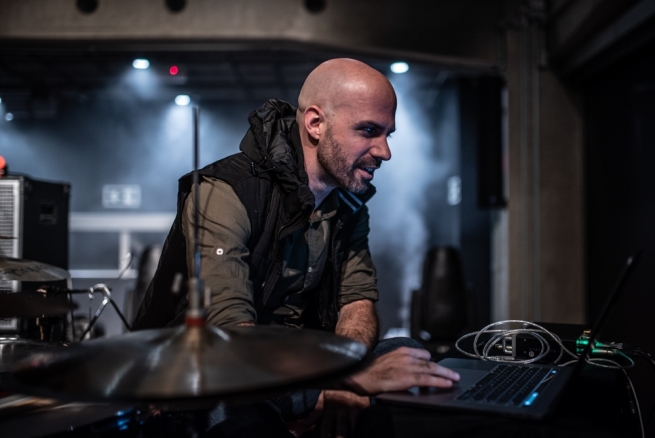 Convergence is often the magical force in the creative process that leads to an ear-catching work. Two or more seemingly disparate elements meet in the imagination of an artist who unites them into something new that resonates with both universal and personal meaning. This is the story behind Brazilian composer Alex Buck's evocative eight-minute sonic journey Screaming Trees.
Buck was in the middle of teaching a class at the Herb Alpert School of Music at CalArts when he received the email informing him that his composition had won first place in Musicworks 2019 Electronic Music Composition Contest. A couple of weeks later, in mid March 2020, we connect for a phone interview. The California Institute of the Arts is now closed due to the COVID-19 coronavirus. Buck, who moved from São Paulo to California seven months previously to enter the three-year Doctor of Musical Arts program for performer-composers, has plenty of time to converse. "What else is there to do?" we both laugh, as he begins to tell me the piece's origin story.
"I was listening to sounds—recordings of cello and acoustic bass—and at the same time was reading a very interesting book," says Buck, referring to The Falling Sky (Harvard University Press, 2013), which relates the cosmo-ecological thoughts of Davi Kopenawa, a shaman of the Yanomami of the Brazilian Amazon, who, over many years, told his life story to his friend the French anthropologist Bruce Albert. "It was fascinating to learn how indigenous people think, how they are much more connected to nature and have this completely different point of view of what is to be a human being," Buck continues. "Their relationship with trees, for example, and the way they see what trees really are, was super interesting to me.
"Then it came like a sudden insight—what is the sound of cello and bass but the ringing and screaming of dead trees, instruments made of wood. Then came this whole chain of thought about how music is connected with and dependent on the killing of trees—all the scores we have, the history of music, preserved on paper made from trees.
"It was a magical idea but also sad, especially at this moment in my country, where the president is asking people to burn the Amazon forest so the economy can improve—which to me is a totally stupid view of what a forest is. So, I wanted to explore this."
Buck began his musical career as a jazz drummer, picking up sticks as a teenager and soon playing with many notable Brazilian artists, recording as a sideman and band leader, and writing music. At the ago of thirty he entered São Paulo State University (known locally as UNESP) and earned a B.Mus and an MFA in electroacoustic composition, studying under his mentor, the lauded Brazilian composer Flo Menezes, who in 1995 founded the International Electroacoustic Music Competition of São Paulo, the first of its kind in Brazil.
"I work with prerecorded sounds in a way that the listener can always recognize the sound source," says Buck, who also cites the acousmatic music of Quebec composer Gilles Gobeil and his take on cinéma pour l'oreille (cinema for the ear) as an influence. "I like the notion of an open work—where your interpretation could be more interesting than the chain of thought that made me want it to be a piece.
"Sometimes you have to wait for the material to tell you where to go."
The instrumental sounds (cello, double bass) were mostly taken from recordings made for Buck's soundtrack for the Brazilian documentary My Darling Supermarket, which was selected for several prestigious festivals, screening at MOMA's Doc Fortnight in early February 2020.
"In the middle of the piece, I knew I wanted to move from noisy sounds to musical notes," Buck continues. "I wanted a female voice—the voice of mother nature—and to have whispers coming out of the sound blend with sticks and leaves.
"After recording the singer, I recorded the sounds of paper, turning pages of books, clothing, sticks, and leaves—by myself, as I always do. One thing I learned mostly from composers I admire is that the quality of each sound must be super good. So, I worked on each one individually, used a lot of recues, reverbs—but the most present technique was granular synthesis, and for that I used [the open-source audio programming language] SuperCollider."
In The Falling Sky, Kopenawa describes how birds and trees are the same thing to the Yanomami people. "Trees cannot live without birds, and birds can't live without trees," Buck says. "But as you may know, bird sounds in electroacoustic music can be kind of a cliché. The challenge was how to use bird sounds, and I thought to make them a more dramatic agent in the music, birds that sounds like an alarm clock, conveying a sense of urgency."
Buck does not strive to create a space, he explains, but rather an exploration of dynamic range. "In mixing, I want to hear something that is closer to earth, without reverberation, something that is quieter and will give listeners this sense of something profound."
While some of his creative pursuits are now paused, Buck continues to work on the second movement of Screaming Trees. "I feel the pressure because the first movement has won two prizes now," he laughs: in addition to the Musicworks prize, Screaming Trees won first prize at the 2019 edition of Musica Nova's prestigious International Electro-acoustic Music Composition Competition, held in the Czech Republic.
He also plans to create an eight-channel version of Screaming Trees, which was originally composed for two speakers. "I would like people to listen to it in the dark in big theatres that have more speakers." That is something to look forward to in this year of quiet venues.
---
Audio: Screaming Trees (2019), composed by Alex Buck.
---