The authentic enthusiasm and curiosity of artists writing about artists for whom they feel an affinity propelled Musicworks in its early days. This dynamic is in the magazine's DNA and continues to inform the storytelling in our pages, as you'll discover in the Summer 2022 issue!
ON THE COVER: GAYLE YOUNG
"Gayle Young's Gentle Interventions" takes the reader on through singer and writer Sarah Albu's first-hand experience as she digests forty years of musical output from a unique compositional voice. Albu reflects on her micro and macro processes while working on According to the Moon, a new recording that collects all vocal works to date by composer and instrument creator Gayle Young. The compositions, which span from 1978 to 2021, cover a wide range of subject matter and musical material; Young also composer a new work based on experiences, observations, and conversations she had with Sarah on daily walks along the Bruce Trail, up and down the Niagara Escarpment. The heart of this music is the filtering of daily experience, seeking and finding immense beauty in the tiniest details of life. It requires versatility, stamina and focus, curiosity, and mindfulness. How does one begin to approach such a body of work?
COVER PHOTO BY REINHARD REITZENSTEIN.
IG HENNEMAN
Violist, improviser, and composer Ig Henneman celebrated her 75th birthday in September 2021 with a concert featuring premieres and reinterpretations of her works performed by a who's who of Dutch experimental musicians and poets. That same day, Henneman was knighted into Holland's de Orde van Oranje Nassau for her outstanding contribution in the field of contemporary and improvised music. Violist Jennifer Thiessen interviews Henneman, her role model as a violist and improviser, about her path as a classically trained musician, rock songwriter, improviser, composer, bandleader, and organizer. The significance of Henneman's work and the relevance of representation is discussed in interviews with Montreal-based clarinet player, improviser, and composer Lori Freedman—a long-term collaborator of Henneman's—and Amsterdam-based Canadian improviser and composer Marielle Groven.
DU YUN
The New York-based composer, performer, and curator Du Yun is an effervescent and brilliant artist who draws inspiration for her creative work from several arts and disciplines. As a warm-up to the Canadian premiere production of Du Yun's Pulitzer Prize-winning opera Angel's Bone, which is being presented in Vancouver in 2022 and Toronto in 2023, composer and saxophonist Olivia Shortt talks to their former mentor Du Yun about her musical life and wide interests. Shortt also speaks with Arraymusic artistic director and percussionist David Schotzko, a friend and collaborator of Du Yun since their days at the Oberlin Conservatory of Music, who is also involved with the upcoming production; and with reedist Aakash Mittal, a member of Du Yun's rock band and chamber ensemble OK Miss.
MARK ELLESTAD
From 1994 until 2018,
Mark Ellestad
ran an on-location recording service for musicians in Calgary. After retirement from that business, he revisited compositions he had written as a young man. 
Discreet Angel
, a new CD issued by British label Another Timbre, brings three of those pieces back into the light. Ellestad reflects on the compositional goals he had established for himself and outlines his enduring aesthetic preferences. He also reflects on his musical education, especially the impact of studying with Rudolf Komouros, and speaks of sustaining friendships he established at the University of Victoria. In addition, he tells of his enthusiasm for the distinctive sonorities of the Hardanger fiddle, a Norwegian instrument featured on the concluding track of the new CD. That instrument has not only formed an unexpected connection with his ancestral past but has reverberated into the musical lives of his daughter Laura and his son Kris.>
Explore even more musical inventions and interventions of artists in the Summer 2022 issue! 
Louise Gray interviews Manitoba-born, U.K.-based composer, percussionist, and music interventionist Jenny Moore, whose music embraces those that she refers to as her queer family: feminists, LGBTQ+ people, and their allies. Her creative practice is about listening, interacting, and imagining a future with others. "I'm just trying to get people to feel alive."
Chaka Grier interviews Kinshasa-born, Montreal-based Pierre Kwenders about how he channels love and life experiences into his new album José Louis and the Paradox of Love: "I'm just putting it out there, all my experiences through life and what has made me the man I am today … and if some see themselves, if it can help them in some way, I'll be glad."
Sara Constant interviews New York-based composer, violinist, and poet Yaz Lancaster, whose genre-fluid solo and collaborative music offers liberatory modes for exploration: "I tend to categorize my music as genre-fluid or post-genre: I'm trying to make a bunch of different things make sense together." 
Plus reviews of new music from Borderlands Trio, Malcolm Goldstein, Joane Hétu; Instruments of Happiness, Joyfultalk, Kee Avil, Robbie Lee & Lea Bertucci, Alejandro Morse / Cian / Eduardo Padilla, Eldritch Priest, Quatuor Bozzini, Tess Roby, Joseph Shabason and Vibrant Matter, Bekah Simms, and Hildegard Westerkamp.
MUSICWORKS CD 142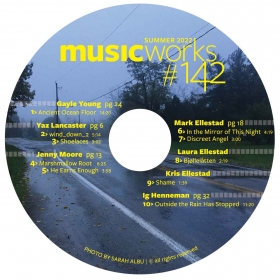 Gayle Young pg 24
1> Ancient Ocean Floor 14:20
Yaz Lancaster pg 6
2> wind_down_2 5:14
3> Shoelaces 3:02
Jenny Moore pg 13
4> Marshmallow Root 6:25
5> He Earns Enough 3:58
Mark Ellestad pg 18
6> In the Mirror of This Night (excerpt) 4:19
7> Discreet Angel (excerpt) 3:00
Laura Ellestad
8> Bjøllelåtten 2:19
Kris Ellestad
9> Shame 1:39
Ig Henneman pg 32
10> Outside the Rain Has Stopped 11:20
PHOTO BY SARAH ALBU