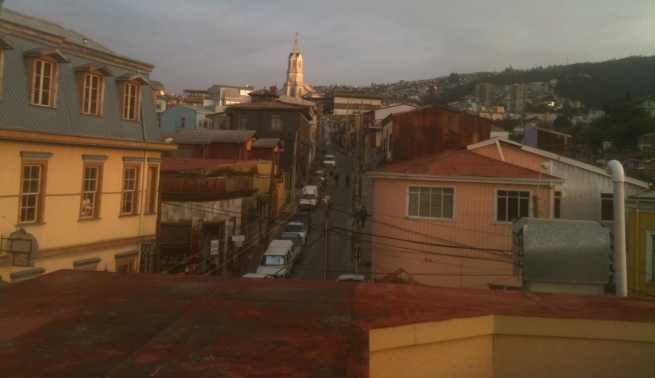 When rain falls, it falls into the open-air stairwell unopposed, rattling metal banisters and pattering on tile. Human sounds congeal below you like wet papier-mâché: gentle voices ricocheting around the stucco walls; kids' laughter bubbling out of an open window; loose sandals slapping themselves silly on the stairs. A flute that's been carving filigree in the morning air pauses for a moment, then begins again, its high rasps swooping effortlessly into silky-smooth scales. Meanwhile, the calaminas, Valparaíso's famous corrugated-metal roofs, go rat- tat-tat-tat in the downpour all around you. There's reverb, cranked to nine, on everything.
No rain today though. Tinny radios crackle on the breeze. The Espíritu Santo funicular clanks and whirrs its way down to the business district, where street traffic murmurs like a distant waterfall. Stray voices drift across the many hills, or cerros, that form this brilliantly-painted, dirty miracle of a city. And the cathedral's cascading bells, over a mile away, wrap it all up in jewel-encrusted gauze.
A propane delivery truck is doing its rounds. Sitting in the back, a man armed with drumsticks announces his arrival by hammering furiously on the propane tanks. Dang-a-lang-a-lang. Dang-a-lang-a-lang. Dang-a-lang-a-lang-a-lang-a-lang. All propane drummers play the same relentless pattern, which makes you worry for the sanity of full-time residents here. Returning home from Valparaíso, you'll pore over your phone's voice memos to find only one recording of a "rogue" drummer doing his thing—more swing, or more suspect timekeeping, depending on the ear of the beholder. This man will change the world one willful measure at a time.
On Independence Day, fireworks tear holes in the night sky. Valparaíso trembles in the bay's open arms, thousands of ghosts gasping out there in the dark. Later, after most of the ghosts have gone to bed, a lone trumpeter plays somewhere in the building. Broken, loose-lipped phrases, smelling of alcohol, stumble through an open window. If you were back home, you'd complain. But here and now, only dogs would hear you. After midnight, the dogs own the streets. They roam in single-file packs: click of claws on cobblestone, a collective pant echoing beneath the streetlights. Once, you took a wrong turn in the labyrinth of Cerro Bellavista and almost fell over a dozen of them lounging resentfully in the shadows. Hair on end, they snarled you out of their dead-end alley, blood shuddering in your ears long afterwards.
Last morning in Chile. A slow procession of voices moves through your headphones—recordings of older porteños remembering September 11, 1973. While they calmly detail that day's banalities and horrors, you gaze out on the glistening bay, the battleships bobbing like toys on the water. The navy launched the coup here, in Pinochet's birthplace, and during the dark age that followed, many desaparecidos' remains were dumped into this ocean. You listen to these gentle Chilean voices, all rounded edges and scars and half-eaten words, while out there the silent ocean shimmers white in the sun. White the colour of everything, silence its sound.
Cerro Bellavista rooftop photo by: Rick Maddocks