Ready to submit to our twelfth annual Electronic Music Composition Contest?
Read the rules below and ENTER here.
Please share this announcement with your friends, audiences, and communities.
Our annual juried contest spotlights new musical talent from around the world, offering cash prizes and opportunities to be published and heard. 
PRIZES 
First prize: Cdn. $500, a composer profile in Musicworks  and the composition released on the Musicworks CD in 2023.
Second prize: Cdn. $200 and composer coverage on www.musicworks.ca in 2023.
Third prize: Cdn. $100 and composer coverage on www.musicworks.ca in 2023.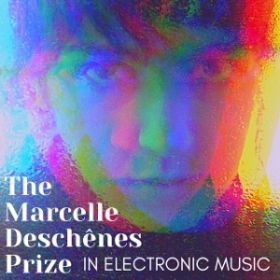 Marcelle Deschênes Prize in Electronic Music / prix Marcelle Deschênes pour la musique électronique: Cdn. $300 and a composer profile in 2023. Learn more about the prize. 
MUSIC
Compose and submit an experimental piece(s) in any electronic-music genre—acousmatic, electroacoustic, glitch, soundscape, intelligent dance music (IDM), turntable art, or video music etc.
ELIGIBILITY
The contest is open to entries from anywhere in the world and from artists at any stage of their careers. Pieces must be previously unpublished, i.e. not released on a commercially available recording at the time of submission.
LENGTH AND FILES
Maximum length: 10 minutes.       Accepted file types: MP3 or MP4 only.
This is a juried contest. Jurors will not know the identities of the entrants.
Please do not include your name in the filename / title of your submission. Please remove credits if you are submitting video music.
CONTEST CLOSES NOVEMBER 30, 2022.
Entry fee is $25, and all entrants receive a one-year print subscription to Musicworks (Cdn. $41-$56 value). Additional entries are $5 each, unlimited.
Meet the first-place winners of previous Electronic Music Composition Contests and get inspired by their winning works!
2021 Mariana Vieira (Portugal)
2020 Rocío Cano Valiño (Argentina / France)