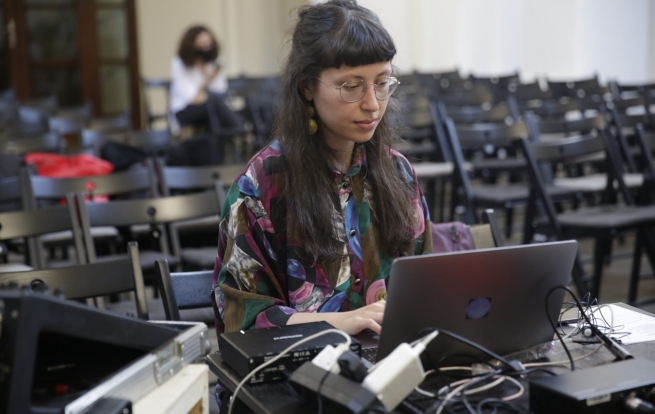 Electronic music has the potential to free composers and sounds from physical and cultural constraints while also bringing those elements closer together. Composer Mariana Vieira has been exploring ideas in this creative space since her undergraduate studies in composition at Escola Superior de Música de Lisboa (ESML), where she is currently pursuing her master's in composition and pedagogy.
Vieira studied saxophone when she was growing up, and she was still a teenager when she began taking composition lessons. "When I started studying composition here in Lisbon, most of the courses were about instrumental music and orchestration techniques," she said from her home in Lisbon during a recent video conversation.
"There was only one course on electronic music. I found it very interesting and felt very free composing in that space, because theoretically, everything is possible—every sound has a potential to be music," she said. "With instrumental music, there's something in between the composer and the music, which is the score—and then someone has to interpret the score. This is not the case with electronic music: the piece is the piece."
In Vieira's deftly orchestrated The Unexpected Encounter with Diversity, sounds interact as beings. Opposites attract, drawing close to each other before pushing off. Metallic springs, singing glass harps, and low wooden thuds land and lift off, open and close, pause and accelerate. The feeling of proximity is precise. There is tension but not chaos. The listener is surrounded by unusual sonic encounters that inspire curiosity rather than confusion.
The origin of the piece is a nine-part online multiarts group work called Primeiro Rascunho (first draft), which was created via a transmission-oriented process devised and commissioned by Teatro do Bairro Alto (TBA) in Lisbon in 2021. Vieira was one of three artists invited by TBA to draft a work inspired by their experiences over the past year and a half. The three artists each transmitted their piece to a different artist, who created a response work that was then sent to a third artist. (The web address of the online work is provided at the end of this article.)
The Unexpected Encounter with Diversity is "freely inspired" by the writings of the late Portuguese writer Maria Gabriela Llansol, in which characters from different time periods and realities (i.e., both historical and fictional) often converge and converse. "The thing about her work that interested me is how different characters from different origins meet," Vieira said. "I had the idea to mix different kinds of sounds to see how they can be combined. I wanted to explore the interaction between field recordings and samples collected during an improvisation made with a modular synthesizer."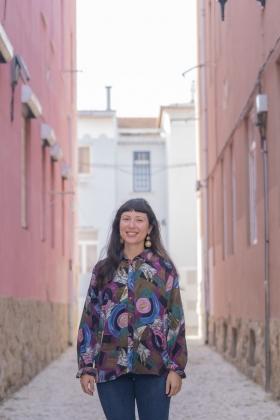 Vieira said she is less interested in specific methods, programs, or gear than she is in sounds. "I'm more interested in the concepts or the ideas of acousmatic music. Sounds are what interest me—but not just any sounds. I might be interested in a specific field recording because of a specific sound that will fit well with my creative ideas."
At the same time, Vieira is reluctant to define her interests too concretely, while she is exploring different ways of working. "The most important thing for me right now is finishing my masters," she laughs. "Working in composition and studying at the same time is [pause] complicated, and I am composing right now a piece for violin, double bass, and electronics."
In addition to school and her composing work, Vieira is committed to supporting and developing the electronic-and-acousmatic-music scene in Lisbon as an active collaborator at Lisboa Incomun, an independent concert venue—which has a separate studio space on the premises—founded by composer Jaime Reis, Vieira's former teacher.
"We are mostly composers and we all believe that doing this thing can be good for the city and for artists, and also for ourselves of course, to have a place to work, to exchange, and perform new work," said Vieira, who is also production director of Festival DME (Dias de Música Electroacústica), of which Reis is the artistic director.
"Portugal has a lot of composers but not many of them get into electronic music," Vieira explains. "What we do have is a network of small institutions dedicated to contemporary music, which includes electronic music, and we share a Google calendar so that we know who is doing what and when, so that we don't superimpose events.
"Although the large orchestras here don't really support contemporary composers that much, many of these small artist-run initiatives are trying to do something in Portugal for electronic-music composers and build audiences for contemporary music."
---
PHOTOS: 
Top photo by Nuno Martins.
Bottom photo by Sofia Nunes.
AUDIO: The Unexpected Encounter with Diversity by  Mariana Vieira.