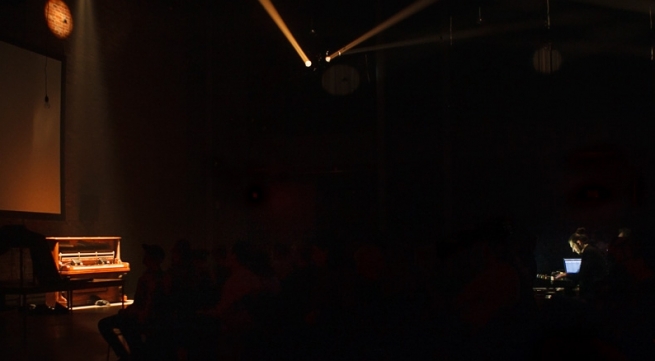 James O'Callaghan's Bodies-Soundings, winner of Musicworks' 2014 Electronic Music Composition contest, is a highly suspenseful acousmatic piece in which sounds are partially diffused through tactile transducers (specialized speakers that transmit sound through any object to which they're attached) that are attached to an acoustic guitar and a toy piano. The two instruments are not played but, instead, act as sounding bodies. The thought process and experimentation that led to the composition actually started with the piano—but not in the traditional way that some might imagine.
"I don't play piano. I never studied an instrument at all," says O'Callaghan, who grew up in Vancouver and has a bachelor of fine arts degree from Simon Fraser University. (He's been based in Montreal since 2011, and received a master of music degree from McGill University in 2014.)  "Coming into composition without a traditional music background, I often found myself confronting the piano," he continues. "It's called the composer's instrument—you can play an orchestral reduction on it, simulate the sounds of so many other things. But that idea just never made sense to me."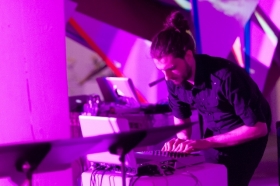 This non-relationship (as he calls it) with the instrument was the starting point for his acousmatic work Objects-Interiors, which premiered at the 2013 Cluster New Music and Integrated Arts Festival in Winnipeg and won first prize in the Hugh Le Caine Awards category of the 2013 SOCAN Foundation Awards for young composers. In the setup for a performance of the piece, two loudspeakers are placed inside a piano, whose sustain pedal is weighed down. As O'Callaghan describes it, the piano's resonant interior (wood and metal surfaces) and the sympathetic vibrations of its strings contribute to "an acoustic tincturing" of the sound material coming from the speakers.
O'Callaghan wanted to continue this kind of exploration with different instruments, and got his chance at the 2014 Cluster festival, where Bodies-Soundings premiered. As it turns out, the combination of acoustic guitar and toy piano came about by accident. "I'd promised Cluster a piece for acoustic guitar, which was my second choice after piano as an instrument that has a common cultural resonance," O'Callaghan recalls. Cluster organizers had programmed a performance by concert pianist Xenia Pestova of miniatures for toy piano and electronics, and asked O'Callaghan if he would also like to compose a second piece using toy piano, since there would be a pretty snazzy one in the house. "It felt like a natural follow-up to Objects-Interiors—a junior follow-up—so I worked on two pieces for a while until they both seemed to be running through the motions of the same ideas. So I wrote one piece, which became about the interaction between these two instruments." (O'Callaghan now owns a beat-up toy piano, used for the recording of the piece on this issue's companion CD. "It's missing a lid and legs—so, not the most attractive thing; but it's almost better, because I can get inside of it to place the transducers.")
The creation and organizing of the sound material in O'Callaghan's recent acousmatic pieces (a third, Empties-Impetus, a partial diffusion through the instruments of a string quartet, commissioned by the Groupe de Recherches Musicales, premiered in Paris in January 2015) is an intuitive process. For Bodies-Soundings, he used sounds from field recordings gathered in various places—snapped twigs and celery stalks, footsteps in the snow, squeaking floorboards, wooden chairs and tables being shifted, breathing.  
In high school, O'Callaghan was more interested in visual art and theatre than music. At SFU, where interdisciplinary studies are encouraged, he took a class in electroacoustic music. It blew his mind. He then started studying instrumental composition more intensely. He has to his credit several pieces for full orchestra, most notably Isomorphia (for orchestra and electronics), a commission that was part of his 2013 residency with the National Youth Orchestra of Canada. In 2014, the work won the SOCAN Foundation's John Weinzweig Grand Prize and received a Juno nomination for Classical Composition of the year. O'Callaghan also employs amplified objects in some of his compositions—Spinefold; Opinions (2014), for example, is a quartet for amplified hardcover books commissioned by Architek Percussion. 
While he intends eventually to pursue doctoral studies,
O'Callaghan
is enjoying his freedom from academic pressures—albeit with several commissions and projects already in process in 2015. 
FYI
:
To get a sense of how the transducer–instrument diffusion works in performance, check out the video of O'Callaghan's related installation
Acoustic Taxidermy: Guitar Quartet
: 
---
Top photo of James O'Callaghan at performance of Objects-Interiors at Akousma 2014 by Caroline Campeau. Image of O'Callaghan at Winnipeg's Cluster festival in 2013 by Aaron Sivertson, Sightlines.