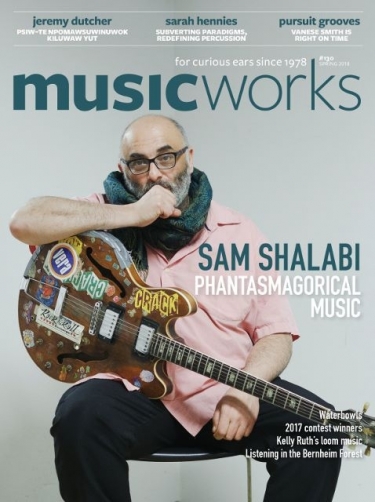 Musicworks turns 40 this year. It's been quite a journey from the DIY newsprint tabloid published in 1978 to Musicworks 130—our first-ever full-colour issue! Buy the print issue (or print+CD combo) from our shop, or start your subscription today.
On the Cover
Montreal guitarist, oud player, and composer Sam Shalabi has been active across a diversity of musical worlds since the 1980s. He played a seminal role in Montreal's free-improvisation scene, and has performed in concerts around the globe. For many years now, he has spent time in Cairo, Egypt, exploring his Arabic roots while based in bands such as the Dwarfs of East Agouza, with Sun City Girls' Alan Bishop. His highly original recordings range from psychedelic solo outings to sprawling ensembles, including Land of Kush, whose tunes spring from '60s Egyptian pop, and whose most recent work, Sand Enigma, had its world premiere in March 2018, at the Aga Khan Museum in Toronto. One constant across all of his activities are the phantasmagorical and cinematic scenes his music imprints across the minds of listeners. In this article by Lawrence Joseph, Shalabi talks about his roots in punk, jazz, and Arabic music, and how these musical influences converged to create his singular musical vision and artistic approach.
A Linguist in the Land of Noises
Ithaca-based Sarah Hennies is one of North America's preeminent experimental composers and percussionists. As a young, active musician in Louisville's punk scene, she cultivated eclectic tastes. Following graduate studies with celebrated percussionist Steve Schick, Hennies soon plunged head-first into the rich exploratory music community of Austin, Texas, where she joined the Weird Weeds and a number of other outfits. By 2010 she had discovered her own kaleidoscopic take on minimalism, and invested more deeply in creating works where repetition has a transformative effect on sound. In 2014, Sarah realized she was transgender; in recent works, such as Falsetto and Contralto, she foregrounds her identity as a transwoman; her engagement with this dimension is mostly on abstract terms, defying the narrative-driven tropes many artists use to confront or represent selfhood. Musicworks associate editor and 2017 National Magazine Award nominee Nick Storring writes on Hennies' creative journey.
Listening in the Forest
SONICBernheim is a series of contemporary music presentations held in Bernheim Research Forest, a 15,000-acre park near Louisville, Kentucky, that was (until 1929) used by several industries. Last fall, Canadian sound artist and writer Andra McCartney travelled to Louisville and lived in Bernheim Forest for several days, listening in the woods with Bernheim folk, and speaking with sound artist Aaron Rosenblum, co-creator of the music series, about his approach to field recording. On the night of the Frost Moon, November 4, 2017, she gave a presentation on ways of listening, where the audience listened together and discussed their experience. In an article that is introduced by Rosenblum, she describes this journey, her thoughts around soundwalks and mobility, and other observations.
Pursuit Grooves
As hip-hop and electronic-music producer, emcee, mentor, and visual artist Vanese "VJ" Smith prepares for her seventh release, Felt Armor, she talks to new contributor Chaka V. Grier about a life spent moving from scene to scene while remaining in her own creative comfort zone. Original photos by May Truong. 
And there's more . . .
Discover how Kelly Ruth has transformed the weaving loom into a highly expressive instrument . . .
. . . how Jeremy Dutcher explored the music of his people, the Maliseet, to create a new soundworld in his thoughtful and thrilling debut recording  Wolastoqiyik Lintuwakonawa . . .
. . . how Tomoko Sauvage captures the music of water in installation and performance.
Also inside: Meet the winners of our 2017 Electronic Music Composition and Sonic Geography Writing contests.
Label Profile: Vancouver's Redshift Recordings - universally acclaimed Canadian creative music.
Editor's Note
:
The Journey.
At the start of
Musicworks
' 40th anniversary year, the editor considers where we started, where we are, and where we're going.
ON THE CD
Erik Ingalls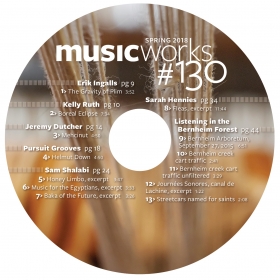 1> The Gravity of Plim
Kelly Ruth
2> Boreal Eclipse
Jeremy Dutcher
3> Mehcinut
Pursuit Grooves
4> Helmut Down
Sam Shalabi
5> Honey Limbo excerpt
6> Music for the Egyptians excerpt
7> Baka of the Future excerpt
Sarah Hennies
8> Fleas, excerpt
Listening in the Bernheim Forest
9> Bernheim Arboretum, September 27, 2015
10> Bernheim creek cart traffic 
11> Bernheim creek cart traffic unfiltered 
12> Journées Sonores, canal de Lachine excerpt
13> Streetcars named for saints