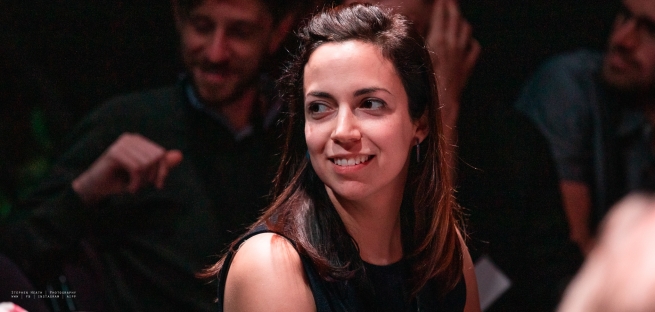 In the pantheon of sounds, the tone, whirr, and ring of the rotary phone belong in the "gone but not forgotten" gallery. If someone's mobile phone rings à la Ma Bell—as opposed to the usual pulsating buzz, pop-tune riff, or synthesized animal sound—we might get nostalgic and think something like, How quaint . . . that is, if we can even identify the original source of that analog ringing sound.
Although touch-tone phones hit the market in the 1960s, rotary phones only started disappearing en masse in the early 1980s, when the old telecommunications monopolies in North America and Britain broke up. U.K. electroacoustic-music composer Manuella Blackburn was seven when the "old-style, shiny black, rotary-dial phone" in her family home was replaced in 1984. Its sound, which stuck with her, and the noises of other landline telephones she has known come together in her playful, poignant, and mesmerizing nine-minute work Landline, first-place winner of Musicworks' 2018 Electronic Music Composition Contest.
Many of Blackburn's compositions explore the sonic depths of familiar household items, such as ice cubes and cups. "I wrote another piece using old-style cameras with film inside, and flashes," she says, during a lively Skype conversation from her home in Manchester. "When I started the piece that became Landline it was supposed to be about beeps of domestic appliances. I was interested in capturing domestic communication, object and human, but I became more interested in sound materials I could get from phones."
Landline was written early in 2018 and had its world premiere in December of that year at the Australian Computer Music Conference in Perth. Since then, the piece has had repeat performances and been very well received, says Blackburn, whose specialty is fixed media (acousmatic music for loudspeakers). "When I have a new work, it's a delicate time. I put it out there and wonder, How will people react? [Landline] is an interesting one to talk about, because of this idea of endangered sounds."
Nearly all the sounds in Landline were derived from different phones Blackburn had access to, including her own landline phone, used so rarely that it had fallen behind some furniture and become caked in dust. The rotary phone Blackburn knew as a child was, not surprisingly, long gone. After trolling through eBay, then searching databases, she came across Conserve The Sound <conservethesound.de>, an online museum for dying sounds of obsolete technology, and was able to find sounds that were close to her vivid memory.
She sourced phones from her social circle and became interested in the significant differences between them. "I was interested in small sounds. I would often be recording sounds that were not even a second long. I edited these, sequenced them, and then created more interesting passages. Some of the more harmonic passages are derived from dial tones—you know, that sustained hum you hear when you pick up the phone." (The U.K.'s dial tone is a combination of sine waves mixed from 350Hz and 450Hz.)
Even the piece's percussive sounds are all phone-derived. "I'm getting those sounds from an object by knocking it, with harder attacks to get that lower frequency range," Blackburn explains. "Most of the material gets processed through several different mechanisms, and might go through pitch shift. There are several different stages to get to the final result. I enjoy using software to loop my materials and create rhythmic passages that extend for longer periods."
Blackburn, who has two recordings on the Montreal-based Empreintes DIGITALes label, has held the post of senior lecturer in music at Liverpool Hope University for the past ten years. Blackburn always knew she wanted to create music and moved through different instruments—guitar to recorder, to clarinet, to piano, and so on—as a child. "But it was only when I was introduced to the digital studio and discovered new technologies and computers that the lightbulb went on—I didn't know I could put the two together and create music!"
When you listen to Landline, the first track on the Musicworks 133 CD, you will hear the close listening, sparkling detail, and sense of journey that is found throughout Manuella Blackburn's fascinating, growing body of work.
---
AUDIO:  Landline (2018), composed and performed by Manuella Blackburn (fixed media—stereo). Created in the composer's home studio in Manchester, U.K.
Photo by Stephen Heath. 
---
GET IN THE MIX!
MUSICWORKS' NINTH ANNUAL ELECTRONIC MUSIC COMPOSITION CONTEST CLOSES OCTOBER 25TH, 2019.
VISIT OUR SHOP FOR FOR MORE INFORMATION AND ENTRY PORTAL .