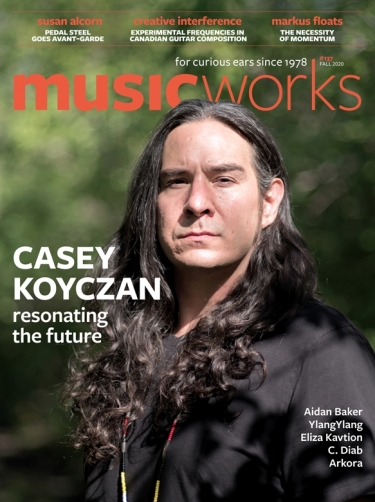 The Fall 2020 issue comes preloaded with guitars. Hollow, heavy, bowed, cracked, pedalled, flung. Trusty companions. Feedback demons. Easy to pick up, hard to put down . . . just like every issue of Musicworks!
BUY THE FALL 2020 ISSUE FROM OUR SHOP OR SAVE 50% OFF THE COVER PRICE WITH A SUBSCRIPTION TO MUSICWORKS. SUPPORT CREATIVE WRITING ABOUT MUSIC.
This is our first issue fully produced and published during COVID-19 times. We're grateful to the coast-to-coast community of contributors, artists, and supporters who keep us connected and inspired.
ON THE COVER
Casey Koyczan is a Tlicho Dene interdisciplinary artist from Yellowknife, NT, now based in Winnipeg, where he is beginning the second year of Master of Fine Arts program at the University of Manitoba. Through various creations of interactivity, he explores and reveals how culture and technology intersect with political, economic, and environmental challenges. He writes and performs with live-looping guitar as NÀHGĄ, and is also a  workshop facilitator, web designer and advocate for future generations of artists. Mercedes Webb (first-place winner of Canadian Art magazine's 2019 writer prize), interviews Koyczan about his exploration of Indigenous futurities in his work, what the name NÀHGĄ means in the context of his music practice, and creating new work during COVID-19. Koyczan contributes three tracks to the CD, and provides a "virtual tour" of his studio in the centrespread of the issue! (Cover photo by Robert Szkolnicki.)
Canadian Works for Guitar & Electronics 
Nova Scotia guitarist and composer Amy Brandon (profiled in our Fall 2019 issue) makes her Musicworks writing debut with a feature that explores how the activities of the Guitar Society of Toronto, the University of Toronto Electronic Music Studios, and the McGill Electronic Music Studio sparked new works and ideas in guitar composition in the late 1960s and '70s. With a focus on the evolution of Canadian works for guitar and electroacoustics, Brandon follows the progression of key artists and works from then to now. The article includes a lengthy sidebar list of notable compositions; to get the listening started, the CD includes works by Terry Rusling and Robert Bauer.
Susan Alcorn 
Following her performance at the 2020 edition of Toronto's Women From Space festival in March, the Baltimore-based pedal steel guitarist Susan Alcorn talked to Jesse Locke about her country-music origins, world travels, introduction to improvisation, and political activism dating back to the Vietnam War. Though primarily a solo performer, the sixty-year-old musician has collaborated with an impressive list of experimental heroes including Pauline Oliveros, Eugene Chadbourne, Mary Halvorson, Jandek, and Joe McPhee. The CD includes a track from her forthcoming album, Pedemal (out Nov. 2020).
Aidan Baker 
Over 20 years, the Berlin-based Canadian composer and guitarist Aidan Baker has been the creator and curator of an immense amount of work. In a recent conversation with Michael Rancic, Baker discusses how that instrument informs his musical practice, and discusses his genre agnosticism when it comes to working along a continuum of noise, metal, and free jazz. Baker has  his own label which each year releases multiple recordings under his own name and that of NADJA, the duo he helms with his wife Leah Buckareff, which he describes as a vehicle for his massive output. He also speaks about the DIY ethos that's at the centre of his work. The CD includes a recent, previous unreleased solo track by Baker.
. . . and we've got more multifaceted guitarists in the Fall 2020 issue mix . . .
Eliza Kavtion is a Mohawk experimental guitarist from Oka who layers provocative vocal clips and sound samples over mesmerizing shred guitar to explore issues related to Indigenous resistance and sovereignty.
C. Diab is a Vancouver-based guitarist whose ambient music is influenced by natural surroundings and propelled by his self-developed bowed technique.
Of Stars and Stripes is Mark Miller's new biography of Canadian jazz-guitar innovator Sonny Greenwich.
. . .  and more exciting music from the very recent past and very near future!
Markus Lake is a Montreal musician, composer, DIY-scene stalwart, and visual artist who releases synthetic audio works as Markus Floats.
Catherine Debard is a Montreal electronic musician who releases bedroom-y lo-fi solo and collaborative recordings as YlangYlang.
Cloud Chamber is the working title of collaborative project between four Canadian composers to create and, eventually, perform pieces for Arkora, an electric vocal chamber consort that includes a huge 31-TET glass marimba.
FALL 2020
Musicworks 137 CD
Casey Koyczan / NAHGA 
1> Ravenous 3:02
2> Standing on Ice 5:54
(with Marina Hasselberg)
3> Kids & Trails 6:03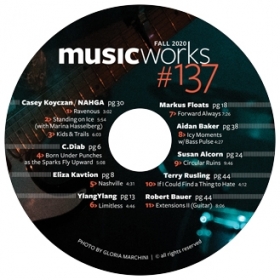 C. Diab 
4> Born Under Punches as the Sparks Fly Upward 5:08
Eliza Kavtion 
5> Nashville 4:31
YlangYlang 
6> Limitless 4:46
Markus Floats
7> Forward Always 7:26
Aidan Baker
8> Icy Moments w/ Bass Pulse 4:27
Susan Alcorn
9> Circular Ruins 9:46
Terry Rusling 
10> If I Could Find A Thing To Hate 4:12
Robert Bauer
11>  Extensions II (Guitar) 8:06
© all rights reserved
---
Musicworks
 is published by Musicworks Society of Ontario Ltd., a non-profit organization, and is supported by financial assistance from the Canada Council for the Arts, the Ontario Arts Council, Canadian Heritage, and the SOCAN Foundation.