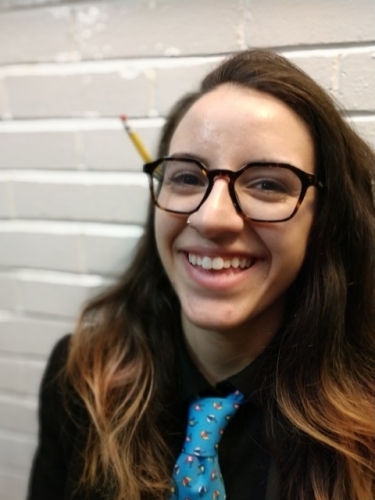 Jessie Lausé wins second place in the 2021 Musicworks Electronic Music Composition Contest for Movements, a three-movement work for eight-channel mixed media. 
"[Movements] explores the melodic and registral capabilities of modified human and spatial mechanical sounds," Jessie Lausé explains. "Everything heard in this piece began as sounds that were recorded over the course of a week on and around the Butler University campus. The original sounds include, but are not limited to, a person crunching on a tortilla chip, a person slurping soup, a group of people providing a 'snap-plause,' a small crowd cheering ('woo-ing'), a person chattering their teeth, an elevator ascending and descending, and a person gasping for air." 
Jessie Lausé is a composer and educator with a passion for creating inclusive musical experiences. Their work often utilizes experimental electronic and acoustic sound practices and alternative notations to encourage diversified sensory engagement.
Jessie is originally from central Kentucky and holds a bachelor's degree in arts administration from Butler University in Indianapolis. Jessie is currently pursuing a master's in music composition at the University of Colorado Boulder where they teach music technology and have studied with Annika Socolofsky and Michael Theodore.  
Most recently, Jessie collaborated with performing artists at the 2021 Fresh Inc Festival, the 2022 CU New Opera Workshop, and the 2022 Splice Institute. In the coming months, their work will be featured at the Lake George Music Festival, the Eugene Difficult Music Ensemble's 2022 New Music Festival, and Indiana State University's 56th Annual Contemporary Music Festival. When not composing, Jessie spends their free time playing board games and watching RuPaul's Drag Race with their cats, Gubaidulina and Mr. Bear.