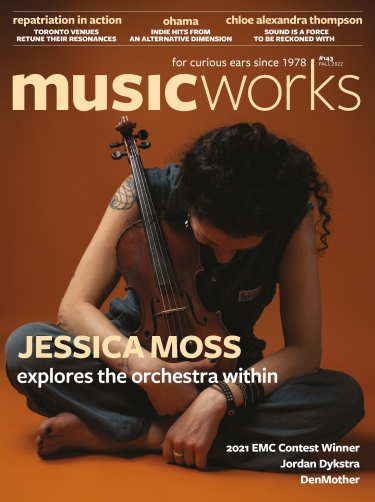 Settle into an autumnal groove with our Fall 2022 issue and direct your curious ears toward new aesthetic coordinates.
or
Montreal violinist and composer Jessica Moss talks to writer Mary Dickie about how pandemic isolation gave her what she needed to create two brilliant albums of violin music influenced by ancient klezmer and modern drone, and how she bridges those genres in her work. Moss reveals how a learning disability led to her unique creative process and she shares her excitement about two new collaborative projects happening in Fall 2022: a challenging initiative that will see her compositions transcribed for the first time, and the resurrection of Black Ox Orkestar, her beloved avant-klezmer band, that promises a new album and live shows.
RESEQUENCING RESONANCES
Musical repatriation remains elusive in the process of Canada's reconciliation with Indigenous peoples. Although repatriation is most often associated with artifacts in museums, two Toronto music venues are setting precedents in what repatriation could look like in music contexts. Toronto's Tranzac Club discovered hidden Australian Aboriginal items in their storage rooms, and the club's board invited lore man Goombine to facilitate their return to Australia and organize a ceremony marking their journey home. Under an independent Indigenous Advisory Council, the Canadian Music Centre aims to rectify Indigenous misrepresentation and appropriation in its vast catalogue of Canadian musical works. With the perspectives of Goombine, opera singer Marion Newman, and scholar Jeremy Strachan, Juro Kim Feliz recounts the Tranzac ceremonies and the conversations on creative responsibility undertaken amidst the CMC initiative.
Tona Walt Ohama has lived many lives. Born on a potato farm in Southern Alberta, he has spent the past forty years making passionate, deeply personal music while forging friendly connections with anyone who enters his orbit. Since his debut album, the 1982 cassette release Midnite News, Ohama has become a prolific producer and sound-art composer, as well as a community advocate for Calgary's most marginalized people. Ohama talks to Jesse Locke about his early musical adventures and new collaborations and directions.
CHLOE ALEXANDRA THOMPSON
Interdisciplinary artist Chloe Alexandra Thompson speaks to contributing editor Sara Constant about her practice in electronic music and sound. Drawing on the music from her 2022 solo album They Can Never Burn the Stars, as well as from other recent projects with site-specific loudspeaker arrays, Thompson traces the ways in which her exploration of the physical properties of sound has guided her path as an artist. Beginning with her first childhood experiences with loudspeakers and culminating in her recent works using dense arrays of subwoofers to create visceral sound vibrations, the conversation serves as a window into Thompson's definition of what electronic sound is, and what it means to transmit it.
Mariana Vieira, first-place winner of our 2021 Electronic Music  Composition Contest, talks about her composition The Unexpected Encounter with Diversity.
Jordan Dykstra discusses improvisation, Alvin Lucier, and composing music for chamber ensembles and the small and big screen. 
Sabarah Pilon traces her creative journey toward  her emotional landscapes, built with drones and post-industrial beats, and threaded with passionate vocals.
Take a little trip to the London Contemporary Music Festival and Sound Symposium XX (St. John's).
Musicworks 143 CD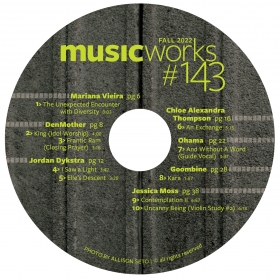 Mariana Vieira
1> The Unexpected Encounter with Diversity 8:01
DenMother
2> King (Idol Worship) 4:00
3> Frantic Ram (Closing Prayer) 3:22
Jordan Dykstra
4> I Saw a Light 3:42
5> Elle's Descent 3:28
Chloe Alexandra Thompson
6> An Exchange 5:21
Ohama
7> And Without A Word (Guide Vocal) 3:37
Goombine
8> Kara 1:57
Jessica Moss
9> Contemplation II 6:57
10> Uncanny Being (Violin Study #2) 6:23
CD IMAGE IS DETAIL FROM A PHOTO BY ALLISON SETO.
© all rights reserved