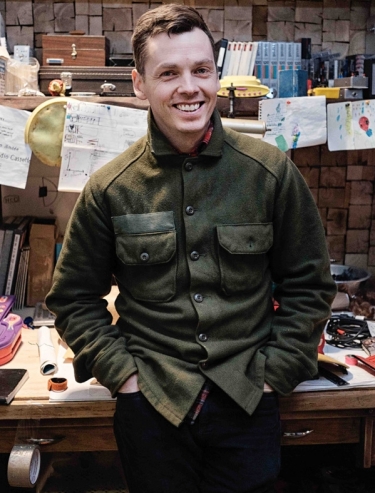 "THEY WERE EXPECTING TO HAVE A swinging kind of jazz party, but we were doing nothing of the sort that night." Percussionist Chris Dadge is recalling a particularly memorable gig at the Beat Niq Jazz & Social Club—a trad jazz club in downtown Calgary—during which he, guitarist Jay Crocker, saxophonist Dan Michael, and pianist Mark Limacher were fired mid set. "Dan was doing this thing where he'd speak fake languages and play the sax simultaneously. And Jay started doing did this thing that he does when he gets really into playing: it's a kind of moan, sort of like Keith Jarrett or Oscar Peterson; then he started swatting his banjo with a fly swatter. That's when we were asked to stop playing."
Sitting across from Jay Crocker at his home studio in Crousetown, a small hamlet in Nova Scotia's South Shore region, such an incendiary scenario is easy to imagine. With a Cheshire-cat grin and a fatalistic  Newfoundland wit that he inherited from his father (Jay was born in Newfoundland), he regales me with anecdotes from his past in a mercurial fashion. He moves affably from stolid concentration to full-bodied laughter, his toque sitting high up on his head. Throughout the conversation, he seems genuinely surprised by the absurdity of his own history, vexed by some of the realities of his present: he points out, with a mix of awe and frustration, the daylight peeking through a small gap in a nearby windowsill.
The building around us feels, much as does Crocker himself, raw and inviting: odd angles, open spaces, and passageways. A cluster of brightly coloured charts and tangled wires surround an oriental rug and a woodstove. A five-foot-tall, cameo-pink cutout moon hangs above, opposite a big, eerie face—not unlike the one on the cover of King Crimson's In the Court of the Crimson King—suspended over the mixing board. JOYFULTALK, Crocker's new band, is working out the kinks in bringing his contorted compositions to life, smiling and chuckling, frequently with furrowed brows, as the songs decay and rebuild themselves. Afterwards, Crocker offers demos of his homemade gear, explanations of his scoring process, and insights into his practice, all injected with a healthy dose of crass humour, modesty, and warm invitations to offer input. "It's all about searching, for me: conversing, reacting, searching for the sound that . . . has maybe existed before, but I've never made it," he says, then asks, with a look of consternation, "Does that make sense?" I reassure him that it does, and ask if it's a sense of surprise that he's after. Crocker responds with a strange mix of profundity and familiarity: "The change is always happening."
It's precisely this kind of curious wisdom that has propelled Crocker through two decades of music making. A talented multi-instrumentalist, arranger, producer, and recording engineer, he knows how to let things hang just so. Time and again, Crocker has kicked against the very limits of musical creation—to the expansive reaches of total improv, and into the rigorous details of strict composition—never compromising his distinctive voice. He bears a rugged, studied intuition, one that allows and necessitates his individuality in all endeavours. "He's a force of nature," Dadge asserts. "He's not going to do anything that's not fully himself. You're going to get 'The Crocker' no matter what is going on. He's going to challenge you, and he's going to do something that no one else would. And he's got enough chops and versatility that that tends to work out really well for him."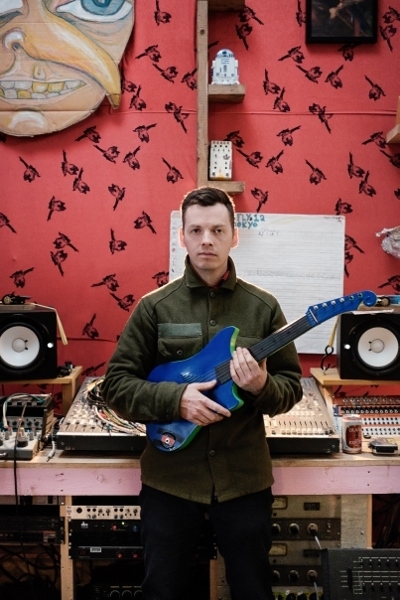 CROCKER AND DADGE FIRST MET IN 2002 at Calgary's  Mount Royal College. Crocker was twenty-three and coming off a five-year stint touring extensively with Recipe From A Small Planet, a band he'd started when he was fifteen. Known for its extended jams and its choice of transportation—a refurbished Calgary HandiBus special-needs vehicle—Recipe got its start playing bar shows in resort towns near Calgary. "We only had seven songs, and we wanted to start playing shows," recalls Crocker, who handled lead vocals and guitar. "Then we started taking acid, doing mushrooms, and getting into African-American music. We were just trying to play funkier music. We were seventeen and didn't really know what was going on. We got to jam and experiment the whole time." Crocker estimates that Recipe, which released two full-length albums, played three hundred shows one particular year. "I don't regret any of it. But eventually I outgrew doing the same thing every night. I needed more."
So Crocker enrolled at Mount Royal College and studied jazz alongside Dadge, who was eighteen—five years junior to the road-worn Crocker. The two shared an interest in the experimental scene surrounding John Zorn's Tzadik records, and began driving home together after class in Crocker's orange '73 Westphalia. They soon formed Taksi, a groove-based project inspired by Medeski, Martin & Wood, rounded out by fellow classmates Steve Fletcher (keyboards) and Ian Jarvis (bass). Taksi toured Canada's West Coast; then Crocker hit a major obstacle. After years of overworking his fingers along the fretboard, he had developed tendonitis. He was already feeling frustrated by the sterile environment of academia, and this physical injury was the last straw. "I was playing like crazy, and I had this teacher that was a total fucking jock. A music jock," he says matter-of-factly. "He wanted me to play all this intricate bebop jazz guitar. All this shit from fifty years ago! And I didn't want to play like that. One of the most fundamental things I learned was that if you're not playing what your body can play, if you're not listening to your body, then you'll never play anything that sounds like you." He dropped out after a year and a half. "I was able to get the foundation that I needed to go where I wanted to go."
His part-time work teaching music got him a discount at Calgary's iconic Rideau Music, a store with an abundance of sheet music and educational texts, which he bought and devoured at a feverish pace. With his own playing curtailed, he began an intense period of independent study and close listening, which focused on a wide range of orchestrated music by such masters as Philip Glass, Duke Ellington, Anthony Braxton, Harry Partch, and John Cage. Out of this, his own musical vocabulary began to emerge.
IN 2005, JAY CROCKER WAS MOVING ALONG TWO DISTINCT MUSICAL PATHS: one of a methodical producer obsessed with the rigid structures of classical arrangement, the other of an insatiable explorer of the avant-garde. Following his self-directed study of arrangement techniques, he dove headlong into a writing practice, developing detailed scores for a collection of left-field pop songs. Highly sophisticated, classically rich, and built upon intricate jazz chording, this project consumed Crocker for the better part of four years. "I wrote down everything, right down to the drum fills," he recalls. A ten-piece band was required to perform the material live, and a combination of private patrons and local labels funded the ambitious touring and recording processes. Melodies from the Outskirts, his first collection of songs, was recorded in a friend's garage with veteran Calgary musician Lorrie Matheson at the helm. It features everything from symphonic lounge-pop numbers to bossa-nova-tinged, alt- country tearjerkers. Below the Ocean Over, released just two years later, is even more ambitious and acutely. To capture the colour of the album's Nilsson-esque ballads, dark-alley interludes, and big-top pop tunes, Crocker and his band Electric Apes travelled to Tuscon, Arizona, to record with analog guru Craig Schumacher at his WaveLab studio. Crocker received not only top-notch treatment for his music, but also a crash course in analog recording.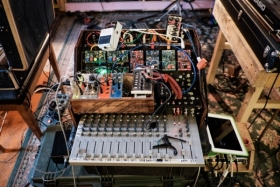 Crocker and the Apes toured once across Canada, playing several high-profile festival gigs. But such sophisticated pop music as theirs didn't have much room to call its own amidst the musical landscape of the aughts, and Crocker grew disdainful of people's misconceptions of this work. "I was going for a Van Dyke Parks thing, but because the band had a horn section, people assumed it was a funk band. We'd get slotted for an after-party at a folk festival. Everyone would want to party, but we'd be playing weird, free-jazz pop." While he was nurturing the ten-piece band, Crocker was also learning to build his own instruments. After an introduction to the basics of circuit-bending from indie-rock darling and fellow Calgarian Chad VanGaalen, Crocker began assembling a homemade arsenal of playthings: pedals, synths, tweaked-out children's toys, a modified snakeskin banjo. With these new devices, he set out to wander the vast expanse of improvisation.
The main venue for this phase of Crocker's music was the Calgary label Bug Incision, founded in 2005 by Chris Dadge, and its monthly improv concert series, which continues to this day. "At the time, there was definitely a lack of desirable places to play, so I started booking venues that would allow us to do basically whatever we wanted," explains Dadge (at press time, the series was running in the artist-run Blank Page Studio and the rock venue Broken City). Dadge's curatorial approach revolves around support and inclusion. "I try to present it as a sanctuary or an outlet for people to experiment," he says. "Even if it's just someone twiddling knobs in a basement, having the series there as a potential outlet helps that kind of thing grow. The community aspect is really strong and people feel really open and quite appreciated." Crocker's new experiments perfectly suited this milieu and he performed in the series regularly.
Most of Crocker's contributions were far-out collaborations with Dadge, fellow Mount Royal alumnus Scott Munro, and art-school outsider and drummer Eric Hamelin. Having just returned to Calgary after living in Gatineau, Quebec, Hamelin met Crocker at an early Bug Incision gig. "He was looking over at me, smirking, and I was wondering who the hell this guy was," Hamelin recalls. "He looked like a bit of an imp, like he might be trouble. He was looking at me like he knew something about me that I didn't know." Hamelin and Crocker developed a kinship based on their desire to make seriously unconventional jazz music, and formed the experimental free-bop duo No More Shapes. The duo's early material was formless, off-the-wall experimentation sourced from live improv sets and Hamelin's own recordings, but Crocker soon switched on his arranger's brain. No More Shapes lasted four years, making several cross-Canada tours and releasing one full-length record, Creesus Crisis, featuring trombonist J. C. Jones. The album received positive reviews from The New York Times and Pop Matters for its impressive blend of daring and accessibility. "We both wanted to make really hardcore, out-there music without it being too stuck-up," says Hamelin. "We just wanted to have fun with it. We wanted to play everywhere."
Concurrently with No More Shapes, Crocker was involved in a staggering number of projects. He toured with the avant-blues outfit Ghostkeeper, which earned a Polaris nomination for its Crocker-produced debut recording. His collaboration with media artist Joe Kelly resulted in Manjello, an experimental, hand-animated 16mm film for which Crocker composed the score using his homemade instruments. Crocker was also working full-tilt in running an all-analog recording studio out of his friend's garage. After releasing Co-Stars, his avant-pop opus, in early 2011, Crocker set to producing, arranging for, and recording for dozens of artists. He and his partner, Johanna Hayes, also started a family. More and more, the idea of continuing his life as a dogged artist in the crowded landscape of Calgary became troublesome. "I was working on everyone else's stuff, feeling a little bit trapped, I guess. And I couldn't get into the oil culture of [Calgary]. It was getting too intense," he recounts. "Everything was being torn down and replaced by these weird fake things. And nobody seemed concerned about anything because there's just so much money around. Out there, people can be so pacified. You can drive around with your hand out the window and there's a hundred bucks." This pressure resulted in Crocker's most radical improvisation: he and his family—including their dog Django—relocated to Nova Scotia, taking up residence in a beguiling home on six acres in Crousetown.
CROCKER's HOME IS TUCKED INTO A POCKET OF ACADIAN FOREST between the main road and a river that flows out into the Atlantic Ocean. The property includes the main house and two outbuildings: a chicken coop, where the family keeps a septet of chickens, and a larger structure that houses a sizable woodpile and Crocker's home studio. With a population barely cracking three digits, no amenities to speak of, and practically no infrastructure aside from old country highways, bridges, and logging roads, Crousetown is the exact opposite of Calgary culturally, esthetically, and economically. The choice of locale for their new life, Crocker explains, was based on intuition: "We just had a feeling. We were really naïve, though. When you come from a place that has so much, and it's so easy to find money, you don't think it's going to be so hard. You think, It's Canada. How hard can it be? But Nova Scotia is a depressed-ass place." Living lean has become a reality for Crocker, who spends his days looking after his son and daughter, while Hayes works in nearby Lunenburg. He makes do by fixing up the family home himself, analogously applying his knowledge of circuit boards to plumbing issues. He has also received two sizable grants to write and record new music.
The first grant supported
MUUIXX
(Drip Audio), the full-length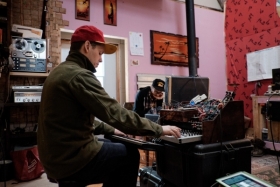 debut of his new project JOYFULTALK, released in June 2015. A daring and eloquent combination of both his improv and compositional tendencies, the recording is Crocker's most realized material to date, its ten instrumental tracks moving seamlessly through swelling komische melodies, avant hip-hop beats, and sci-fi soundscapes. The overall tone and palette of the record is bright and curious. It's a surprisingly accessible body of work, despite its deeply experimental underpinnings. The album was conceived in the style of Crocker's large-ensemble work, with minute details meticulously scored by hand for his arsenal of modified instruments: The Combover, The Rainman, The Cheadle, and The Pink Dolphin. Crocker's inventions—previously tools for impetuous trial-and-error—are imbued with a distinctive identity and newfound purpose in the music of JOYFULTALK. "I see them as players," Crocker explains. "I came out here and felt really isolated because there definitely aren't any improv nights or collaborators around. So I had to go even deeper into the work. I use them this way now because I don't have anything else."
In Spring 2014, the mysterious Crousetown tractor beam attracted another curious Calgarian, Shawn Dicey, a multimodal artist and musician, who had discovered the beauty of the South Shore while touring an art installation to Halifax the previous year. Looking to escape Alberta's commercial culture, Dicey found his way to the Crocker Ranch through mutual connections. "I'm interested in making everything for myself, even food. I'm comfortable just having the things that I can produce. And that's just not possible near Calgary. This location is just the right thing for that," explains Dicey. After four months crashing in the loft space above Crocker's studio, Dicey moved nearby, to a semi-converted hunting shack without electricity or running water. Before Dicey, only one other person had inhabited the bare-bones shack year round: William Vandermeulen, a New Brunswick-based artist and tech wiz who rounds out the live incarnation of JOYFULTALK.
With Dicey playing keyboards, a drum machine, a sampler, and a few of Crocker's inventions, and Vandermeulen playing his own homebuilt modular synth, the trio brings Crocker's madcap compositions to life in real time. "In a sense, we're trying to play the songs like they sound on the record, but we each bring our own interpretation to it. And Jay understands that," says Vandermeulen, a relatively inexperienced player. Crocker adds confidently: "Learning the lines is just dexterity. Will can practise that. But the way he improvises, you can't teach that. He's not really a player, but I just love his colour in there. I love his feeling in there. It's totally right." The group is taking its small village of gear on the road in the summer of 2015 in support of MUUIXX. Despite their irreplaceable bundle of equipment, the trio seems unconcerned by the possibility of tech troubles. "Even if all of our instruments stopped working and we couldn't play, I think we'd still play, y'know?" Vandermeulen says assuredly.
In addition to the gargantuan task of translating the singularities of
MUUIXX
into a live setting, Crocker is working on his second grant-supported project—developing an entirely new way of scoring, which he calls the Planetary Music System. Manifesting in the form of visual charts roughly the size of cinema posters, the physical scores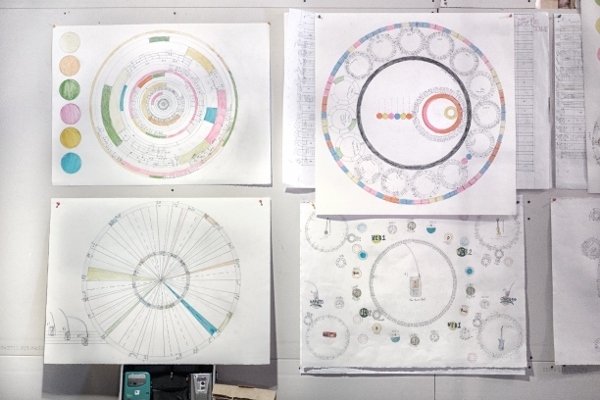 resemble interlocking mechanical gears striped with bright colours, peppered with pencilled-in directives and obscure number patterns. Just as the music on MUUIXX was born of Crocker's strict arranging of improv-based materials, so The Planetary Music System subverts compositional expectations by moving out from a strict design into experiential interpretation. Although the charts were developed with particular sounds in mind, Crocker explains that they aren't tied specifically to music, and can be used as a basic creative framework with any medium. "I'd say they're more like maps. Even when you use a map to explore a part of the earth, there's still all that other peripheral stuff that informs the journey." For the time being, they hang silently on the wall of his studio, waiting to be rediscovered. "I haven't really explored how they're going to sound yet. This'll be the next thing I tackle."
THE CASUAL NATURE OF THE WEEKEND I SPENT IN CROUSETOWN with Crocker and JOYFULTALK, as they rehearsed and prepped for touring, belies the degree to which it was productive. I left feeling hazy, having giggled as much as Crocker's kids, and with the distinct impression that the group had only managed to practise just one small section of one song rather intermittently. Bad puns abounded, shared meals were delighted in, beers cracked, joints passed, and never once did a sense of urgency or concern arise. Yet somehow it felt essential, a part of the ever-present change.
Once, sitting at the kitchen table, the low sun warm on my shoulders, I watched Crocker pet Django affectionately as he debated a name change for his companion of fifteen years. On his knees looking up at me, he asked, "Should I change his name to Djangus? All of a sudden I really like calling him that." The moment reminded me of my conversation with songwriter Jon Mckiel about recording his self-titled 2014 EP with Crocker. "Recording with Jay renewed my spirit," Mckiel told me. "One thing he brought to my music that I hadn't really considered before is that if we get together to practise, it doesn't necessarily mean we go over and over the songs. We can just get together and hang out, not always necessarily to play music. That's one of the most important things about recording with Jay: just hanging out with his family and his big dog. I drove around with him a lot, just looking for car parts."
When I mentioned this to Crocker, he responded: "I can be driving around and tap into it pretty hard. I can see what needs to be done and how I'm going to do it. So when I get back, it's almost already executed. It's almost like a meditative thing. So, if we're driving around, I can visualize it to the point where I could probably get back and do it without practising.
"I'm pretty good at overcoming obstacles, but I also create them for myself. I'm a bit of a masochist that way, very cavalier, very naive at times—but that's when the really good, crazy things happen. That's kind of my jam—creating this lifestyle that's a total fucking obstacle, and then having to figure out the most creative way to deal with it."
---
Audio
: 
Gym Class
(from the JOYFULTALK album 
MUUIXX
, released on
Drip Audio
, June
2015).
 All images in this article (Jay Crocker, gear, Planetary Music System scores) by
: John McCarthy