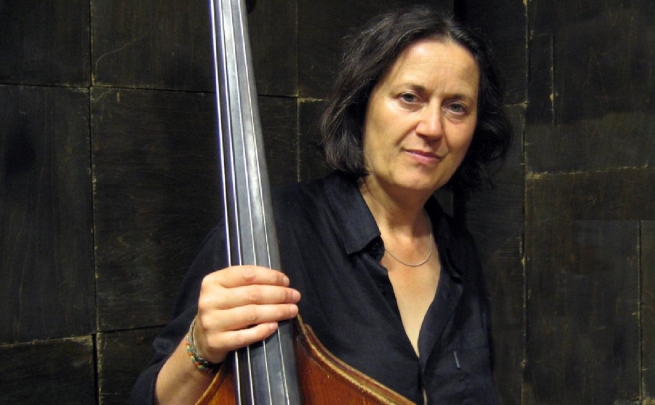 For Joëlle Léandre it all begins and ends with the double bass. After playing the often unwieldy bull fiddle from the age of nine and carefully studying its intricacies, she creates with it sounds so personal that defining them as free music, new music. or anything else, is beside the point. Since the late 1970s, Paris-based Léandre has played throughout Europe, North America and Japan, performed notated scores specifically tailored to her skills, composed music for dance and theatre companies, and above all, worked with a clutch of improvisers. "Improvisation," Léandre declares, "is my life. It's music without hierarchy or rank; it only involves an individual and his commitment."
She didn't start out believing that, however. Born in 1951 in Aix-en-Provence—"on Opera Street across from a theatre," she notes— Léandre studied the standard double- bass repertoire intensively in her hometown conservatory and at the Conservatoire National Superieur de Musique de Paris. By her late teens she was subbing in the bass sections of large classical ensembles ("in opera, when the basses play, something is going to be revealed, or a murder takes place"). Although drawn to Paris jazz clubs, she wasn't involved in that scene because her conservatory-honed facility with the bow had led to her finding the jazz field's standard pizzicato playing somewhat off-putting. Her appreciation of improvisation did not come from esperienceing live playing, but was stoked in a unique fashion. In a second-hand record shop, she chanced upon Bowin' Swingin' Slam, a Savoy LP by American swing bassist Slam Stewart. Stewart (1914–1987) had developed the unique technique of playing arco solos while simultaneously humming the same line an octave higher. "Bass, swing, voice and bow … it was a shock for me," she admits. Because she is, as she puts it, "all about improvising with the bow," this style intrigued, and drew her towards improvisation.
Around the same time as she discovered Slam Stewart, she received a one-year scholarship to study at the Center for Creative and Performing Arts in Buffalo, N. Y. "America kicked my ass," she exclaims. Not only was she exposed daily to the most modern currents of so-called serious music from composers such as John Cage, but she also frequently travelled to New York to listen to improvisers—both local and foreign. "Meeting Derek Bailey in New York had nearly the same impact on me as meeting Cage," she has said.
She still often performs with some of the musicians she met around that time, such as French baritone saxophonist Daunik Lazro and American trombonist George Lewis. In 1981 she received another grant to work intensively with other musicians and dancers on a British project with Cage and choreographer Merce Cunningham. "From Cage I learned everything about life," she says somewhat theatrically—"ego, acceptance, and difference." As for Cage's reputed antipathy to improvisation, "He did not hate anything," she explains, "what he disliked was the codification, the habits and techniques improvisers often repeat when they play."
Eventually Cage and Italian composer Giacinto Scelsi, with whom she also studied and collaborated, composed open-form works specifically designed to feature her. "In composition there's always a purpose, because each composition has a definite end. But in improvisation it's action that dominates."
"The first motion is crucial," she adds. "Great knowledge of your instrument is needed. You have to have memory of what your fingers can do and a memory of every gesture in the game."
Initially she played solo improvisations, and her massive discography includes many examples of this difficult art, including one of the two CDs of her recent Live in Israel disc. But she soon began collaborating with other sonic explorers. Since that time she has become the epitome of the peripatetic musician, on the road about 160 days of the year, involved in familiar and brand-new interactions. "I'm a nomad, a gypsy," she states ruefully. In 2008, for instance, she played with saxophonist Jean Derome and drummer Danielle P. Roger in a Montreal club; that same year at New York's Vision Festival she duoed with trombonist Lewis. Earlier, her performance with American violinist India Cooke was one of the highlights of the 2004 Guelph Jazz Festival (GJF) and in 2009 she gave two well-received concerts at the GJF, one solo and one with the otherwise American Stone Quartet. All were recent collaborations.
She continues to improvise also with musicians with whom she has worked for decades. Why? "Because," she replies, "as we evolve over the years, each of us changes as [an] individual—our molecules, our DNA and our music as musicians. So even after long years of collaboration, each time is a new adventure." Referring to her CDs as her "babies" Léandre explains that you make a CD the same way you make a baby—"you need a partner, pleasure, fun, and love." Similarly, she explains, these musical babies constantly need new experiences to grow, and music made with new partners—the other frequent Léandre strategy—provides this. "Improvisation [means] heading towards the unknown. It involves all your reflexes and all your knowledge and exposes creative surprises."
Over the years Léandre has also been involved in creating dance and theatre pieces, both composing and/or playing. Her most recent project for theatre, l'érotisme de la tragédie, links her score for two cellos to what she describes as a "poetic and provocative text." Her work with dancers, which has been ongoing since 1974, includes a quartet program developed with choreographer Josef Nadj, which has toured Hungary, Serbia, and Slovenia. It features movement from Nadj and another dancer, as well as a notated and improvised score performed by Léandre and multi-reedist Akosh S.—with whom she has also recorded.
Theatrics seem to come naturally to Léandre. When she performs in a solely sonic setting, whether it's with vocalists like American Lauren Newton or Maggie Nicols of England, on her own, or with any number of other instrumentalists, the bassist hums, chortles, yowls, mumbles, shrieks, and often verbalizes phrases as she plays—taking one step beyond the Slam Stewart approach. Although the dramatics may contrast with her habitual stage wear of voluminous dark blouse and matching slacks, especially when she peers professor-like over the dark-frame glasses she sometimes sports, "all this is expression," she notes. "For me it's natural to sing, to vocalize, and to talk when I play. It's all part of my vocabulary."
Expressing the improvisatory element has, over the past few years, also included teaching, most notably at California's Mills College with colleagues such as British guitarist Fred Frith. Observe her methods dealing with enraptured music students, as captured in director Christine Baudillon's DVD (see sidebar), and you can see how this woman, who has worked against musical conventions since she was at the conservatory—expresses improvisatory concepts in gestures, words, and music. "Practice needs passion and passions," she says at one point, encouraging them. "We go on stage to touch the people and to pass something on to them."
For Léandre and her admirers, the past few years have been a particularly rich time for experiencing the products of Léandre's expression. Besides her constant touring, not only has she released memorable CDs and been the subject of Baudillon's documentary, but a book about her life and thoughts has also been published in French (see sidebar).
Overall after many decades in music, her options and ideals remain linked to her bass, which she describes as "an ugly thing with a big ass," and improvisation is still her motivating force.
 "Improvisation for me is equal to composition," she states. "We improvise all the time in life—every day, every moment and every second. When you play in an instant you become sound yourself. Improvisation is like life and death. It reveals that true life is now, not yesterday or tomorrow"
---
Audio: Bass Solo #1 (2007). Improvisation by Joëlle Léandre, double bass. Image: Courtesy of the artist.