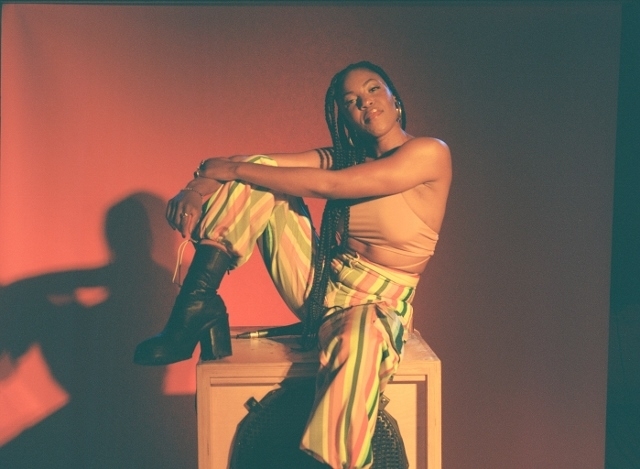 Multidimensional artist and music producer Alanna Stuart is constantly evolving. She regards categories not as borders but as things to be transcended. In her acclaimed duo Bonjay, with Ian "Pho" Swain, as well as her collaborative projects and her solo songwriting, she is digging deep into her connections to Jamaica, exploring dancehall more fully, building her own new world of sound, and inviting us into her entrancing sphere. 
Stuart talked to me in late October from Montreal, where she was participating in a residency for and rehearsing Lay Hold to the Softest Throat, an intergenre project led by contemporary dancer and choreographer Ellen Furey—in collaboration with sound artist Christopher Willes and vocalists Romy Lightman and Stuart—that centres on and is inspired by the voice. "I've always wanted to step into the dance world," Stuart told me. 
My first introduction to her work was the thirty-minute film Fem Hall, which was presented earlier in October 2021 at the Music Gallery's annual X Avant Festival. The film is a visual and sonic journey that reveals Stuart coming into her own as a solo artist. "Fem Hall is a thesis of mine, of presenting and producing dancehall reggae from a fem perspective," she says. The music combines dancehall beats with Stuart's soaring soprano, which carries the range and texture of Kate Bush, as well as the heft and growl of Etta James. The film is a combination of several music videos covering songs by artists such as Casey Mecija, St. Vincent, and Solange, and includes a short documentary of Stuart's seminal voyage to Jamaica. 
beginnings 
Stuart came up within Canada's indie electronic-music scene. Until recently, she had not questioned her vague sense of discomfort as a Black woman in this predominantly white music scene. Stuart and musical partner Swain coproduce Bonjay, a delectably soulful, dancehall-infused electronic-music duo that features her exceptional voice. Their EP Broughtupsy (2010) received critical acclaim in the New York Times and The Guardian. Their full-length album Lush Life (2018) was similarly well-received and was the feature of a CBC Gem television special. 
Stuart initially began producing out of necessity. "I would ask Ian to produce faster, and he would say, 'You do it'," she laughs. She developed a love for selecting effects and balancing the sounds. "I recorded and edited my own vocals. Now I love sound editing. There's something very satisfying about that kind of detail-oriented process." Self-reliance in the studio is not only a necessity due to time constraints. Recording can be expensive. Even though she is far from shy in the studio, Stuart at times found it challenging to get what she needed from the audio engineers she was working with. "Because I didn't have the technical jargon to connect with them, sometimes they would override my opinion." She eventually moved on to study sound formally with producer and engineer Robbie Lackritz, who had worked with one of Stuart's favourite artists, Feist, as well as with Bahamas and Zeus. 
Stuart's most profound studio and producing influences, however, have been her extensive mentoring by legends of Jamaican sound system and of dancehall music. 
truths 
In February 2017 Stuart landed in Jamaica with no clear plan. "I felt the desire to add to my understanding of my own cultural musical roots, exploring an additional or different authenticity, deeper into dancehall and Jamaican roots." 
She travelled with friend and filmmaker May Truong, with whom she finds deep cultural resonance. "May is of Chinese background. She understands certain social norms of people who are the children of immigrants: you don't talk to your elders in certain ways; you don't put your feet up on the couch. I just knew that I could rely on her to take care of herself in certain ways and take care of me in certain ways." Truong's plan was to document every moment of the trip with a handheld camera. The duo knew little of Jamaican culture, but they had been told where the good parties were. On the night of the annual celebration of Bob Marley's birthday, Stuart spotted British radio DJ David Rodigan, a well-known champion of reggae and dancehall music, in the crowd. 
"In the indie rock community in the early 2000s, I would carry around a Sony sports Discman with my demo on it and make people listen to it," says Stuart. "I went up to (Rodigan) and said, 'My name is Alanna, I'm Canadian, but I make dance music. And this is my first time here.'" She asked to interview him. 
"Meet me at Anchor Studios," he responded. "I'll be there with the BBC." 
Stuart arrived at the renowned Kingston studio—known for superstar clients such as Shabba Ranks, Gregory Isaacs, and Maxi Priest—wondering how she would be received there, both as a foreigner and as a woman in this male-dominated cultural space. "I just knew that I wanted to participate," she recalls. "I suspended fear." She talked with and played her music for whomever she could. Reggae musician Noel "Bunny" Brown (who later passed away in 2019) took a liking to her music, and introduced her to musicians, sound engineers, and producers, including drummer Sly Dunbar, of Sly and Robbie fame.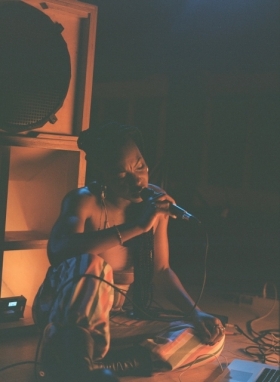 Stuart showed up at Anchor every day and sat for hours, listening, and waiting for something to happen. On the fourth or fifth day, Dunbar announced to the assemblage, "We need to get her a beat." He proceeded to play beats for her until she found something that she wanted to work with. 
On that trip, Stuart connected with award-winning reggae and dancehall producer and engineer Delroy "Phatta" Pottinger, as well as Ninjaman, the popular Jamaican dancehall deejay (reggae artist who toasts), to whom Stuart revealed her concern about where her music would fit in the Jamaican dancehall world. She could speak the patois but not necessarily with a Jamaican accent. He encouraged her to treat her unique voice as a strength. "If you mix the Jamaican with the Canadian and you know how to flow it around, you'll fly around everybody," he told her. 
A chance encounter with Jamaican sound-system pioneer Tony Myers proved instrumental. She and Myers bonded over a passion for ABBA and '90s dancehall. "He was both the best and the worst teacher ever," Stuart recalls. "He would never explain a step-by-step breakdown of a sound-system engineering process. There was one lesson he gave me where he just said, 'Follow me.' Then he walked over to the soundboard. He pulled all the faders to zero while the system was on. Then he said, 'Fix it,' and then he walked away. He could tell that I was eager, and he could tell that I was capable. He would just, like, throw me in the lion's den." 
Myers also insisted that Stuart learn how to move and set up the system's five-foot-high bass-speaker boxes. "They were big and heavy, you know, and the boys would try to help me, and he'd say, 'No, she could do it.'" Stuart eventually figured out how to rock the giant box onto one of its corners, then use its weight as momentum to pivot it forward on the corners of its base. 
"Within the mainstream music industry, dark-skinned Black men are not seen as the picture of nurturing and comfort and emotional safety for women or Black women in the music industry," Stuart says. "[But] that's exactly what [Bunny Brown] was for me. He laid the foundation and set a certain standard in terms of how I could expect to be treated in the music industry in Jamaica and how I could interact with Black men in the music industry." 
In Jamaica, Stuart found common understandings and honesty. "If it didn't work, they would tell me. And if it worked, I didn't have to fight to explain why it worked." This contrasted with her experiences working in Canada, where "you have to use certain jargon or music theory to really be respected as a bona fide musician—not in every case, but in most cases—when working with white men." Although this was her first visit in a Jamaican studio, she shared much of the musical culture and techniques with these men. "And so I just experienced a certain kind of freedom." 
returns 
Stuart began making annual trips to Jamaica to work with local artists. "By the fourth trip, I was producing music in the studio with Sly Dunbar and Robbie Shakespeare. "Every time I went back, it was because I missed it," she says. "It was because something in my body needed it: the validation of it, the reinforcement of Blackness or Jamaicanness. The impact of travel back and forth was my growing awareness of the contrast with life in Canada. 
"I think that I'm more aware of whiteness now and holding that word in my mouth feels different. It feels a little bit more violent in ways." 
Although Stuart now loves both the return to Jamaica and to her home in Canada, the ease she felt while immersed in the Black culture of Jamaica brought a deeper awareness of how white the indie-music scene in Canada still was. She began noting when and where she felt emotionally safe: "When do I feel at ease? When do I hold my breath? When am I looking around? Or what am I looking around for? And when am I just being?" Increasingly, she was encountering statements about inclusivity around indie music events, such as "everyone is welcome." The statement rang hollow, she says, as these events remained predominated white. Stuart began asking herself, How exactly does that happen and why does it continue? Who are you socializing with or networking with that attracts this crowd to your party? What is happening between talk and action? 
Stuart took an unusual route to answering these questions. She put a call out for a research partner through her community network and social media, and connected with sociologist Dr. Kim de Laat. They conducted an independent qualitative research study, which involved interviewing forty people involved in different roles in Toronto's indie-music community. They asked interviewees questions about how they conceived of the term "diversity," how their identity impacted their experience in the music industry, and who they interact with. "We found that there were different ways that people assessed the term or the concept of diversity," Stuart said, adding,"We found all these superficial indicators of diversity that people can hold up and say, 'Hey! Look, we're diverse!'" 
---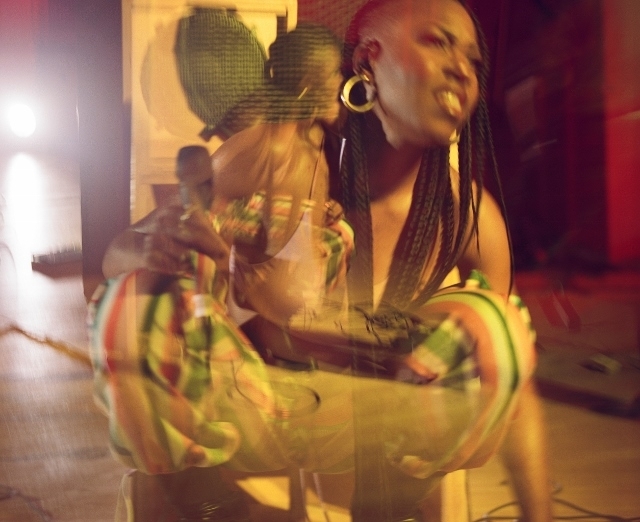 landings 
Fem Hall begins with an intimate shot, in which you can only see Stuart's eyes. Over time, more of her is revealed, including the story of her trip to Jamaica. By the end, Stuart is no longer seated, but standing on a sound-system speaker. "I'm moving, I'm free, I'm playful, and I'm performing even less to the camera," she said. 
"I think about the bombast of the sound-system speaker in the context of Canada, where, due to sound regulations, Jamaican expression is dampened," she continued. "I needed to put that speaker up on the forefront. I need to stand on it and show that it holds me up, that it's the foundation of my sonic expression." 
Stuart praised Fem Hall creative director Joshua Rille: "They did such a beautiful job and saw me in ways that I couldn't even imagine seeing myself." Other Toronto collaborators on the film include creative director Maylee Todd and coproducers and arrangers La-Nai Gabriel and Robin Dann. "We also have a songwriting and production trio called Gabe, Dann, and Stu," Stuart said, adding. "They're all over the music. I can't say that I produced it on my own. It wouldn't be the same without them." 
Stuart continues to dance in the broadest sense. It might look like manipulating the musculature of the vocal cords, using the body to communicate, moving with the grace of a boxer atop a six-foot-high bass speaker, or singing in full voice in a frilly dress and sneakers. 
Both grounded and mercurial, Stuart sways with the contradictions, weaving cultures and sounds. She does not accept borders. 
---
PHOTOS:  Joshua Rille
FYI:
The voice-centred contemporary dance work
Lay Hold to the Softest Throat
, featuring Stuart as one of two vocalist collaborators, will premier at L'Écart in Rouyn-Noranda, Quebec in February 2022. Learn more at
lecart.org
ON THE CD: To Silver (Kiki Riddim)