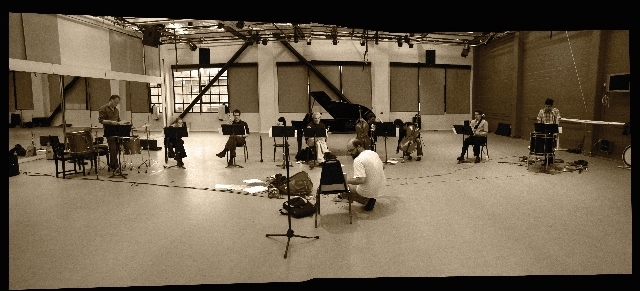 PERHAPS NO OTHER AMERICAN METROPOLIS is more associated with important countercultural movements than the San Francisco Bay Area. From the Beats of the 1950s and the hippies of the 1960s to the radical punks of the '70s and '80s, the "city by the Bay" has long attracted creative visionaries, free thinkers, and fringe seekers. Amidst these broader cultural movements, new music has also flourished there. In the 1930s, John Cage and Lou Harrison famously invented a revolutionary new DIY percussion-based music. In the early '60s, Pauline Oliveros, Morton Subotnick, and Ramon Sender founded the San Francisco Tape Music Center to work with the new electronic medium. Since then, other important artists and organizations—such as 1750 Arch and the influential Other Minds Festival—have emerged alongside the increasingly prominent academic centres for contemporary music at UC Berkeley, Stanford, and Mills College.
But the San Francisco region of today is considerably less hospitable, as are other major North American cities, to radical cultural movements. With ever-increasing gentrification and commercialization of the city's core neighbourhoods, artists and musicians are increasingly being displaced as an ever-more corporatized and culturally mediated America continues to put pressure on the creative fringe. Against this changing landscape, sfSound is bravely carrying the visionary torch of the Bay Area's rich experimental musical heritage.
With a moniker that refers to both its San Francisco-area home and the musical sforzando symbol, sfSound first emerged in the late 1990s as a loosely affiliated collective of composer–performers who joined forces to play one another's pieces. The idea was initiated by clarinettist and composer Matt Ingalls, a New Mexico native who had come to the Bay Area a few years earlier to complete his MA at Mills College. "At that time I had been doing mostly improv, and I had been wanting to have a group that was exploring both notated music and improvised music," recalls Ingalls, who recruited for the original lineup saxophonist John Ingle, trumpeter David Bithell, violinist Tom Swafford, cellist Hugh Livingston, guitarists Thomas Day and John Shiurba, percussionist Rakesh Khanna, and the late bassist Mathew Sperry—most of whom were recent music-school graduates and, like himself, improvisers and composers.
sfSoundGroup made its first official appearance at San Francisco's ODC Theater in March 2001, and over the next two years the collective's performances grew more frequent. Concerts were held in a wide range of settings and featured a dizzying variety of music: classic twentieth-century works (by Oliveros, Cage, Brown, Cardew, Stockhausen, Ligeti, and Varèse), collaborations with local composers (a large multimedia work by Miya Masaoka, a new opera by Hugh Livingston, etc.), and new works by the members. By 2003, a regular concert series, sfSoundSeries, had evolved, and a distinct aesthetic and conceptual approach was solidifying. The collective had by then acquired two new members, Christopher Burns and Christopher Jones, both doctoral candidates at Stanford under Brian Ferneyhough. Observing how freely improvised music, when done well, could often be indistinguishable from the highly complex notated compositions then emanating from Ferneyhough and his students, the group began to focus on the exploration and examination of this ambiguous territory. Where does composition end and improvisation begin? Or is it the other way around? Also related was the similar ambiguity between the results achieved from strictly notated compositions versus those using graphic notation, a field they had recently been exploring through landmark graphic scores by Brown, Cardew, and others. What is the difference really, between a highly complex, strictly notated musical gesture, and a richly detailed graphic score? With these primary questions at its foundation, the group began to fully pursue the project of building a contemporary repertoire out of the remains of 1960s-era European and American experimentalism.
"I think things just got more conservative," says Ingalls, when asked how such a fascination with an era seemingly long out of fashion came about. "I'm no historian or anything, but a lot of people rebelled against the dogma of that time period, when they had the chance. When I was in school [in the early '90s], all that '60s stuff was considered invalid. But there's just more music that resonates with us from that time period." Indeed, the group's interest in this period has a certain generational dimension. Most of the members were born in the late '60s to early '70s and are thus part of so-called Generation X, which came into its own more or less when society began a rightward turn away from the progressivism of the '60s. This generation has often been perceived as skeptical and nontraditional, existing in a sort of limbo between periods, and so sfSound's embracing of the experimental ethos of the '60s makes perfect sense, even as it is an increasingly rare pursuit.
NEW TAPE MUSIC
As the sfSoundGroup's activities expanded, the identity of the larger sfSound organization became increasingly multifarious. In the late 1990s, Ingalls (who was also involved with electronic and computer music) and a handful of colleagues began organizing tape-music concerts—back then, the presentation of fixed-media sound works was a largely forgotten practice. Directly inspired by the Rien à voir series in Montreal—at the time the only similar series known to them—they put on informal events at lofts and galleries, featuring their own works alongside those of electronic music masters such as Jonty Harrison, Maggi Payne, Jean-Claude Risset, Hildegard Westerkamp, and Oliveros. This programming thread developed into The New San Francisco Tape Music Center, a semi-autonomous collective named in homage to, and with the full approval of, the original San Francisco Tape Music Center. While the organizers were initially surprised at how popular these events quickly became, in retrospect, this revival emerged in an ideal milieu, considering the broader context of the Bay Area, with its superabundant tech culture and the presence of key audio research companies such as Meyer Sound and Skywalker Sound, as well as prominent academic centres for computer music.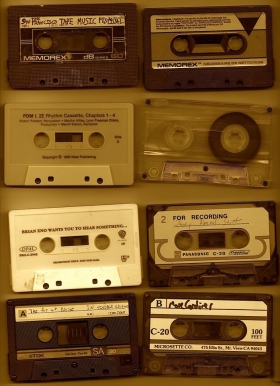 Eventually, the organization focused exclusively on one annual event, the San Francisco Tape Music Festival, which officially launched in 2004 and steadily grew in scope, size, and stature, attracting notice well beyond the Bay Area. The 2015 edition, held in January, included four massive programs with works by thirty-two local and international composers, including Canadian James O'Callaghan's 2014 work Bodies-Soundings, winner of Musicworks' 2014 electronic music competition. The festival definitely has an affinity with the electroacoustic and acousmatic traditions being practised north of the border: more works from the catalogue of the Canadian electroacoustic label empreintes DIGITALes have been presented at these festivals than works from any other label or music organization. A glance at the programming of past festivals reveals a considerably broad vision. Works by local artists and members of the collective are generally well represented, but no genres or styles are ever off limits. The 2015 festival included the world premiere of Brian Eno's Golden, while the 2014 edition included the rarely heard early Steve Reich tape piece Melodica, as well as a contribution from the underground industrial outfit The Hafler Trio. Other festivals have included acousmatic realizations of The Beatles, Raymond Scott, Christian Marclay, and Maryanne Amacher, plus other surprising choices, all alongside classic works of electroacoustic and computer music.
The 2015 festival also marked the first time the sfSoundGroup and the San Francisco Tape Music Collective appeared together on the same program (they'd previously performed as separate entities). The occasion was an ambitious program of French and American works for instruments and electronics, including classics by Boulez, Ferrari, Davidovsky, Parmegiani, and others.
INDEPENDENCE AND SUPPORT
While the sfSoundSeries and the San Francisco Tape Music Festival both attract sizable audiences (the 2015 festival took in a record profit), they still struggle to find sufficient financial support for their activities. sfSound, which has maintained a staunchly independent stance, has found success, on and off, with city grant programs, foundation awards, and occasional private contributions. But the funding ecosystem for experimental music has never been strong in the U.S.; in the current climate, which appears to be approaching an all-time low, it's remarkable how much sfSound has been able to accomplish.
The sfSound organization has successfully drawn important contributions from a broad pool of musicians and music enthusiasts to help keep its vision alive. While the membership of the tape music branch has remained largely consistent, many noted artists have moved through the ranks of the sfSoundGroup. Past members include composers Burns and Jones, who eventually took teaching posts in other cities, and the noted trombonist Toyoji Tomita, a beloved figure in the Bay Area music community, who died unexpectedly of a heart attack in 2008. The organization's current incarnation revolves around a small core of longtime members—Ingalls, Ingle, pianist Hadley McCarroll, cellist Monica Scott, violinist Benjamin Kreith, trombonist Brendan Lai-Tong, and oboist Kyle Bruckmann—with a flexible roster to respond to programming. Alumni such as Burns, Jones, and Bithell return periodically to participate in specific projects. The group broadened its reach with the creation of sfSoundRadio, a radio station that showcases experimental, improvised, electronic, and contemporary composition, and other forms of new music made in the San Francisco Bay Area. [See sidebar.]
RADICAL TRANSCIPTIONS
During the summer of 2013, I attended a large-scale sfSoundGroup performance at the historic Victoria Theater in San Francisco's Mission District. It was a cool summer evening with a smattering of fog, the kind of unseasonably cold weather typical of Bay Area summers. The triple bill was headlined by the legendary Sun Ra Arkestra, and included a set by Thomas Day, an original sfSound member, performing as his alter ego Hans Grüsel. Before a nearly full house of 400 people, the group staged one of its most ambitious and fully realized performances to date, featuring nineteen musicians—one of its largest incarnations—including two sopranos, a tenor, several electronic musicians, and a mix of brass, winds, strings, and percussion. (The group was unofficially dubbed the sfSoundOrchestra.) The program included Laborintus III: Omaggio a Berio—both a tribute to the late Italian modernist Luciano Berio and a reimagining of his style—which exemplifies sfSound's unique creative approach and working process. Using musical fragments and ideas from thirty different Berio works, the group collectively constructed an entirely new piece that evoked the original works but still felt new. The result was uniquely historical, yet also forward-looking. Compositional and creative contributions from each group member—drawing equally from Berio fragments and their own ideas—resulted in a marvellously energetic and surreal tour de force that was operatic, electronic, ecstatic, and hallucinatory. I haven't heard anything like it before or since.
The piece belongs to the ongoing Laborintus Project, which began in 2004 and is itself  part of a larger body of works the group has developed through a process they call "radical transcription." The underlying idea is to create a new work based on a modern classic that takes the original into new and unexpected places. This particular approach to transcription began out of a purely practical need. In 2002 Ingalls wanted to present György Ligeti's Ten Pieces for Wind Quintet on an sfSound program. There were difficulties finding instrumentalists for all the parts, so rather than hire outside professionals for the performance, he decided to create an arrangement using the instruments played by the group. Ingalls then decided to take some liberties with the original and introduce some of his own ideas into the work. The new work, which he titled Ten Pieces for Woodwind Quintet Remixed, was decidedly an artistic success in performance, but it attracted a cease-and-desist letter from Ligeti himself, through his publisher, Schott Music, which threatened legal action if the group continued performing the work in this way. sfSoundGroup ultimately complied, but the idea did not end there.
Ingalls took his process a step beyond the remix concept, and made the work even more his own, while retaining the identity of the original, naming this new piece György Variations and claiming full authorship. The group has since undertaken a number of other radical transcriptions in addition to the Berio project, including a reimagining of John Cage's Sonatas and Interludes, wherein several members of sfSound create their own realization of a section of the work, and a version of Varèse's Octandre (retitled Quadrande) that fuses the original material with sfSound's unique sound palette and additional elements of early minimalism. For Small Packages, a spinoff program, sfSound commissions a group of composers to create a short piece of three to five minutes, based on or in dialogue with a reference masterwork. Small Packages programs have been built around Webern's Chamber Concerto, Ligeti's Chamber Concerto, Stockhausen's Kontra-punkte, Earle Brown's December 1952, and Grisey's Périodes.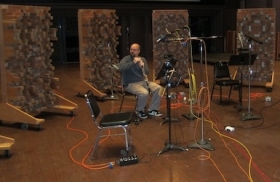 NEW MILESTONES
Considering how active sfSound has been on so many fronts for fifteen years, it's surprising that the collective has not yet released an official recording. This is about to change. Their anticipated debut release collected works | collective works—which was recorded at Skywalker Sound and which sfSound expects to release in Summer 2015—brings together highlights from the group's original repertoire as well as three excellent group improvisations. Ingalls' stunning Trio Largo, a fifteen-minute essay in orchestral experimentation, is a highlight of the album, which also includes two movements from Ingle's continually evolving Mobiles collection; two works by violinist–composer Erik Ulman that are inspired by the visual artists Cy Twombly and Jules Olitski; Jones's thorny Reflection | Refraction, an eight-movement study in contrasting textures; and oboist Kyle Bruckmann's willfully eccentric Ratchetforms. The recording presents a picture of a group fully committed to a spirit of collectivism and the edicts of '60s experimentalism, and in full possession of the skills and confidence necessary to propel that tradition forward into the twenty-first century.
The sfSoundSalonSeries, another recent initiative, is part of the larger programming at the Center for New Music, a nonprofit community centre for new music in San Francisco, founded in 2012. The salon series is increasingly becoming the go-to forum for the more experimental and adventurous artists visiting the Bay Area from other parts of the world.
It will be fascinating to see what the future holds for
sfSound
. It is inspiring to know, especially for those of us working in new music, that genuinely independent, radical, and high-quality experimental music is still alive and well in the city by the Bay.
---
TOP PHOTO: sfSound and guests rehearsing at San Francisco's ODC Theater in 2009; sfSound founder Matt Ingalls crouches in the foreground. TOP PHOTO BY: Dill Pixels BOTTOM PHOTO: Ingalls prepares for recording session for sfSound's first official release collected works, collective works (2015) in a scoring stage room of Skywalker Ranch in California. BOTTOM PHOTO BY: Hadley McCarroll.