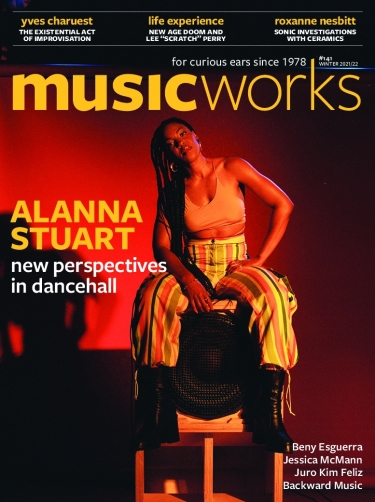 The Winter 2021/22 issue explores the creative ideas of seven artists who are engaged in beautiful, daring musical acts of innovation, celebration, and resistance . . . artists that audiences and listeners like YOU will be discovering in 2022.
Flute enthusiasts, please note that the Musicworks 141 CD opens with a three tracks of flute-forward music!
ON THE COVER
ALANNA STUART
Toronto-based multidimensional artist and music producer Alanna Stuart is constantly evolving. She regards categories not as borders but as things to be transcended. In her acclaimed dancehall-infused electronic-music duo Bonjay, her collaborative projects, and her solo songwriting, she is digging into her connections to Jamaica, exploring dancehall more fully, building her own new world of sound, and inviting us into her entrancing sphere. Stuart talks to Toronto writer Gloria Blizzard about the impact of her encounters with notable Jamaican producers on her current artistic and research projects. (Cover and article photos by Joshua Rille.)
YVES CHARUEST
Montreal-based saxophonist Yves Charuest has been performing for forty years, developing a distinct identity in free jazz and improvised music. Author Stuart Broomer traces Charuest's musical life from his childhood exposure to jazz and early studies to the present. Charuest's history includes his emergence in the early 1980s playing bebop classics with drummer Michel Ratté, his European experiences with bassist Peter Kowald's trio, and his exploration of electronic instruments in the 1990s. Charuest provides an insightful discussion of the challenges and significance of improvised music, including the creative possibilities offered by the elements of fragility and instability. Several collaborators, including long-term and recent associates, also contribute reflections on Charuest's work.
ROXANNE NESBITT
Vancouver interdisciplinary artist Roxanne Nesbitt has built a practice at the intersection of composition, instrument-building, and design. Trained as both a classical double bassist and an architect, she frequently works with clay, wood, and stone to build new instruments or to craft appendages for existing ones that unearth hidden layers of resonance. In an interview with Musicworks writer Sara Constant, Nesbitt describes her artistic path and process. In her use of ceramics to alter the sounds of classical instruments, her work as an organizer on the Vancouver music scene, and her ever-evolving practice blending sound installation with chamber music composition, Nesbitt speaks to the ways in which her pieces—and the ideas behind them—take a uniquely intuitive, critical stance towards experimental music today and the instruments used to perform it. (CD label and article photos by Andi McLeish.)
NEW AGE DOOM & LEE "SCRATCH" PERRY
New Age Doom's latest album is a rare example of international, intergenerational, and intergenre collaboration. The Vancouver-based experimental doom-metal duo—drummer Eric J. Breitenbach and multi-instrumentalist Greg Valou—invited Lee "Scratch" Perry to perform vocals on their latest album, which marked the Jamaican dub legend's final full-length project. On the day that the world learned of Perry's death, Jesse Locke interviewed the downcast duo at their studio in Vancouver's Downtown Eastside. Three months later, he found their spirits lifted at the release show for Lee "Scratch" Perry's Guide to the Universe.
ALSO IN THIS ISSUE
Songwriter, producer, educator, community activist, and multi-instrumentalist Beny Esguerra is building bridges between North and South, ancient flutes and modern turntables, Indigenous peoples and settlers, and cumbia and hip-hop.
Flutist, composer, and hoop dancer
Jessica McMann
discusses working with fellow Indigenous musicians on her first two recordings, and her works-in-progress, which include a commission for the Calgary Philharmonic Orchestra.
Composer Juro Kim Feliz opens up about the challenges of creating in the Filipino and the Canadian contemporary classical-music landscapes and discusses new pieces premiering in 2022.
Backward Music, a home for East-Coast focused experimentation and creative collaboration, hits the label profile spotlight.
PLUS: Reviews of new music from Absolutely Free; Jessica Ackerley and Daniel Carter; Gordon Grdina and Jim Black; Aiyun Huang; Annea Lockwood; René Lussier, Érick d'Orion, Robbie Kuster, and Martin Tétreault; Maneri / Kalmanovitch / Jacobson / Osgood; Mas Aya; Jessica Moss; Christopher Otto; Jessica Pavone; Silla and Rise; Wadada Leo Smith, Henry Kaiser, and Alex Varty.
MUSICWORKS 141 CD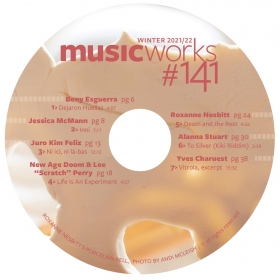 Beny Esguerra 
1> Dejaron Huellas 4:07
Jessica McMann 
2> Inni 7:11
Juro Kim Feliz
3> Ni ici, ni là-bas 12:12
New Age Doom & Lee "Scratch" Perry 
4> Life Is An Experiment 4:57
Roxanne Nesbitt
5> Death and the Rest 9:26
Alanna Stuart
6> To Silver (Kiki Riddim) 2:39
Yves Charuest
7> Vitrola, excerpt 15:32
CD LABEL PHOTO OF ROXANNE NESBITT'S PORCELAIN BELL BY ANDI MCLEISH
© all rights reserved, 2021-2022