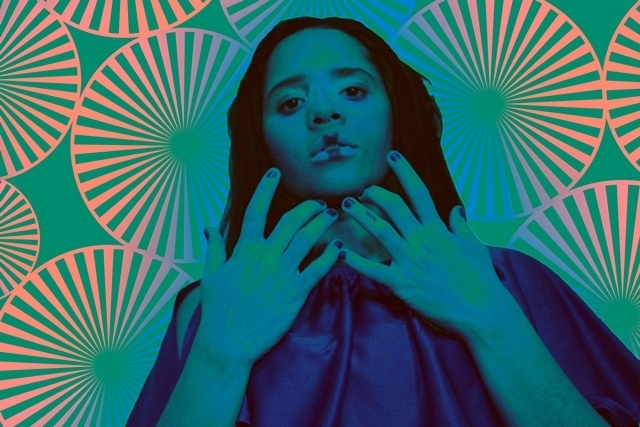 Colombia-born, Toronto-based Lido Pimienta has been called "the consummate collaborator"—and with good reason. Although she writes, sings, produces, and plays many instruments—and is certainly talented and strong-willed enough to make recordings on her own—Pimienta's aesthetic absolutely requires the participation of others.
"I would die!" she says of the notion of creating music on her own. "It's important for me to get other people's input, to hear myself with other people. Because I am singing about people, it's important that the songs run through more ears than my own. But at the end of the day, my music is what I want to say and how I want to say it."
Growing up in Barranquilla, Pimienta listened to many genres of music—black metal, hip-hop, trip-hop, classical, pop, folk—and played in several bands. "My metal friends did not like my hip-hop friends, who did not like my electronic friends. But I liked everything," she says. "I just love music. I absorb everything, so I am able to morph into whatever style, and collaborate with whomever. I am never scared."
Indeed, Pimienta has a gift for bringing together diverse artists to dissolve cultural barriers and make fresh sounds. Her long list of collaborators includes prominent Latin American musicians such as María y José (experimental hip-hop from Tijuana), Javiera Mena (Chilean electronic pop), Colombian alternative rockers Andrea Echeverri and Héctor Buitrago, and London-based singer–DJ Isa GT, as well as Canadian compadres Tanya Tagaq and A Tribe Called Red. She has created multidisciplinary projects like Bridges, a festival of South American and Canadian artists, Girl Talkz, a curated show focusing on female performers, and Highworld, a collective that integrates DJs with live music. And her own music is an ingenious, infectious, multifarious mixture of everything swirling around in her head.
Pimienta immigrated to London, Ontario, at nineteen; five years later, in 2010, she recorded her debut CD Color with her then-husband Michael Ramey. A lot has happened since, including divorcing Ramey, moving to Toronto with their son, playing lots of shows, improving her production skills, and meeting new collaborators—all of which will be reflected in her long-awaited second album, La Papessa (High Priestess), due for release this fall. "On Color, the dynamic was very domestic," she explains. "I was literally breastfeeding as I was recording. Everything happened in one room, and the person recording me knew more than I did, so he had more control. When I moved to Toronto and started performing again, I realized that I could have a computer, a synth, and pedals. I discovered vocal processing, and that changed my whole path for the better. And the songs have been growing on stage—I play them and they evolve."
She has been working with bass clarinetist Robert Drisdelle, producer–director–DJ Blake Macfarlane, and multi-instrumentalist Kvesche Bijons-Ebacher (Spawn, Harmonious Tribe) on the new album. "Kvesche and Blake are more the production and beats side, and Rob and I write the melodies. It's a great balance," she explains. "Some songs are just voice and clarinet, some have tamboura, a Colombian drum, and sometimes we go crazy with the electronics. I am very much an electronic music defender. La Papessa has no guitar! I feel like there's too much electric guitar in music, and it's just so dude, so guy."
Some of the tools Pimienta has been playing with include an AIRA, a digital drum machine that she says is "like the rebirth of the 808"; and a little handheld Zoom recorder. "I could be riding my bicycle and get an idea and quickly record it under a tree. It's important to go out into the world, because the songs are about what happens in the world, not just my own experience."
Interestingly, Pimienta sings mostly in Spanish, despite the fact that there is much she wants to express to her largely English-speaking audience. "People might not understand what I'm saying, but they feel what I'm saying," she says.
Pimienta, a visual artist who is pursuing a degree in art criticism and curatorial practice at OCADU, likes to incorporate visuals into her shows. "In a sense," she says, "the audio and the visual are one, and the visual supports what I am saying sonically. Sometimes it's hard for me to explain myself with words, but if I paint a picture it makes sense. And I also stop and give a little rant about sexual politics and race. I'm a woman, an immigrant, a young mother. And I'm brown. All these things put me in a tokenistic place. And because I am aware, it is my responsibility to make everyone else aware.
"It's important that I tell people that we should be grateful that we are moving freely on colonized land. But I don't like to be patronizing. Humour is a great channel for me to convey messages. So that's what I do—a little humour, a little drama, a little sex appeal, and that's a Lido Pimienta show."
Image: Photo of Lido Pimienta and design by Hailey Benedict.