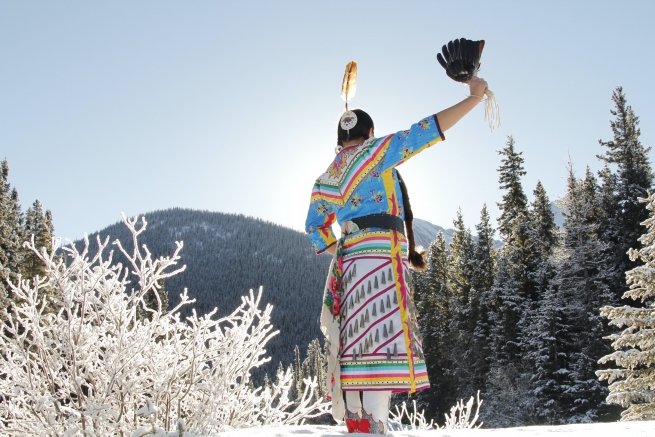 While some creative people have been struggling to fill their time over the course of the pandemic, Cree dancer and musician Jessica McMann, who is a member of Cowessess First Nation in Saskatchewan—has been busy. But with powwows and in-person contemporary dance performances on pause for most of 2020 and 2021, McMann, who is based in Alberta, has thrown herself full-force into music—writing, recording, and releasing her debut album Incandescent Tales, and working towards a second album, with additional projects always on the go. It might seem inevitable that an energetic and highly creative person such as McMann would keep herself occupied during this time, yet only a few years earlier she had all but given up music. This prolific musical period is something of a pleasant surprise—especially to McMann.
Music has always been a major part of McMann's life. A child of the Sixties Scoop—the common term for the period from the mid '60s to mid '80s when thousands of Indigenous children were forcibly removed from their families and adopted out to non-Indigenous families—McMann took both piano and flute lessons when she was growing up. Partway through her classical flute studies at university, she grew frustrated with the racism and discrimination she was experiencing in the academic world. She decided to put music studies on hold and focused on exploring her Indigenous identity and culture through hoop dancing, which became her primary creative focus for almost a decade. In 2019, she earned an MFA from Simon Fraser University's School of Contemporary Arts.
Thinking back to that time, McMann says everything she did in the early part of her music study was an expression of who she is as an Indigenous woman and Two-Spirit person. "When I dance at a powwow it's a completely different world than going on stage and playing a concerto, but I'm still expressing myself as me—an Indigenous person," says McMann, who rekindled her love of playing the flute in 2016, and went on to complete her Bachelor of Music at the University of Calgary. "I'm now more aware of what an Indigenous lens is supposed to be because I've worked very hard to know where I come from and to undo some learnings about myself that my adoptive family had taught me.
"I'm in a better place of balance with that, and whatever I do now is through an Indigenous lens."
In 2019, McMann worked her way to the Banff Centre for Arts and Creativity where she recorded Incandescent Tales. Released in June 2021, the album features two of her compositions, pieces by Indigenous composers Beverley McKiver and Sonny-Ray Day Rider, and works by a few of McMann's most beloved classical composers, such as Dmitri Shostakovich and William Lloyd Webber. McMann's flute playing takes on a haunting, almost intimate voice as she's accompanied by McKiver on piano and by Indigenous viola player Karen Shepherd. Her music offers a creative vision that combines her classical training with her exploration of her perspective as an Indigenous artist.
"When I'm working on music I don't think, Oh, I'm going to make a personal expression," McMann says. "Since I have no formal training in composition, it might sound more personal [than traditional classical music] because I just put everything out there and I don't have a list of rules I learned in school that I have to follow."
Themes of identity, history, and culture are front and centre in McMann's music. Her playing and compositions evoke images of the land and reflect the beauty of Indigenous community and spirituality. On a more practical level, her work also provides a platform for other Indigenous artists working in classical and neoclassical genres. At the time of our interview in November 2021, McMann was working on her second album, which she plans to record in April 2022 for release in June, and which will feature compositions from mostly Indigenous creators.  She'll be collaborating with McKiver and Shepherd again, and with Inuk flutist Jeremy Allen.
"I'm getting closer to my dream of a full album of Indigenous classical music," McMann says. "I always want to bring my community with me as I go up. I love playing music with everyone and I'm not discriminatory, but when it comes to my own projects it's really important to me that the other people I'm playing with are also Indigenous classical musicians."
McMann has recently been devoting more time to composing. Her pieces on Incandescent Tales were so well received by both friends and fans that she's upping the ante for her next album, which will include a new three-piece suite called Stories of My People. The first two movements premiered in 2021 at the Pender Island Flute Retreat and the Valhalla School of Music in B.C., respectively. It's an ambitious song cycle that follows the progression of a challenging year for an Indigenous family, yet McMann makes sure that the third movement resolves the narrative line with hope and reconnection. As with her other compositions, the personal storytelling is conveyed through her soulful, other-worldly flute playing.
"I don't always write with a story in mind, but for this one I did," she says. "With some others I just start with sounds I hear in my head that I want to put together. Sometimes I'm given a theme that I have to use, which can be very challenging."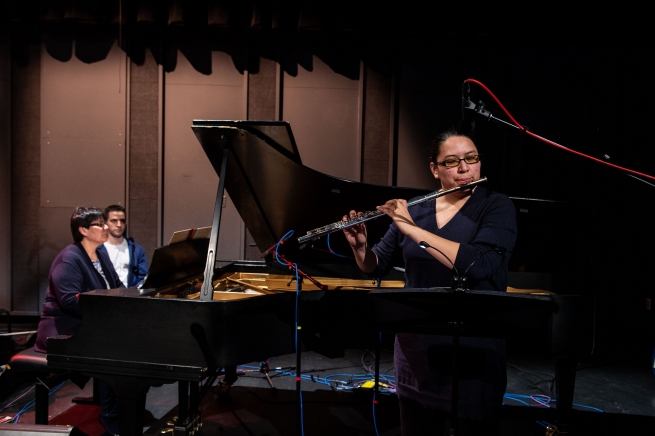 For most of 2020 and 2021, McMann's dance performances were largely on hold, as were the classes and workshops in Indigenous arts that she teaches at Wild Mint Arts and the studio she runs with her partner Elijah Wells. This gave her the time and creative space to accept various opportunities that arose, such as the composer-in-residence position at Cecilia Concerts in Halifax, where she is working on a piece for flute, viola, and piano, which will also appear on her album.
McMann is also the City of Calgary's Curator of Indigenous Arts, a contract position that still allows her plenty of time for music and dance work. It all makes for a busy schedule but allows McMann to live a fulfilling creative life that satisfies her need to tell stories of Indigenous experiences while also acting as a role model for young Indigenous artists who may not see themselves reflected in traditional classical music.
"My journey has been really strange," McMann says. "I do still love orchestral music. That love will never go away, but I am happy with where I am now. I feel very lucky."
---
---
PHOTOS:
Top photo by Tet M Photography; middle photo by Candice Ward, 2021; bottom photo by Jessica Wittman, Banff Centre 2019.
FYI:
Jessica McMann also has a commission called "Muskwa's Mountain Home" for the Calgary Philharmonic Orchestra, which will premier in February 2022, and later in 2022 she will write a three-minute song for Denise Rivera's Art Songs for New Beginnings project, which was formed to offer an alternative to the traditional art-song canon for beginning singers. Learn more at
calgaryphil.com
ON THE MUSICWORKS 141 CD: Inni