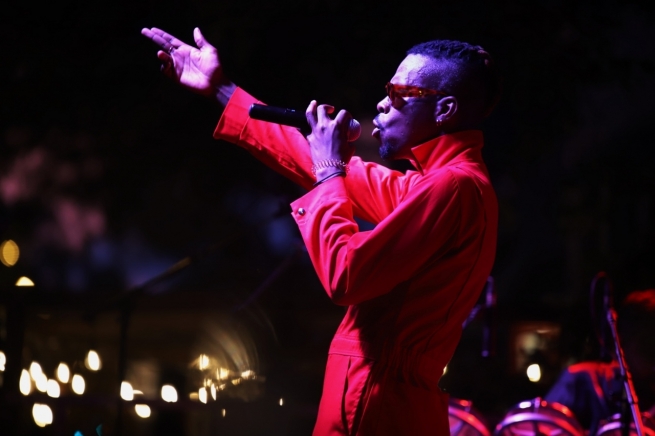 "I grew up surrounded by music lovers. There was always music playing and people dancing. There was always a reason for a family gathering, and I was one of those kids always ready to dance. Whenever there was a family gathering, there was an acoustic guitar around and my uncle would take the guitar and others would start singing."
It's a spring-like morning in mid March, and Pierre Kwenders is fondly recalling his childhood, speaking from his home in Montreal. The singer, DJ, and songwriter's strikingly elegant voice is reflective, intimate, and joyful, and it is impossible not to feel transported back to his early life in his native Congo, where he was surrounded by a large, loving family steeped in song and celebration. Although he was a dynamic dancer, Kwenders's initial vision for himself did not include singing, but it would become personally significant after the passing of his great-grandmother.
"My oldest uncle wrote songs for birthdays and even funerals. When my great-grandmother died, he wrote a song about her. He had all the great-grandkids learn it to sing at the cemetery when she was being buried; when we arrived, we all sang it. It was one of the most beautiful moments I had experienced in my life, and it was from there that I really found my voice."
Born José Louis Modabi in Kinshasa, the capital of the Democratic Republic of Congo, Kwenders emigrated to Canada with his mother as a teen. (Pierre Kwenders is the name of his beloved late grandfather.) During that time he joined the Afrika Intshiyetu Choir, which helped him develop his burgeoning voice, and mirrored the familial community he had left behind.
From the start, Kwenders, who is multilingual—fluent in Lingala, French, English, Tshiluba, and Kikongo—made singing in his native tongue a priority. "I was born and raised in the Congo, so it was important to showcase my culture. Lingala is one of the most beautiful languages and needs to be heard by the most people in the world. The reason I sing in French and English is because music has no boundaries. If I can add a little bit of French or a bit of Portuguese or English so that people around the world can understand what I'm saying, then I'm happy to do it all the time."
Kwenders's affinity for experimental electric sounds—in pan-African rhythms and instrumentation, and genres such as pop and rumba—merged dynamically with his fluid vocal style. His guest contributions on Radio Radio's 2012 album Havre de Grâce garnered attention. In 2013 he was ready for his solo debut and released two EPs—Whisky & Tea and African Dream—followed in 2014 by his first full-length release, Le Dernier Empereur Bantou. His 2017 sophomore release, MAKANDA at the End of Space, the Beginning of Time, was on that year's Polaris Music Prize shortlist. Kwenders spent the next two years touring with the album, writing music on the road, and collaborating with DJs, producers, and musicians around the world, including his music collective Moonshine. And then the pandemic hit.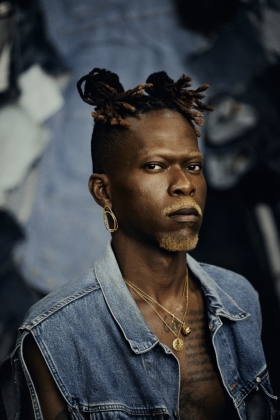 "At that point I was like, I can't tour, I can't DJ, I can't do anything [but] I have a lot of songs that are waiting for me to write something, so why not just get myself into it and work on them. And that's what I did."
The world-changing experience changed Kwenders as well, allowing him to revisit older songs he had never forgotten about and new songs waiting to unfold. "It gave me a lot of time to be with myself, which I didn't have while I was working on previous albums—my second album was made while I was basically on the road, which was exciting," he recalls. "But this time, I took the time to sit down and really listen to all the demos and see what I could do better, and more ideas also came through this pandemic. I finished songs that I didn't think I would have time to finish."
His latest album, José Louis and the Paradox of Love, is all about love: love that hurts—"treason," Kwenders calls it—and love that heals and frees. Kwenders says it was an exploration and opportunity to capture the nuances and challenges in all aspects of love-centred relationships, whether familial, romantic, platonic, or with oneself.
"It's the story about my experience with love and all the challenges that come with us being human beings and wanting to love and to be loved. Wanting acceptance, wanting to be loved for who we are, for who we present ourselves to be, who we pretend to be. That's what I kind of wanted to share because I've experienced so many things with love. 'Your Dream' is a song that I begin with a voice note my mom left for me on my thirty-first birthday. I show the love that she has for me, and I'm telling a story where she's wishing me all these good things that she hopes will happen in my life.
"But also, with love, I'm telling her that these dreams might not be my dreams. It's nothing against my mother or any mother, it's a way to communicate the love that we have and the understanding that, 'Yes, I know that you have dreams for me, and these are big dreams and good dreams, but I also have my own and I'm pretty sure you'll be happy with them.'"
There's a spiritual side to his music, says Kwenders, pointing to "L.E.S (Liberté Égalité Sagacité)," the new album's nine-and-a-half-minute opening song: "It is a political statement but in a very joyful way, calling for freedom, equality, enjoying life, and being free to be who you are. That call is sort of a new fraternity in a sense, where we all just want to be loved for who we are without any judgement." The album closes with "Church (Likambo)," featuring the Afrika Intshiyetu Choir. "It's really a song telling them that I'm grateful because I wouldn't be where I am today if I didn't start with them, and it was important to meet them. It's a very spiritual song."
Kwenders's voice grows quiet, as he becomes thoughtful again while discussing sharing with the world his eponymous album in the coming months.
"I really want people to hear it because it's my most personal album," he says. "I'm just putting it out there, all my experiences through life and what has made me the man I am today. I want people to enjoy it, and if some see themselves in there, if it can help them in some way, I'll be glad. I'm excited to perform these songs on stage and share all this beautiful energy with the world.
---
PHOTOS: Top photo by Pierre Langlois. Bottom photo by Kim Yang.