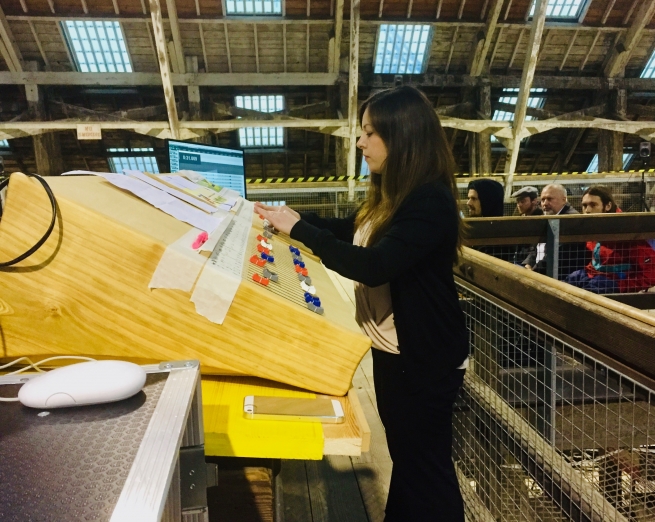 Leah Reid's electronic music compositions explore and reveal the possibilities that exist between the abstract spaces in which she structures her compositions and the everyday timbres outside her window. Reid attended high school at the Walnut Hill School for the Arts in Massachusetts—majoring in composition and vocal performance—before heading north in the mid-2000s to complete an honours undergraduate degree in composition at McGill University. "I've always been interested in the structure of sound—whether in language, music, or sound," Reid told me during a video interview.
In Montreal she developed her interest in timbre, spectral music, and electroacoustic music, studying with noted composers such as Ana Sokolović, Chris Paul Harman, and Sean Ferguson. She also studied psychoacoustics with Stephen McAdams, and took linguistics. These experiences set her on a path of experimentation and achievement, and propelled her academic and creative work at Stanford University, where she received her DMA in composition in 2013. "At Stanford, I parsed through all the things I had been doing and was able to quantify them," said Reid. "I could see a system, and I was able to organize it and create a method from it."
Reid's acousmatic composition Reverie, which won first place in the 2022 Musicworks Electronic Music Composition Contest, both tells a story and explores a space. Familiar musical and mechanical sounds of music boxes are transported out of their compact environments and into a fantasy realm where they assume new identities and ways of moving. The piece originates in experiments that Reid—who is currently an assistant professor of composition at the University of Virginia—conducted at Virginia Tech's The Cube, which is described on its website as "a five-storey-high, state-of-the-art theatre and high-tech laboratory that serves multiple platforms of creative practice by faculty, students, and national and international guest artists and researchers."
"I started with sounds that I knew would be interesting to spatialize, and this fantasy emerged centred around music boxes," she said. "I collected many different music boxes and started experimenting with them—depressing the gear parts and the chimes parts to see what type of new timbres could emerge. Doing that created a clicking sound that was reminiscent of a rainstorm, so that became one of the initial miniatures that I wrote for that space. Some of the gears reminded me of zippers, which is the sound you hear at the beginning of [Reverie]."
Reid wrote two miniatures (Music Box Fantasies No. 1 & 2) in 2016. The sounds continued to occupy her imagination. In 2019, during a period of back-to-back residencies at the Virginia Center for the Creative Arts in Amherst and the Ucross Foundation in Wyoming, she began thinking about those miniatures. "I abandoned the piece I was supposed to be writing—I finished it eventually—and I let my mind wander with the sounds I was hearing," she said.
"One afternoon there was construction happening outside the window, and the sound was so reminiscent of some of the [music-box] gears that I started thinking about the relationship between the gear components. I went out and recorded some of the different things that made their way into the piece."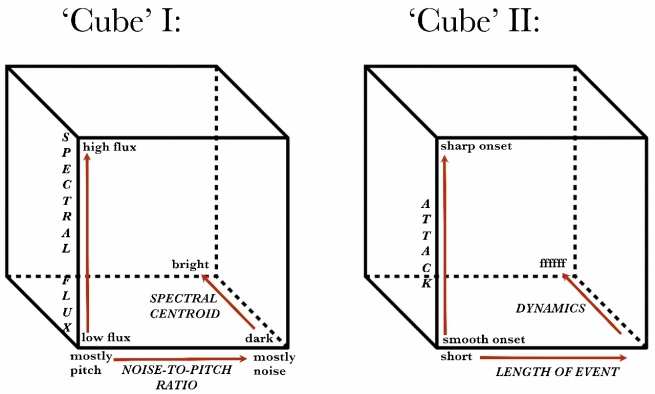 When Reid is composing, she works with a timbre model (the "cubes," see illustration above)  she developed at Stanford which she described to me as boxes she gets to colour within. The structure is a mathematical formula. "I normally generate exponential curves, because I like the way they sound, and then I rearrange them, creating structures and substructures with a similar process. So I have strict guidelines, but I can be free within them and let my mind wander within those constraints."
In Reverie, this process "transformed" gear sounds into small things, such as zippers or coins, and larger things, such as chainsaws and motorcycles. "You'll sometimes hear the actual gear, and then it will switch out to something—the gear sections are the noisy explorations, and the chimes portions are the pitched components," she said.
"This piece was about pushing the timbre associations to an extreme—pulling apart and identifying the different components of the music box. Its gears. Its chimes. I imagined that this little music box was dreaming about what it could be."
This year will see the premieres of Reid's compositions Jouer, for saxophone and electronic, by Kyle Hutchins; Sound, Image, Gesture, for piano, video, and electronics, by Ting Luo; and Bubbles, an 8.0 channel acousmatic work. "Bubbles is centred around taking a bubble bath," Reid said. "All the sounds are associated with water. I've been taking my hydrophone everywhere."
---
Audio: Reverie by Leah Reid
Photo: Leah Reid diffuses her composition Ring, Resonate, Resound over a sixty-five-channel acousmonium at Acousmatic Transcendence: A Fest of Diffusion at the Chatham Historic Dockyard in Chatham, England (2015).