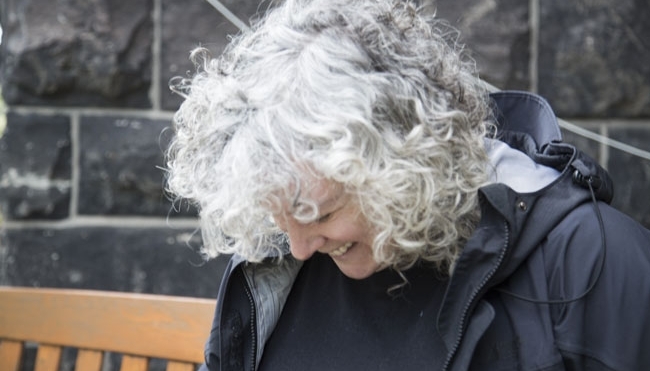 "I NEVER THOUGHT I WAS DOING ANYTHING DIFFERENT THAN ANYBODY ELSE—I just thought, I'm doing what anybody else would write," states Allison Cameron, matter-of-factly. Anyone familiar with her music—or her characteristic wry humour—could read this particular remark as either amusing or evasive, disarmingly so. But, as I gradually realize, it's actually rather telling of her approach. After she shares with me stacks of biographical detail, anecdotes, and warm appraisals of the music of her peers, I find myself still probing—trying to get her to shed more light on the inner workings of her beautifully puzzling work.    
Cameron's singular musical voice has been a bold and recognizable presence in experimental music of various types since the 1980s, yet this fact doesn't make the task of articulating its defining traits any simpler. Listening to her music—including the 2015 releases
A Gossamer Bit
(a collaboration with the Toronto ensemble Contact) and
Friends
(with her new trio, c_RL)—I am left with numerous, even conflicting, impressions. It's as though her music is constantly remapping and renegotiating boundaries as it unfolds. Obvious distinctions—such as starkness versus richness, delicacy versus toughness, excursiveness versus economy, and even amateurism versus virtuosity—become a good deal murkier and somehow less relevant through the aural lens of Cameron's work. 
Allison Cameron was born in Edmonton in 1963 and grew up in suburban North Vancouver between the foot of Grouse Mountain and Lynn Canyon, where the subdivisions were so new that she could still run through the clear-cut areas where more developments were to be erected. At Argyle Secondary School, legendary drama teacher Lloyd Burritt (frequently cited by celebrity artists, such as Bryan Adams and Jason Priestley, for his influence) introduced her to contemporary music in the context of one of his forward-looking courses. Cameron was struck by composers like Stockhausen and Mimaroğlu, and by Burritt's firsthand accounts of musical experiences he'd had—such as visiting Le Corbusier's famed Expo '58 Philips Pavilion, where he encountered electroacoustic pieces by Varèse and Xenakis. Burritt, who was a musical-theatre aficionado, charged Cameron with the task of arranging Sweeney Todd for the school band. "I was always hanging out with this really bad crowd, but once I got into music, I started hanging out with all the nerds. You know how it is, right?  Nerds are always the good musicians," Cameron smiles. She also discovered improvising, which began to permeate her piano practising—making up "what happened next," instead of actually turning to the next page of music.
In 1983, Cameron entered the University of Victoria's composition program, where instructor Rudolf Komorous exerted a powerful but gentle influence on many of the students. Born in the Czech Republic, Komorous was part of a noted collective of primarily visual artists known as Smidra, which was influenced by Dada and surrealism, and touted estetiku divnosti, an "aesthetic of curious things" (serendipitously mistranslated somewhere along the line—at least, in Canada—as an "aesthetic of the wonderful"). Their outlook was a potent amalgam of subversion and play that excavated wonder from the mundane, harnessing its transformative magic. Generously incisive, Komorous encouraged students to develop their own senses of sonic interplay, rather than inculcating them with established theoretical mores. This whimsical and intuitive attitude made a strong impression on Cameron.
In Victoria, Cameron established a close-knit peer group—one she maintains to this day—that included now Toronto-based composers Martin Arnold and Stephen Parkinson and now Calgary-based composer John Abram. Voracious record collectors all, they met regularly for intensive listening sessions, where they'd also discuss their own work. In addition to this convivial, industrious social life, UVic's curriculum required performance majors to perform new music, a measure that primed them to experiment and to work with living composers. For Cameron, the first performance of her 1986 composition Raw Sangudo, given by UVic students, was a creative revelation. "I never listened to a piece of mine and laughed my head off before, but that piece I did—these guys were scared to death playing this piece," she chuckles. "It's way high in the sax range, way high in the trumpet, and really low in the tuba, and they all have to come in at just the right time. It was just so brave of them to do this piece. The trumpet player unbuttoned his pants before they started playing. I started laughing and couldn't stop. I'd never had to almost leave a performance of my own piece." But it was also nervous laughter.
Cameron had been advised to have the piece rendered by synthesizer. The trumpet-player had initially asked that his part be down an octave. Komorous, not one to bow to so-called conventional wisdom, was adamant, however, that Cameron stay true to her inspiration (namely, a particularly unhinged trumpet solo she heard while visiting the Banff Centre) and that the piece would work well in the original range. The players rose to the challenge. The composition proved enormously effective, even for the weary performers, and became a calling card for the young composer.
Thirty years later, Raw Sangudo still speaks to the slippery dualities of Cameron's music. With lean gestures coursing through stark negative space, the work seems to operate simultaneously on multiple planes temporally, texturally, and even dynamically. Although its flickering melodic riff initially cuts directly toward the ear with bold, angular clarity, the halting gestural flow and quasi-repetition soon dazzles the listener. The aural lens zooms in, transforming momentum into meditation—prolonging and extemporizing upon a rarefied soundworld. Yet the listener never loses touch with that spate of electric tension contained within the work's opening moments.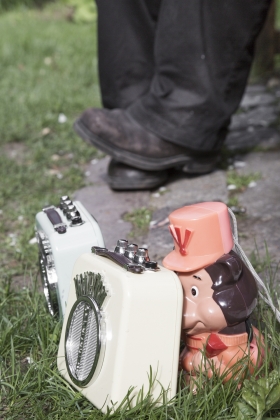 IN 1987, CAMERON MOVED TO HOLLAND to study at the Royal Conservatoire in The Hague with Louis Andriessen, whose expansive De Tijd (1981) had made an indelible impression on her aesthetic during her undergrad years, as had the works of other members of the Hague school—Dick Raaijmakers, Cornelius de Bondt, Diderik Wagenaar, and Gilius van Bergeijk. Yet by the time Cameron landed in the Netherlands, change was afoot both for her and for the school. The arrant precision of the Dutch composers' style was becoming progressively less relevant to her sensibilities, and the element of culture shock exacerbated her sense of uncertainty. Where Komorous and other teachers at Victoria had fostered a certain freedom from aesthetic specificity, Andriessen and many of his pupils tended toward orthodoxy.
Cameron's thirst for new and varied musical stimuli had grown. Meanwhile, her new teacher, likely in the interest of positioning himself against other European traditions, was insistent in his aversion to "too many notes" (anything faster than sixteenth notes) and to specific harmonic approaches, including doubling notes at the octave. Though his rigidity was disconcerting, Andriessen was far from pretentious or authoritarian, and in fact he and Cameron connected well on a personal level. In composers Frederic Rzewski, Per Nørgård, and Walter Zimmerman, she found complementary tutelage within the school. Meanwhile, her experiences of live improvised music presented nuanced palettes of instrumental colour that started to find their way into her work. And Cameron's record-collecting continued; she amassed numerous albums of Dutch jazz, as well as choice No Wave discs.
Cameron continued to nurture Canadian ties, returning to participate in the Arraymusic Young Composers Workshop and for the premiere of her work Two Bits at Montreal's Les Événements du Neuf. After her program in The Hague ended in 1989, she settled in Toronto amidst the community of her erstwhile Victoria peers. Together, they formed ensembles such as the Drystone Orchestra and later, the Arcana Ensemble [see Musicworks #63] to perform each other's work.
Although Cameron was surrounded by a familiar and supportive community, the broader musical scene in Toronto didn't exactly warm towards the Victoria expats, whose work, despite its diversity, did share certain traits, likely due to the composers' common grounding in Komorous' mentorship. Much of their work displayed a common patience of gesture; insistent, elliptical phrasing emerging in various forms; as well as an interest in focusing the textural scope on particular details. Their decidedly experimental work didn't fit tidily into the dominant strains of new concert music at the time, and some critical voices found this meant for taxing listening. "It was like we were some sort of marauding horde!" remarks Stephen Parkinson playfully. "I look back on it now, and just chuckle, but at the time it didn't seem all that funny." 
Cameron landed her first commission, Runa (1990), from Sound Pressure, with James Tenney conducting. Meanwhile, Two Bits had caught the ear of Bang On A Can, which performed the work at its Marathon in 1991; this sparked an ongoing relationship, which saw the group release a recording of Two Bits, and also present and commission other Cameron works.
Meanwhile, Cameron began assembling recorded material for her first album release, Raw Sangudo (1995), which was released by Phill Niblock's celebrated XI (Experimental Intermedia) imprint. For an avid collector and listener, this was momentous. Whereas many composers regard the score as the ultimate reification of their music, for Cameron, recordings were the pinnacle back then. "My very first CD that came out, I was like, 'This is going to live longer than I am,'" she notes, smirking at her idealism. "There was this sort of idea of immortality around the CD, which is kind of weird to think about now." These collected earlier works share the titular piece's sensation of simultaneous transparency and opacity of texture, but achieve it through sustained undulating tones and bristling punctuations, rather than restless melodic filigrees. And while the peculiar colours of Raw Sangudo come from its extreme registers and dense rhythms, the companion pieces variously explore alternate instrumentation, electromechanical instruments, synthesizer, extended techniques, and preparation, offering equally alluring surfaces but with more muted and nuanced demeanours.
Ornaments (2001), Cameron's second CD, explores different territory in four works, composed between 1996 and 1999. The opening piece, Retablo for clarinet, violin, cello, piano, toy piano, and acolyte bells, is generously spacious, educing a gentle introspective quality little heard in even the most delicate pieces on the prior disc. The title work, for violin and piano, emerges seamlessly, consisting of tiny osseous material sitting in both instruments' upper register. The violin plucks almost exclusively, eventually transitioning near the end of the work to whispered, sustained notes, decorated with soft left-handed plucks of the open strings. The piano offers miscellaneous knocks, plucks, and muffled tones until the music simply vanishes inexplicably. Somatic Refrain presents an alarming contrast—a bellicose (it eventually quiets down) solo bass-clarinet piece for Rhonda Rindone, whose vocabulary of multiphonics was hugely important to the piece's development. The final work, Three Shapes of the Sword, makes idiosyncratic use of the rarely heard predecessor to the piano, the fortepiano, taking its crystalline voice and bending and stifling it with various implements used inside of the instrument.
In the liner notes for Ornaments, Martin Arnold posits an intriguing framework through which one can consider Cameron's work: "I think Cameron's pieces are ornaments, ornamenting a music that is inaudible, that Cameron doesn't need to write.  For me, Cameron's work suggests a denser construction flowing somewhere beyond/beside/before/behind the sounds that she has activated . . . We can't apprehend or represent this construction (it isn't really there; it's a potential flowing out from the openness of this music); but we don't need to. Cameron isn't holding anything back; we aren't being cheated of something more important, more essential, more to the point. We're celebrating the ornament; we've got all we need."
Arnold's words actually foreshadow more recent developments in Cameron's compositional approach. The difference, though, is that within this newer body of work, these inaudible musics that she's ornamenting do exist—albeit outside of the scope of her pieces.
"I needed a more hands-on feeling

with the music—some kind of 

                  visceral connection with the 
sound or soundworld."
Despite her fluency in writing for ensembles, and the enthusiasm of many performers for her work, Cameron's penchant for foregrounding subliminal aural details and the quirks of different instruments has long been a source of friction for her with respect to conventional notation systems—and occasionally even performers. "The problem that performers have with my music is that it seems to put them in a vulnerable spot," Cameron concedes. "I'm not thinking that way when I'm writing the piece. It's hard for them, because it exposes them."
The Allison Cameron Band, a trio formed in the mid 2000s with Parkinson and Eric Chenaux, provided the perfect context for resolving such issues. Around the time the band started, Cameron also won a Chalmers Fellowship to investigate indeterminate scoring technique. Over the course of a year, she built up sufficient repertoire for a concert, and subsequently, an Allison Cameron Band album, released on Rat-Drifting, all the while regaining a more experiential, tactile relationship with composing. "I was curious about that process of creating music out of other music, and also I really wanted to have some kind of folk-music influence in this music," she notes. "I describe some of the work I did with that first record as like a palimpsest: you have something that already exists, and you erase it, but part of it leaks through, and you write over it."
A big part of this dissolution and obfuscation of source materials hinged on interacting directly with instruments, mainly guitar and banjo. Cameron would, for instance, tune each instrument differently and have them reading the same tablature. Rhythms would often be left to the performers in some capacity, while the works also relied heavily on the players' own timbral mannerisms. "She's really interested in Celtic folk music and that kind of music that has a surface simplicity to it that kind of belies how virtuosic you have to be," says Parkinson of the process.
Cameron has recently transplanted the compositional underpinnings of her trio's repertoire into the foundations of new chamber pieces, many of which open similar interpretative channels for performers. At the time of our conversation, she was putting the finishing touches on the mix for A Gossamer Bit (Redshift Records), which features several of these new works, most of which were composed expressly for Contact and with the ensemble's curatorial vision in mind. One of them, 3rds, 4ths and 5ths, is literally a transcription of  2 Guitars (originally written for the trio) for larger ensemble. The album's final cut, DIY Fly, is perhaps closest to the sorts of drastic reconfigurations of preexisting music she envisioned for her trio. Taking multiple and very different versions (varying in metre and in key) of the lead sheets to a jazz standard, the piece directs the musicians to read through a version of their choice independently of each other. When they finish the changes, rather than repeating the form, they switch to another version. Some of the performers play within idioms that match their instrument (saxophone, for instance, plays in a jazz-like manner), while others are instructed to extract single notes to employ as long tones. One could liken the listening experience to that of staring at passing clouds and projecting figurative images on them. The motion is unhurried and consistent, and as more abstract shapes pass in the slow-motion aerial parade, more recognizable forms emerge. One hears stylistic references and even hints of the original composition, yet, like the cloud animals seen in the sky, they lose their cohesion as they drift past, and no longer retain the semblance.
"It's deceptive how brilliantly it's worked out," says Contact percussionist Jerry Pergolesi. "With the pieces she wrote specifically for us, she really did a great job of figuring out what our vibe is, what we want to bring to music. The musicians made a lot of decisions about the pieces—within certain parameters. But it's almost as if it's foolproof—it's going to work out, and it's going to sound good."
Cameron's improvisational music has been a significant part of her work since 2000, and poses auditory queries similar to those in her chamber music—albeit formulated entirely differently. Working mainly with a battery of small instruments, devices, and speakers—from contact-miked kalimbas to Walkmans—she fashions something more erratic, noisy, and immersed in pure texture than her written-out work. Yet it still interrogates boundaries. One might hear strains of preexisting music ensconced in field recordings. There are impulsive formal jumps between panels of near-stasis and passages that force the ear to conflate texture and gesture. Though sounds push with their edges, variously serrated and frayed, it also has a profound delicacy to it—every sound either culled from, or emitted by, a tiny source.
There's a palpable sense of discovery that is conveyed to the listener as she plays. "She'll start to do something, and I think, I would never do that in a million years, and I'm not sure if this is gonna work. But it ends up, she'll add something else, and then I'm just in love with it," observes Parkinson.
"Allison's music quite wonderfully resists giving images for us to describe," Chenaux says of this strange alchemy. "Her strangeness is playful in the way that it is also wild. All of these 'playfulnesses' play joyfully hard at resisting being framed culturally. Every beautiful and cracked melody is so full of noises, she lets the noises free to play all over her music, all the while never making noise music; noises that resist. Nothing gets nailed down."
Cameron frequently performs solo, but her deep auditory curiosity has also led her to a variety of fruitful collaborative relationships. Increasingly, she is working with emerging artists—among them, Thom Gill, the Calgary-based Bent Spoon Duo, and D. Alex Meeks (with whom she plays in the freewheeling No Angels Dancing, alongside Parkinson). She's also formed the improvisational trio c_RL with percussionist Germaine Liu and trumpeter Nicole Rampersaud, two musicians who are equally texturally minded. Their group synergy, as evidenced by
their 2015 recording Friends
, is delightfully intractable, finding them tracing fine, jagged perimeters around free jazz, febrile noise, and even pared-down chamber work, while also reflecting a sense of humour. "Allison has a deep sense of wonder for sounds, and because of this deep appreciation, it allows more potential to stay in one world or gradually morph from one to another," Liu says. "She listens holistically, instead of being in a hurry and rushing through lots of sonic spaces."
 "I don't think about my processes or analyze them," Cameron declares, tracing a continuity between the spontaneity of improvisation and the rigour of composing. "Some people are really good at that. I just have an idea and I go with it." Setting out to gain a deeper understanding of Allison Cameron's music can lead to profuse and conflicted speculation about its formal aspirations, its sense of time, its focal points, and its internal logic. Yet, although it frequently baffles with unforeseen contrasts, peculiar timbres, and crookedly positioned materials, the music is just a direct and tangible outgrowth of her own deep fascination with sounds and all their latent possibility: it encourages audiences to simply listen. "While rehearsing in her space, I often daydreamed while looking at her CD collection," Chenaux recalls. "I found it hard to concentrate with all of this wonderful music there. All sorts of things. All strange in their way, and in the way they were together, for her to listen to. She listens that way, and I hear her music that way.
"She makes more space than she uses," he adds. "There is more space in the world with her music in it."
---
All photography by: Claire Harvie. Audio: 4  Postcards, First Movement. Composed by Allison Cameron. Performed by members of Thin Edge New Music Collective.