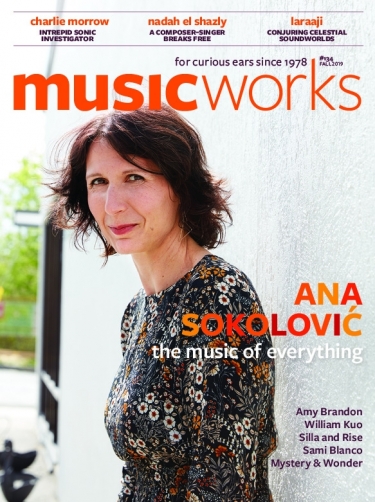 The artists in the Fall 2019 issue expand their perspectives through innovative collaborations and combos—they just can't get enough! Order Musicworks 134 now.
Ana Sokolović 
Serbian-born Canadian composer Ana Sokolović's fantastical, imaginary worlds are encapsulated in her internationally renowned, critically acclaimed operas, chamber music, instrumental, orchestral, and interarts works. The multi-award-winning, Montreal-based artist garnered the 2019 Juno award for Classical Composition of the Year for her Golden slumbers kiss your eyes, commissioned by the National Arts Centre Orchestra. Her newest full-length opera The Old Fools, with libretto by British author Paul Bentley, is due to receive its world premiere by the Canadian Opera Company in 2021. In a profile by Winnipeg composer and arts journalist Holly Harris, Sokolović shares her thoughts on composing, talks about her earliest musical roots, her life, her family, her fervent national pride, and her immigrant experience in her adopted country, which she now proudly calls home. In addition to the composer's own reflections, key players in her career—Michael Cavanagh, Marie-Josée Chartier, Véronique Lacroix, Dáirine Ní Mheadhra, and Alexander Shelley—talk about their experience with her in collaborations fueled by her exuberant joie de vivre and passion for life.
Charlie Morrow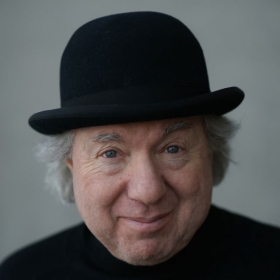 Charlie Morrow, madcap transcendentalist, animal-friendly avant-gardist, conceptual Dr. Doolittlist, Fluxus artist avant la lettre, prebirth memoirist, earworm composer, and laugh-inducing maxi-minimalist is someone writer Bart Plantenga recently reconnected with after twenty-five years. In buoyant conversations with him, Plantenga learned that Morrow has been to the Arctic Circle, performed in Carnegie Hall, talked to frogs and fish, and, with his MorrowSound®, has installed sound environments in, among other institutions, the Louvre, Whitney Museum, New York's Museum of Natural History, and at the 2006 Torino Winter Olympics. He has collaborated with the likes of John Cage, Allen Ginsberg, Charlotte Moorman, Philip Corner, Nam June Paik, Simon & Garfunkel, Young Rascals, James Tenney, Paul Dutton, Malcolm Goldstein, Joan LaBarbara, Alison Knowles, Jerome Rothenberg, Vanilla Fudge, Glen Velez, Sten Hanson, Derek Bailey, Jean-Jacques Lebel, Ken Russell, and many more. This led to some nervous contemplation on the writer's part, but, eventually, he set out on this treacherous path to write about Morrow, who has done so much it would require several book-length volumes to capture his full essence. For now, Plantenga offers this illuminating distillation of the achievements of this most fascinating artist.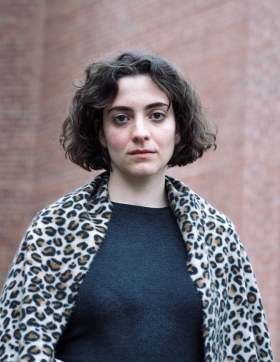 Nadah El Shazly 
Prodigiously talented Egyptian singer-producer-instrumentalist Nadah El Shazly's adventurous, open-minded attitude to composition and performance allows her to make transcendent music from a host of unlikely influences. At the opening of her Spring 2019 North American tour in Toronto, El Shazly talked to Musicworks writer Mary Dickie about her mostly self-directed music education in Cairo, where she grew up, her discovery and enthusiastic reinterpretations of songs by late-19th-century Egyptian composer-songwriters, and how her collaboration with Montreal's Sam Shalabi and his network of like-minded Canadian musicians led to an expanded musical palette on her debut album, Ahwar (2017).
African-American New Age legend Laraaji joyfully performs and presents laughter-meditation workshops around the world, and this year released two recordings on Canadian labels.
Nova Scotia guitarist Amy Brandon combines contemporary composition with other forms of musical invention, drawn from her work with improvisation and electronics.
Vancouver composer William Kuo, a 2018 Gaudeamus Award nominee, brings a limitless sonic and sculptural imagination to his increasingly collaborative practice.
Yellowknife-based electronic music artist Sami Blanco  . . . 
and Ottawa's Juno-winning Silla and Rise are creating innovative, rhythmic soundscapes.
Montreal's Mystery & Wonder Records delivers in-your-face music with a handmade touch.
All this + reviews of recordings, books, and events in this issue!
Musicworks 134 CD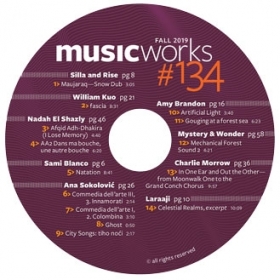 1> Silla and Rise Maujaraq—Snow Dub 
2>  William Kuo fascia
3> Nadah El Shazly  Afqid Adh-Dhakira (I Lose Memory)
4> AA2 Dans ma bouche, une autre bouche 6:20
5> Sami Blanco Natation
6>  Ana Sokolović Commedia dell'arte III, 3. Innamorati 
7> Commedia dell'arte I, 2. Colombina
8> Ghost
9> City Songs: tiho noći
10> Amy Brandon Artificial Light 3:40
11> gouging at a forest sea 6:23
12> Mystery & Wonder Recordings Mechanical Forest Sound 2
13> Charlie Morrow In One Ear and Out the Other—from Moonwalk One to the Grand Conch Chorus 9:57
14> Laraaji Celestial Realms, excerpt 10:09