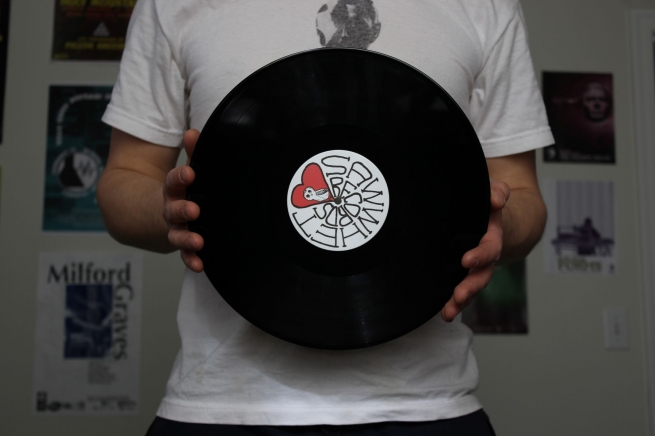 For Saw-whet Records' Ethan Bokma, putting an album together means exactly that: a new release requires not only great music and a cover design, but also blank, unassembled album jackets, glue, spray paint, and several types of adhesive tape. A prominent bass clarinetist on the Edmonton scene and a reliably frequent audience member at other artists' shows, he is also a qualified plumber, on call 24/7 to do the dirty jobs in the name of funding Saw-whet Records' vinyl projects.
The mission of Saw-whet Records, which is based in Amiskwaciy/Edmonton, is to highlight experimental music from the Prairies. The resilience of that music corrects the mistaken perception of some that the Prairies is a place where cities are glorified company towns and where art is considered a side issue. "What so many people don't know is that below that surface is not just experimental music, but arts in general," Bokma explains. "It doesn't show any signs of stopping. Despite the fact that once in a while a show will happen where nobody shows up, the scene is something that keeps going and that can't be stopped." The city of Edmonton is a great example of this. New artists arrive on the scene regularly and are welcomed quickly, fostering new collaborations and programming combinations. Venues and presenters are eager to take a chance on virtually any kind of live experimental music performance.
Bokma moved to Edmonton in 2011, and his growing interest in free jazz and drone music—in addition to his encounters with new and established Edmonton artists—led him to take up bass clarinet and enter the scene. "It was like a bunch of lines that all met. We were all moving and just happened to meet here at the same point, at the same time. I can't say that I brought my experimental music with me to Edmonton, because Edmonton was a huge part of [inspiring my music]." When asked what "experimental" means to him, Bokma replies that it is "music that strives to be something else that isn't out there yet, or that takes something that's relatively new and builds on it."
At the time of our conversation, the Saw-whet catalogue stood at three releases. Birth (July 2019) features Bokma's group Holy Drone Travellers in their original trio configuration of Bokma, Matt Meeker, and Bhuyash Neupane. Richly layered and multitracked, Birth documents their earliest phase, mixing drones with driving tabla, live electronics, and improvisational clarinets, trombone, and voice. Ray The Lucky Runt (August 2019) is primarily a solo vehicle for Bokma. Though a studio recording, Ray reflects his own live practice, with free-jazz-inspired bass-clarinet improvisations augmented by his own looped drones and by contributions from Sean Macintosh (drums) and Mustafa Rafiq, aka Famili Injera (guitar). Chicxulub (January 2020) is from the guitar, drums, and synth trio Nebular Wave. While there is a heavier emphasis here—at least compared to the previous releases—on guitars, drums, and regular beats, there is also an exuberant layering of retrosynths, trumpets, and field recordings.
The fourth Saw-whet release, by Edmonton solo artist k.burwash, is set to drop this spring, and will take Saw-whet Records into the more ambient areas of the Edmonton scene.
---
Editor's note: k.burwash's album lot qs was released by Saw-Whet in October 2020.
Listen and get it here: 
---
The DIY method of album production is a philosophical decision, not an economic shortcut. Bokma is deeply in love with every aspect of vinyl records, including their sound. While acknowledging the warmth commonly associated with vinyl, he does speak positively about the clean sound of compact discs, and is pragmatic about the accessibility of online formats. A vinyl record, though, has unmatched potential to be a beautiful, complete work of art with great music at its core. That end goal motivates the relish and industry with which Bokma approaches his work on Saw-whet. "The goal is to make vinyl that's more than just a record in a sleeve. It's the difference between chili made by Tim Hortons and chili made by your grandmother."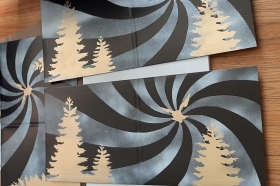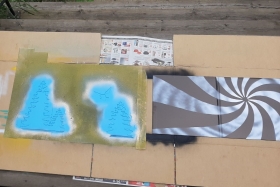 Bokma has no desire to be all-controlling; recording, mixing, and mastering are arts unto themselves, he notes. The quality of the recording matters, of course, but he encourages artists to determine whether they want to release live recordings or recordings created in an intensive studio environment. He asks artists to bring him a finished recording. The k.burwash release started as thirty hours of material; the artist wanted Bokma to make decisions about what music and how to fit it onto a two-sided vinyl LP, and he was happy to be part of that. "I'll always have ideas, but at the end of the day I think the artist should always have the final say unless the artist gives me the final say—which is something I would never ask for." Rather than trying to establish a Saw-whet sound, the goal instead is to present Prairie experimentalists' work as they want it to be heard, and to get the music heard.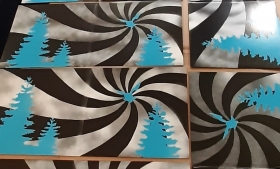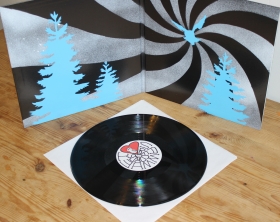 Although Saw-whet has a logo (an owl), the label's approach to visual presentation is about consistency of quality and of care, and not about creating a uniform Saw-whet look. For Bokma, a vinyl LP package must be a beautiful, treasured whole. Citing the various sets and editions of John Coltrane's Live in Japan recordings (capturing performances in 1966 during his only Japanese tour), Bokma talks about gatefolds, the heavy cardboard covers of older Impulse! records, booklets, and liner notes. In the future, he'd like to include zines created by local artists and tied in with their album art. The important thing, as evidenced by Saw-whet's nascent catalogue, is to produce an object with great music that warrants repeated listening, housed in something caringly designed, sturdy, and compelling in its own right.
Implementation of all of these ideals may remain aspirational, but Saw-whet Records is just getting going, and there is no sign of either Ethan Bokma's energy or the Prairie experimental scene losing steam. Meanwhile, there are album jackets to assemble for the new k.burwash release, Holy Drone Travellers gigs to play, and lots of lucrative 11 p.m. plumbing emergencies to deal with so as to inject needed funds into Saw-whet projects.
---
Photos by Ethan Bokma.