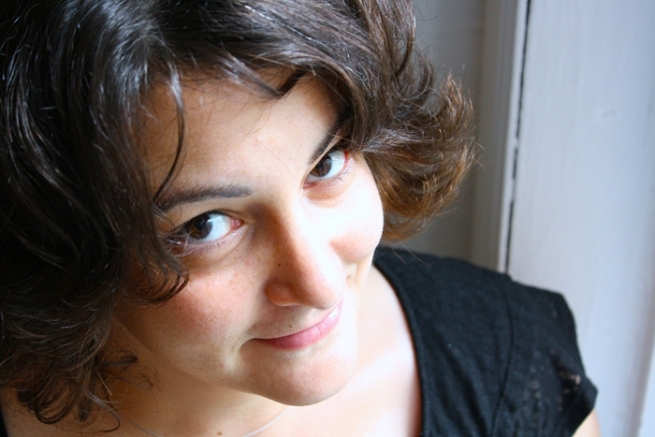 If you had just commissioned Cassandra Miller to write a new piece of music for you, she might get the ball rolling by chuckling and then asking you, "What do you sing when you're in the shower? What was your favourite song as a kid? What would you be if you weren't a musician?" Then she would laugh again, toss her head, look at you closely, hum a note, and begin engaging you with finesse and gravity. Musical creation would begin in that instant.
British Columbia-born composer Cassandra Miller won the Canada Council's 2011 Jules Léger Prize for New Chamber Music for Bel Canto, a stunning, twenty-eight-minute portrait of ecstasy for mezzo-soprano and ensemble. After only two years in Montreal, she became the artistic director of new music presenter Innovations en Concert. And her notable list of compositions credits her with commissions from a variety of ensembles that perform her music across Canada and internationally. 
This impressive list of accomplishments leads one to wonder, Is Cassandra Miller genial, savvy, fresh, or innocent? Unclassifiable? Does her newness in Montreal's new-music milieu afford her a relatively unobstructed run at the knotty business of contemporary composition and fitting into a new family? Probably all of these things. While the key to understanding her talents lies within the combination of these characteristics, listening to her music draws one intimately closer to her and to her vision.
"I always start a piece by considering the performers and their personalities. I ask them questions. If I don't know them that well, I look for connections with the programs that they will play. I fit myself into their world." Thus Miller reveals both her desire to collaborate with performers in equal relationships and her role as a community storyteller.
Like many contemporary artists, she insists that categories and definitions make little sense as contexts in which her work can be viewed. She says that her student compositions were often addressed to colleagues, almost like inside jokes, "You knew for whom you were writing and the response was immediate. Our compositions were like notes to one another." She continues to write with this intention, though now her "colleagues" are the public and the new-music community. But this notion of writing specifically for someone who is waiting to hear the piece is a more singular intention than it first appears. Each listener is the you she is writing for. "For now, I'm just me, writing about me, and writing for you. It's as complex and subtle as the interaction between any two people," she says. Consequently, a sense of intimacy pervades all her work—from large orchestral pieces such as A Large House, which was performed by the Janáček Philharmonic, to her string quartet Warblework, which was inspired by birdsong.
In describing her rural Vancouver-island childhood, Miller says, "I would spend hours looking at the very small details of things, moss on a rock . . . the way you listen to details in a piece of music." She acknowledges the qualities fostered in her by parents who were steeped in mathematics and social activism.
And while the power of the Pacific northwest's natural beauty is not the overt subject of Miller's music, it has had an undeniable impact on her. So also has Victoria composer and teacher Christopher Butterfield and a musical legacy that stems from Rudolf Komorous. Though music lessons were a clear choice for her while growing up, it was an elective course with Butterfield at the University of Victoria that sparked her interest in writing music. Her compositions connected rapidly with listeners, an immediacy that still characterizes her work. The Vancouver Symphony Orchestra chose one of her early student pieces for a performance to a sold-out crowd at the Orpheum. In the midst of undergraduate studies, overwhelmed by a whirlwind of activities related to her composing, she detoured to Salt Spring Island, directed a choir there, and dabbled in a number of things before completing her undergraduate studies a few years later.
Nest was a masters program under composer Richard Ayers at the Royal Conservatory of the Hague in Holland, after which Miller returned to Victoria to teach. But a year later she chose to move to Montreal because it is, in her words, "a magical place to study and compose." She quickly adds, however, that she wouldn't have survived in her new city if the Bozzini Quartet hadn't given her a job in which she learned valuable arts administration skills that she currently puts to good use at Innovations. For now, the city fits her needs perfectly, with its free-flowing dynamics, wealth of great players, and possibilities.
Miller resists the notion that there are distinct categories of abstract, experimental, or accessible music. "I certainly do not make my music to be accessible or inaccessible," she states emphatically. "I don't think anyone does. Relationships take time; and, no, I don't know if that audience member is going to get me on the first date, or if it will be the standard three-date timeline. Frankly, I didn't even know it was a date. I was just trying to have a conversation." Rather, she thinks the trick is more about matching up communities. "[It's not about] educating the public," she says, "but doing something that excites or interests them." In her work as a programmer at Innovations en Concert, and as a composer, this notion allows for variety and fluidity. "I [don't think about] how many people I might reach, but rather about how to best reach that one person. For me, it's about the honesty of somewhat complex emotions. We are complex people and our emotions, our situations, and our humanity are all very complex. I only feel comfortable writing music that speaks to that complexity. Anything else seems a bit drab. I don't feel a connection with simplistic things."
By balancing complex sensations with a direct—not simple—approach, and by adding whimsy and insistence to seemingly basic sound materials often oddly turned, Miller's music resounds with suggestions of experience, making it so seductive and rich to the ear, heart, and senses.
Describing her creative process is an ongoing struggle for Miller, one in which each definition seems as trivial and short-lived as the preceding one. For now, Miller acquieces, "if being experimental is to break conventions, then I would only say that I break whichever ones I need to in order to write the piece I want."
Aesthetically Miller is attracted to the awkward and absurd. In her string quartet Life, she wanted to write a homely piece just for the beauty of it. "I like things that are unsettling," she says, "and not typically thought of as beautiful. The person with the biggest nose is the most striking one to me." However, in the case of Life the lushness of six-tone clusters seduced her, leading her to indulge in what she describes as the comfort and warmth of the sound.
Playfulness is another characteristic evident throughout her work. She has written a Concerto for Violin and Blindfolded Ensemble. The section titles to her piece Three Sighing-Games for Brass Trio could have been penned by Eric Satie: "spiral maze," "tag," and "melancholy competition." It is an interactive game of microtones and improvisation, custom made for the Zinc and Copper Works brass trio. The notion of play in the sportive sense is what makes the music, with performance directions such as, "Find a series of pitches that represent or sound like the name of the-person-you-have loved-the-most-but-lost. Continue until the sound breaks apart, can no longer be continuous, and until there is a small earthquake in your soul." A serious yet impish Puck is at work here, using sound and musicians' interactions as a guiding metaphor for human relations. Her sighing games are open-ended, as the performance notes indicate: "May be performed in any configuration, one after the other, in any order, or separately, between other pieces on a programme."
Seemingly in contrast, a sparse, nearly austere, march of sombre strings fills the first half of her piece Through night and in and out of weeks and almost over a year. This could be a weary portrait of fatalism, but then the surprises start, beginning with fragments of an innocent melody and high-pitched calls criss-crossing the repetitive string motif as if a group of dancing nymphs and penny-whistle-playing buskers had just infiltrated a battalion of trudging soldiers. Is it mere apparition or deviation? The merrymakers finally dissolve only to call again as the strings trudge away to some unknowable but darkening end. Gravity and levity are counterweights she uses adroitly.
In the beginning there was tumult. / Someone called for silence, / for diligence / and then for love . . . / and among the people loneliness erupted, / like thunder in summer. —Toon Tellegan
Miller cites this poem from the Dutch author Toon Tellegan, borrowing his title O Zomer for her own mixed ensemble piece. When asked about the reference, Miller responds by saying, "There is no irony or hiding in his work, and what remains is a deep sense of awe, playfulness, love, and tragedy." The same can be said of Miller's work, and there is an uncanny immediacy to it that makes her a singular bright light in the Canadian new-music firmament. Though mathematics and abstraction are familiar notions, her compositions don't sound formalist or theoretical; they are more direct. "Composing is about portraying something very specific," she notes, "ultimately trying to get at some sense of understanding that you communicate to another person, such as being fourteen and walking around Metchosin at night, dark and summer, passing a field that smells of dampness on wild grasses. 'My God, smell that! Look at the stars!'"
In her music there is no looking away from dramatic peaks, sharp emotions, and desolate spaces. This adds a bitter-sweetness to her music, like the wryness of Samuel Beckett in combination with the whimsy of Italo Calivino. Whether trudging, winding, falling, or soaring in her notes, the listener doesn't watch from the sidelines but rather is partner to the sensory explosions, memory flashes, and instances of revelation inspiring her creation. "What is art if it doesn't remind us of the power of these experiences, that we can feel this way? That's what I'm after. That's why categories don't matter." During the moments of revelation, the listener sees through the curtains, discovers, and is seized, shaken awake; simultaneously a participant and witness to the universe's movement and music.
Bel Canto, Miller's Jules Léger Prize-winning piece, was inspired by a long, warm afternoon on an island in Greece. It's a love song to the bel canto singing style, and the recording features mezzo-soprano Marie-Annick Béliveau swooning in downward glissandi, accompanied by the exchanges of two simultaneous chamber ensembles. Describing the moment at which the piece took its meaning, Miller says that it's "about a moment of realization, a perception of beauty, as if the whole earth tore apart, as if my spinal cord lost its structure, turned into water and immediately evaporated, as if for just a second I could see that the world was not how I'd thought it to be all along, and the joy gave me a kind of terror, or perhaps the terror gave a kind of joy, or desperate sadness, or something."
Miller began the commission by interviewing the singer, Béliveau, listening to her voice and analyzing it. The melody is based on the first thirteen bars of Puccini's aria Vissi d'arte, where, in Miller's words, "not a great deal happens, and that which does happen, happens slower and slower all the time—the music then exists to create a space in which the listener can make connections, see details, stop listening and start again, can come and go with the various elements of the sound." In Bel Canto the singing is inflated and detailed, full of warbles, sighs, rich harmonies, and vibrato. The piece is sumptuous, loaded, and dizzying. In describing it and its intent, Miller says, "The thing about ecstasy is that it is a reminder of a certain unnameable thing, some certain potential of each moment, something that is actually always there, under the surface. We feel it waiting for us." This, then, is a work that seeks beauty itself, since the essence of time is as much about rapture and ecstasy as anything else.
If one were to ask Miller her own question—what would you be if you weren't a musician?—she would confess, "Perhaps a hot-air-balloon pilot." In Cassandra Miller's Victoria, British Columbia, hot-air balloons and their pilots are not allowed, due to a restricted fly-zone classification. That's just as well. Such whimsy would have wasted the composing talents of a serious contemporary artist such as Miller. She soars anyway, following the currents that suit her, writing what pleases her in hopes of it doing the same for others. Levity is ever present in her questions and in her searching sense of beauty.