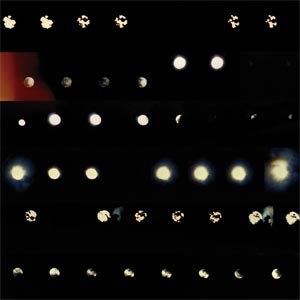 Radwan Moumneh is one of the key players in the Montreal scene that orbits Constellation, Alien8, and other local labels. As cofounder-producer at the celebrated Hotel2Tango studio and a collaborator with Land Of Kush, Cursed, and Eric Chenaux, among others, he's helped shape a sizable amount of music behind the scenes.
Jerusalem In My Heart is a Moumneh project with expandable proportions (from one to thirty-five). This debut outing by the core trio foregrounds Moumneh's personal sensibility, which fuses a minimalist psychedelia with Arabic traditional and classical musics.
Moumneh's voice is one of the most striking elements here. Singing in Arabic, and with a refined, ornate inflection, he's agile and raw—at times even vulnerable, as in the bare, protracted intro to the third cut. The effects that he applies to his voice—distortion and slapback echoes—seem to suggest an exaggerated experimentalist take on the production aesthetic of old-school Middle Eastern pop.
Moumneh plays a curious mix of instruments (harp, buzug, virginal, zurna, and synths) to match his suitably imaginative blend of styles and approaches. The insturmental "Dam3et El-3ein 3" sets the ornamented, resonant strums of the buzug against the clipped deadpan of the virginal to produce a woven, metallic lattice-work of buzzing drones and mordants. Elsewhere, analog synths are used to emit both Jarre-esque nets of arpeggiation and gothy voids reminiscent of Moumneh's labelmates les Momies De Palerme.
The confluence of warped electronic elements and acoustic sounds culled directly or indirectly from tradition results in a bold engrossing aesthetic. While the sonic world Moumneh has developed is a little bit more exciting than the actual journeys he takes within it, this album shows promise and personality in spades.