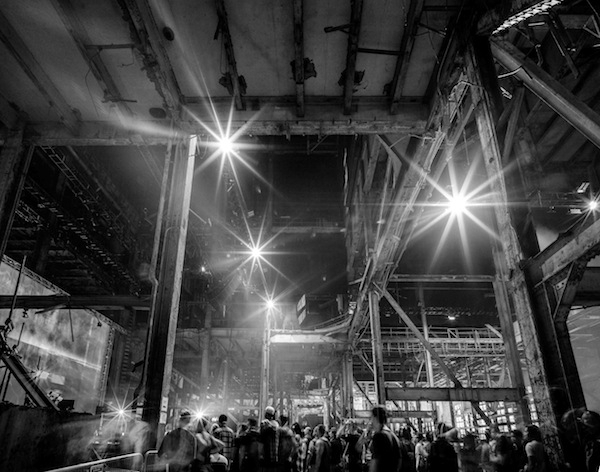 For over thirty years, the Richard L. Hearn Generating Station was something of an urban myth in Toronto. A massive, decommissioned power plant, shuttered in 1983, it sat there at the edge of the city's consciousness on the industrial Port Lands, loved only by urban explorers of abandoned spaces—until 2015, and Unsound, that is.
Though there had before then been a few events at the Hearn, none had ever succeeded as spectacularly as last summer's two-night audiovisual extravaganza. Unsound—launched in Krakow, Poland in 2003—showcased its festival experience as part of the Ontario-government-backed arts festival Luminato, one of numerous global satellite editions of Unsound in locales ranging from New York and London to Adelaide, Australia, and Minsk, Belarus.
While Unsound Toronto's first edition in 2015 boasted a stellar lineup of the experimental jet set, including Ben Frost, Tim Hecker, and Stars of the Lid, the building was undoubtedly the star of that show. The Hearn is truly staggering in its enormity: 650,000 cubic metres of space, and a fifteen-storey clear span from floor to ceiling at its greatest height. The massive steel girders that fill the titanic space were lit up in deep hues of blue and red, with puddles left behind by a rainstorm splotched across the floor, encircling piles of concrete, rebar, and junked automobiles. It looked like the kind of place where survivors would gather in a post-apocalyptic movie.
In legendarily uptight, red-tape-loving Toronto, many were astounded that the authorities would even let anyone set foot inside—and that a few thousand people would turn out to hear mostly obscure, experimental, electronic music. But somehow, Unsound Toronto 2015 was such a runaway success that Luminato Artistic Director Jörn Weisbrodt—who had clearly fallen in love with the building—was somehow able to convince the rest of his festival team to stage the entire Luminato Festival there in 2016. And that includes not just music but also theatre, dance, literature, and visual arts. Luminato spent a cool $2.5 million "activating" the Hearn for this year's festival. That figure met with some exasperation from the city's cash-strapped small arts-organizations—a fair complaint, given that only a temporary, seventeen-day transformation of the retired plant was involved.
Though it's never fair to compare sequel with original, this context created some challenges for Unsound Toronto in year two, as its "festival within a festival" status was considerably elevated. Given its foster-parent festival's more upscale clientele and ambitions, it's unsurprising to note that the Hearn experience was much more polished this year. The dead cars, concrete slabs, and mud puddles of 2015 were gone. A long corridor-like section behind the main stage—which was all lit up in red last year, garnering it the nickname "The Tunnel to Hell"—was brightly illuminated with white light and housed numerous Luminato-commissioned art installations, boxed in between pillars as if occupying office cubicles. At the centre of the corridor lay a "chill zone" in which tired festival-goers could sit or lie down, wondrously decorated in reflective Mylar by some talented visual artists, but which was somewhat uncomfortably sponsored by a vodka brand. The ambience fostered the sensation of walking down a fashion runway, given the jarring brightness, or contrarily—considering the stop-look-continue regimen—of visiting a county fair. But unlike at a fairground, edible options were few and far between: last year's food trucks were missing, replaced by only bar snacks, something of a slap in the face to the punters, considering that the Hearn's marvellous control room was transformed into a five-star French restaurant with impossibly limited seating.
Complaints about the atmosphere and incidentals aside, when it came to the music, Unsound delivered once again. This year the curators offered the best first—the strongest performance this writer saw all weekend was Friday night's leadoff set by Montreal composer and sound artist Kara-Lis Coverdale. Just a silhouette on the mammoth main stage, Coverdale performed in front of refracting, watery shapes on the hundred-foot projection screen, backlit through a waterfall of fog. Beatless and arrhythmic, Coverdale's cascading harp samples had a vertiginous effect, not unlike tossing a piano off a cliff, one string at a time. Nothing else came close to complementing the venue's incomparable mixture of beauty and menace.
The second act of the first night, London UK's Raime, took things in a much more dance-floor-oriented direction—and not just by way of sequenced beats: the core duo of Joe Andrews and Tom Halstead was expanded to a trio with the fantastic drummer Valentina Magaletti, who imbued their linear postpunk dub with confident Krautrock power, while occasionally wowing the crowd with her stick-twirling prowess. Though their pulsating, paranoia-inducing sound—at times reminiscent of Bristol trip-hoppers Massive Attack—suited the atmosphere and got the by-then sizable crowd moving, their occasional emphasis on repetition came across as monotonous rather than hypnotic, especially with the guitarist seemingly stuck on the same E-minor chord in almost every song.
And then came the most eagerly awaited act of the festival, American doom metal pioneers Sunn O)))—which, for those not in the know, is simply pronounced "sun"—making their first Toronto appearance in over a decade. Their previous Toronto show, at The Music Gallery in May 2006, has become legendary. (Disclosure: that show was presented by yours truly.) There's not really much more one can say about this band, cofounded by Greg Anderson and Stephen O'Malley back in 1998, as they've got their formula down to a science: massed drone chords played at maximum volume through a wall of amp stacks, shifting tonally and modulating resonant feedback, rather than following any beat or percussion. And their live show gives maximum gravitas through the band members' trademark cloaks and use of horror-film occult spoken-word and black-metal vocals. This set was no different, though excessive use of smoke machines obscured the view of the performers, making the stage look more like a war zone captured on CNN. At ninety-five minutes, their set length was also excessive, though that was likely the point—for those who braved it, the endurance test became something resembling a ritual.
A much-needed ear break was provided by a visit to the Hearn's Side Room, a more claustrophobically enclosed space whose Berlin-bunker vibe suited the energetic performance of Houston, Texas-raised, Berlin-based DJ and producer Lotic, whose experimental electronica brought together minimal techno and warped hip-hop, R&B, and pop samples. The evening concluded (for this writer at least) back on the main stage with a rare performance by The Bug, a.k.a. producer Kevin Martin, active since the early '90s with such dark ambient and industrial projects as GOD and Techno Animal. It has been eight years since The Bug released the acclaimed London Zoo, and since then "dubstep" has come to mean something else, and Martin has dubbed his new sound "Acid Ragga." Indeed, this performance was a dissonant, acid-house-tweaked take on dancehall, pumped with so much bass the effect was almost paralyzing, even at the back of the room.
Though "volume as instrument" became the dominant theme of Unsound's first night, Saturday's concluding half of the fest was all about the drone—warm, luxurious, enveloping. Performances by Italy's Alessandro Cortini and U.K. duo Roly Porter both mined similar territory of electronically processed drone music, both better suited to ambulatory exploration of the Hearn and its fairground of art installations. The highlight of the night was, unsurprisingly to many in attendance, the return of artist Tim Hecker, likely Canada's best known experimental music export, who performed material from his latest album, Love Streams. As the title suggests, this is Hecker's prettiest, most accessible work to date, with most of the doomy dissonance extracted, but none of the emotional impact lessened. Visual artist MFO nicely completed Hecker's sonic bear hug with shifting hues of deep blue and rich violet. And again, this was a performance that didn't need to be watched so much as simply allowed to sink beneath your skin. But a larger, more party-hearty crowd made entry to the Side Room impossible all night, creating the impression that there were two festivals within this festival within a festival.
In the end, one was left with a slight feeling of dissatisfaction, wondering what it all amounted to—or perhaps a sense of wistful resignation to, and acceptance of, "the way things work," especially when compared to what came before. After the first night of the first Unsound Toronto in 2015, I had a pet theory that that night progressed like a four-act play about the Apocalypse: U.K. dark-ambient pioneer Lustmord was the initiating catastrophe, a sonic bomb-drop; for Act II, mournful Texas neoclassical post-rock crew Stars of the Lid played the requiem for the dead; then Robert Henke's fractured, arrhythmic techno contributed the sound of the survivors fighting back, making their last stand against rampaging mutants or zombies; and the final act was Ephemera, the brilliant, immersive, scent-based collaboration between Tim Hecker and "conceptual perfumer" Geza Schoen, in which the side room was filled with fog, reducing sightlines to a mere few feet in any direction—bodies would float past you, like the ghosts of people you thought you once knew. If Ephemera was Act IV of the post-Apocalypse, it must have been the afterlife.
By comparison to 2015, Unsound Toronto 2016 was the Apocalypse scrubbed down, prettied up, and made safe and comfortable for the one per cent. The appropriate movie metaphor could be George Romero's Land of the Dead, in which zombie-outbreak survivors cluster in an office tower, with the wealthy huddling at the top, further away from the danger. But of course, they could only stay protected from what lurks below for so long . . .
As a humble suggestion to the organizers of Unsound Toronto, maybe what might bring back the much-needed adrenaline rush lost after year one—assuming a year three is in the works—would be more of an effort to include Toronto's vibrant underground music community. Though Unsound has been wonderful for bringing unheard international artists to the region, the lack of local and Canadian talent in the lineup has been somewhat disappointing, especially considering that two of this year's three domestic artists were repeat acts (Hecker and Orphx/Christina Sealey). 2017 at the Hearn could be a golden—or rather, weathered, battle-scarred concrete—opportunity to connect the city's boldest experimentalists with their international peers.
---
Photo of Unsound Toronto during the 2016 Luminato Festival by: Jonathan Castellino.