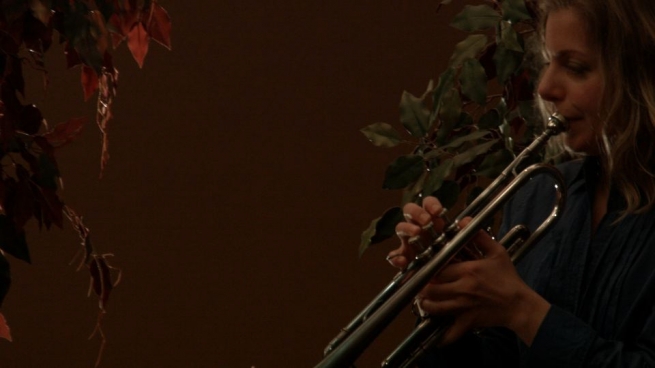 Since 1990 the Upstream Music Association has been a crucial part of Halifax's vibrant music community—both as presenter and as ensemble. For nineteen years, veteran improviser Paul Cram, a longtime Upstream affiliate, was artistic director. Lukas Pearse, an industrious and multifaceted musician, was named as Cram's successor last June. This year's Open Waters Festival saw him programming a bold, diverse, and accessible assortment of music, enlisting new faces alongside many prior collaborators, skilfully cast in fresh collaborative environs.
A longtime friend of the festival, Symphony Nova Scotia joined the bill for two collaborations this time around. The first, assembled and led by Toronto composer-conductor Gary Kulesha, offered a broad aesthetic and historical span. Following works by Webern (a reminder of his enduring relevance), and Boris Tchaikovsky (no relation to Pyotr Ilyich), Norman Adams (the orchestra's principal and leading experimental player) was featured in  Canadian Norman Symonds' The Nameless Hour, a piece for string orchestra and improvising soloist. Adams' restrained lyricism was the perfect complement to the work's atmospheric arrangements. Andrew Staniland's percussion concerto Big Bang! was another high point, finishing the show with bombast and polish, while sidestepping orchestral conventions altogether.
The following evening introduced three divergent musical approaches. Amy Brandon's meek introduction did little to prepare listeners for her mesmerizing nylon-string guitar work. Anchored by a droning backdrop of stretched and scrambled guitar sounds, she traced rapid, tangling trajectories in a performance that was one of the festival's highlights. Norm Adams appeared again in collaboration with stalwart guitarist and poet Arthur Bull in the Bird Project. Rife with naturalistic imagery, the texts imbued the duo's delicate interplay with an abstract pastoralism akin to field recordings. Montreal's Pierre Tanguay and Pierre Labbé closed the concert as Sacré Tympan.
Anteater, a younger Haligonian jazz sextet, appeared later, amidst the pink walls and fake plants of the Atlantica Hotel's Common Room. The prevailing mood was mellow, but never without palpable sonic curiosity. This promise of adventure was later fulfilled. The Original Folk Trio, comprising three Anteater members, closed out the festival with rock-tinged improvisations that flitted between jagged skronk and ominous minimalism. Packer Woo's sparse and sprawling piano piece Deathbed was a standout in a strong afternoon concert of Dalhousie student work.
Saturday evening saw the hulking Upstream Ensemble interpret large-scale pieces designed for improvisers by Jeff Reilly and Barry Guy. The ensemble then joined Symphony Nova Scotia (again under Kulesha's baton) for a rousing reading of Paul Cram's Point of Sympathy. Ranging from free-form swing to explosive pointillism, it was an unrelentingly intense showcase of Halifax' improv community.
A few shades gentler and crisper than usual, Toronto's Cluttertones offered up a palate cleanser back among the ersatz greenery at the Atlantica. With reticent whimsy, the quartet's lean arrangements distilled folk, jazz, and even renaissance-tinged ideas with pure abstract texture in a deeply personal idiom. Their simultaneously ethereal and earthbound set concluded with each member floating out of the venue, instruments in tow, to gather around a decorative (yet reasonably in-tune) white grand piano in the hotel corridor.
Halifax Central Library's Paul O'Regan Hall, a modern and staunchly horizontal space, housed two Sunday afternoon events. Following Birds of Paradox, a collaboration between percussionist Doug Cameron and dancer Jacinthe Armstrong, three of Vancouver's strongest instrumentalists and composers took the stage: Lan Tung (erhu, voice), Ron Samworth (guitar) and Neelamjit Dhillon (saxophone, bansuri, tabla). Weaker fusions of disparate musical heritages can feel tokenistic and contrived, but with this trio (joined spontaneously by Pearse), the integration of cultural elements was as fluid, nuanced, and unprecedented as the material itself.
Vocalypse's ambitious multimedia production fared less well on that front. (Un)Forgotten Voices—Le Tombeau de Barbeau could have been the standout of the festival. Composer Jerome Blais plucked folk tunes from the collection of proto-ethnomusicologist Marius Barbeau as his base—in French, English, and three First Nations languages: Huron-Wendat, Mailseet, and Tsimshian. Blais' imaginative orchestrations traversed a vast spectrum from rustic to ethereal. He prefaced the work in a manner that acknowledged the issue of appropriation ("Barbeau was not perfect," he stated), but it was difficult to regard things such as vocalist Janice Jackson's swooping, flagrantly pseudo-aboriginal inflection, as anything but straight-up appropriation. The jolly, down-home finale exacerbated this impression, a militaristic snare casting an unintentionally foreboding shadow—a shame, given the scope and richness of the work's earlier portion. 
Issues with particular aspects of certain events aside, Open Waters achieves an ideal balance: it's grounded in a particular artistic community, yet seeks to identify and transcend its limitations through new configurations of players and new curatorial constructs, maintaining an awareness of emerging local talent, and of course, carefully selected out-of-town acts. It was a hugely satisfying event—relevant, and full of tantalizing surprises.
---
Photo: Lina Allemano performs at the 2016 Open Waters festival. Photo by: Lukas Pearse.