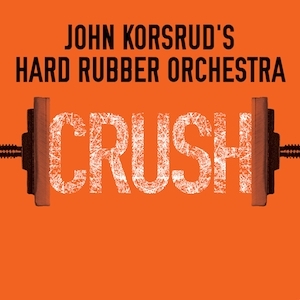 Like bears awakening refreshed after an extended hibernation, the members of Vancouver trumpeter John Korsrud's Hard Rubber Orchestra (HRO) have come forth with a rousing CD after a dozen years of silence. Although mostly devoted to Korsrud's jazz-influenced compositions for the full eighteen-piece ensemble, Crush also includes one extended track, as well as a series of mini-intermezzos that lean towards modern chamber music.
On big-band pieces such as "Crush," "Slice," and "Wise Up," Korsrud boils up a hearty stew that is two parts jazz vigour and one part so-called classical shadings, favoured also by Dutch composer Louis Andriessen, with whom Korsrud studied. Korsrud then tops off the concoction with large dollops of hard rock and some Latin-like sound sprinkles. The thrust of these Cuba-meets-Kitsilano pieces upticks to gripping tremolo workouts, especially with the interpolation of long-lined fuzz distortion from guitarist Ron Samworth and some top-of-range workouts by trumpeter Brad Turner, whose brass command and creativity resembles both Maynard Ferguson (in his years with Stan Kenton's orchestras) and Lew Soloff (Blood, Sweat & Tears). André Lachance's bass-string pops, Jack Duncan's percussion colour, and raucous saxophone slurs from Phil Dwyer, Cam Ryga, and Chad Makela toughen the performances, as if capturing the noise of studs being drilled into a leather vest.
Instructively, the multisectional "Come to the Dark Side," a piece commissioned by The American Composers Orchestra, is more amorphous, with a thirteen-piece chamber ensemble lacking a saxophone section but with orchestral instruments—viola, cello, French horn, tuba, oboe, and bassoon—upfront. Yet with Korsrud's trumpet solo characterized by brassy bravado and a percussionist and electric bassist bearing down as forcefully here as on the other tunes, this dark side is actually luminescent, and related as closely to the other tracks as a fraternal twin is to his sibling.
Crush confirms the continued orchestral dexterity of Korsrud and the HRO. Hopefully, another dozen years won't elapse before there's another recorded example of these West Coasters' unified talents.