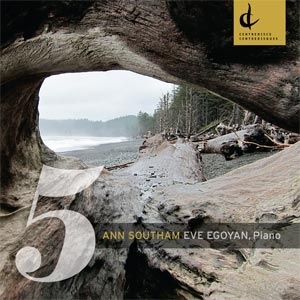 On the surface, Centrediscs seems like a relatively simple proposition: a specialized recording label that showcases the work of Canada's most talented composers. This is exactly what the Canadian Music Centre set out to do in 1981, under the initiative of national director John Peter Lee Roberts, and at a critically important moment between two decades where Canadian contemporary classical music was flourishing with new composers, ensembles, presenters, and venues. Much like its contemporary music counterparts, Centrediscs has continued a substantial success trajectory under successive CMC regimes. Now some thirty-two years, fifteen awards (including six Junos) and over 150 releases later, it has become a complex undertaking that is surprisingly tricky to define.
How so? Well to start, Centrediscs doesn't offer a unified sound in the way that other specialized outfits do. Skimming the 2013 releases offers a microcosm of the label's vast and varied output: from the heady postmodernism of composer Peter Hatch's works for the pan-Canadian Blue Rider Ensemble, to the minimalist piano returnings found among Ann Southam's composition papers after her passing (interpreted here by the very talented Eve Egoyan); from the mythically inspired symphonies of Patrick Carrabré, skillfully performed by the Winnipeg Symphony, to the crystalline reflections of the Canadian north in pianist Yoko Hirota's selections for Voces Borealis; and from the ambitiously virtuosic piano fantasies and rhapsodies of early career composer Constantine Caravassilis (interpreted by powerhouse Christina Petrowska Quilico) to the most recent Neo-Neo-Romantic Icicles on Fire project from pianist-composer Heather Schmidt and cellist Shauna Rolston. The scope of artistic expression is nearly unfathomable. But should we really expect any different? If Centrediscs' intent is to represent Canadian contemporary classical music in its fullness, then surely it must embrace the diversity of musical creativity found within the country's borders.
But this eclecticism must present challenges for the CMC's marketing team. How do they help listeners find their way into the Centrediscs catalogue? Projects like the Composer Portraits Series offer one entry point. This twenty-two-volume collection of multi-CD sets features a selection of pioneering composers—John Weinzweig and Norma Beecroft, to name but two—who helped put Canada on the global music map. Each release is dedicated to a single composer and uniquely combines full-length audio documentaries with a selection of their most important works. It's definitely an inventive way to introduce the curious and more enlightened listener to over fifty years of Canadian concert music. But what it doesn't do is invite exploration into those subsequent generations of established, early-career, and emerging voices that number in the hundreds. The relatively new Centrestreams online audio player partially fills that gap, offering streamed access to the entire catalogue, limited by genre. Perhaps offering the relatively new Centre Moods to the average listener would be a better solution. Originally created to help music supervisors find Canadian composers' music for use in their television, radio, film, and video-game projects, Centre Moods can search the Centrediscs catalogue by instrument, genre, or composer, but more importantly by mood—romantic, thrilling, or calming, for example. With inventive music discovery apps and innovative online tools proliferating across numerous around niches, making Centre Moods public could be a wise move.
Centrediscs' mandate must create even greater challenges for its producer. How does Allegra Young—who recently took up the reins after a double-decade tenure by radio veteran Richard Truhlar—ensure that the label remains both selective yet representative of approximately 800 Associate Composers and a collection of their 20,000-plus works, especially when both grow annually at rates that would have been unpredictable in 1981? How does Young ensure that the Centrediscs catalogue stays true to its intent for a balanced program, when there is already an extensive back catalogue and a hefty release roster of some ten to twelve new titles every year?
Luckily, these challenges don't rest on Young's shoulders alone. While Centrediscs may project itself as solely a CMC initiative, it is in fact a collaborative exercise among composers, performers, recording partners, and distributors. An A&R Committee helps Young select the best proposals from an open-call process. From there, its a cooperative exercise between the label, the composer(s), and the performers(s) to bring each title to light—from seeking funding and completing studio recording, to post-production and ongoing promotion. Naturally, those proposals that present themselves with a master tape and funding in place are more enticing; and the most ambitious performers and composers that exhibit talent, solid programming, and entrepreneurial skill have a tendency to become label darlings, most of whom hail from Ontario and Quebec. Yet, in recent years, this trend has been balanced by new imprints—Prairie Winds and Atlantic Waves—both launched by CMC regional offices to attract resources to underserved projects from the eastern and central provinces.
CBC Radio Music has been a longstanding partner in Centrediscs, providing licenced access to existing, unreleased archival recordings, as well as to technical facilities and staff for each record, up to and including the master tape. While CBC is a critical partner in Centrediscs' success, artistic direction and post-production remain within the label's sole jurisdiction. Within the last five years new relationships with the musicians unions, Naxos Music Library, and the Independent Online Distribution Alliance have launched Centrediscs into the twenty-first century, with online physical and digital sales distribution through Naxos, iTunes, and Amazon, as well as Internet streaming via Centrestreams and the Naxos Music Library.
Would today's Centrediscs still be recognizable by John Peter Lee Roberts decades after his initial dream? It's doubtful, but we can count that in the label's favour. In its first ten years, Centrediscs produced thirty-eight recordings with music by over sixty-five Canadian composers. In the subsequent two decades it's grown that roster five times over to offer a vastly dynamic range of work by Canada's professional composers, performed by some of this country's leading performers and ensembles, and recorded by leading classical producers. We all should take a dive into its pool of contemporary creativity and seek out what makes its voice so reflective of our diverse Canadian character.