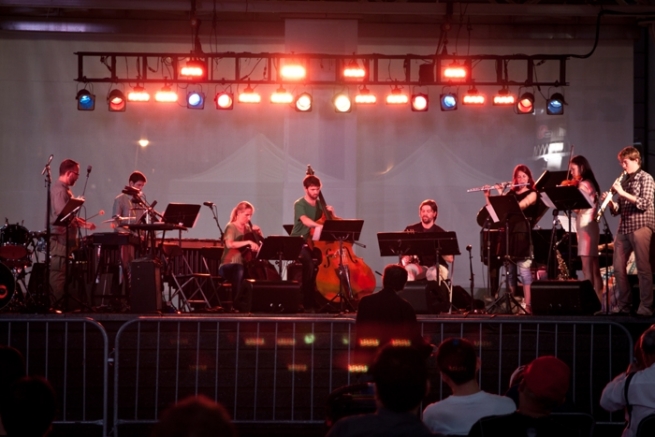 Billed as a Top 20 Billboard of Contemporary Music, CONTACT Contemporary Music's INTERsection New Music Festival rang in its sixth year on September 1. Held in part at Toronto's Yonge-Dundas Square, the festival ran for two days and featured as headliners the Bang on a Can All-Stars from New York.
The festival launched on a Saturday in Yonge-Dundas Square with the New Music Marathon, which this year again featured eight hours of new music performances on the main stage, and the New Music Marketplace. In honour of John Cage's centenary, an additional happening called MusicCircus featured installations and performances that took place throughout the marketplace. Artists performed John Cage adaptations that allowed spectators and passersby to take a casual look. I caught some innovative installations, such as that of Jurij Konji, who performed a percussive piece using a cedar log as a drum, played by striking sticks and a seedpod against its jutting branches, with four piles of seeds and a cactus acting as auxiliary percussion instruments. Jason Doell played a hand-cranked music-box piece with simple seven-note melodies and counter melodies that quickly broke down into repetitive noise and mushy bell tones, due to the paper feed that contained sheets that moved around and degraded over time. I also observed Rebecca Kurtis Pomeroy, Ian Guenther and Claudia Bergeron's singing-bowl-and-Chinese-gong performance. "Our directions were very specific but non-specific," I was told, while being shown a graph of intersecting lines. "The longest time was [spent] interpreting the dots on the line, and from there we were able to start rehearsing actual notes." On the score, bowls and the gong were colour-coded with indications of frequency length and durations.
The revving air-raid sirens that filled Yonge-Dundas square served as a warning to curious onlookers that Bang On A Can All-Stars were about to perform. Starting with a low whine, the sirens soon drowned out the busy intersection's street drummers, rumbling traffic, and motorcycle engines. While the ambient noise pollution was no doubt a challenge for performers, Bang on a Can guitarist Mark Stewart cheerily acknowledged the atmosphere. Inspired by the words of John Cage, he told the gathered crowd, "Don't think of anything as an interruption, but merely as a forceful visitor."
On the main stage the All-Stars performed a short set of their more popular pieces. Lick by Julia Wolf, is a piece inspired by rock-funk licks, with references to James Brown. The band's stage presence was a mix of performing styles: beaming smiles from Vicky Chow on piano and Gregg August on bass strongly contrasted with the stern grimaces of the remaining artists as they played their parts in an angry staccato, while other members introduced sweeping legato melodies. Sunray, by Bang on a Can co-founder David Lang, experiments with string textures and starts softly and rhythmically, ending in abrasiveness in the last section, replete with tremolos and clarinet skronking. Workers Union is a wild and grinding piece with forcefully angular shots and a pulsing percussive undercurrent with ascending chromatic interjections. Chow strategically mashed her fists on the keys with expert timing and precision, reminding us that the piano is in fact a percussive instrument.
Part two of the festival, Ambient2: The Music Of Brian Eno, took place at the Music Gallery, a venue that still is home to the congregation of St. George the Martyr church. The acoustics and solemn atmosphere lent themselves well to the concert, which presented Eno's Ambient 1: Discreet Music, performed by Toronto's CONTACT, and his Ambient 2: Music For Airports, which the Bang On A Can All-Stars performed in its entirety. Jerry Pergolesi's arrangement of Ambient 1: Discreet Music retained the indeterminacy principle of "setting up the parameters for a composition and then abandoning control." Like its visual accompaniment (the video Deck by Suzanne Bocanegra, commissioned for CONTACT by Bang on the Can), which experimented with the frequency and textures of green sheets of paper being stacked in various ways on top of each other, the piece showed no beginning, middle, or end. It was evident that the piece, while beautiful and sonorous, lulled some of the audience into peaceful slumber.
Mark Stewart prefaced Bang On A Can All-Stars' performance of Ambient 2: Music For Airports with an announcement that Eno never meant his pieces to be listened to in their entirety by a seated audience, instructing that audiences be permitted to get up, stretch their legs, and do whatever they felt like doing. Few in the audience exercised their right to wander, most being captivated by the moving four-part performance. The band's usual instrumentation was augmented by samples of a breathy and ecstatic women's choir during movement 2-1. The accompanying visuals by Frank Scheffer were played alongside dreamy airport scenarios shot with a fisheye lens.
The festival enjoyed support from partners such as Naxos, The Wholenote, and Sunrise Records, whose booths were set up in the festival's marketplace. There is no doubt that INTERsection will be back for 2013, with perhaps even more support from a community that is understandably hesitant about playing in the middle of a busy urban intersection.
Image:  Memeber of CONTACT perform in Yonge-Dundas Square: Jerry Pergolesi, Dean Kurtis-Pomeroy, Rob MacDonald, Nick Bobas, Mary-Katherine Finch, Emma Elkinson, Sarah Fraser-Raff, Wallace Halladay). Image by: Rowen.