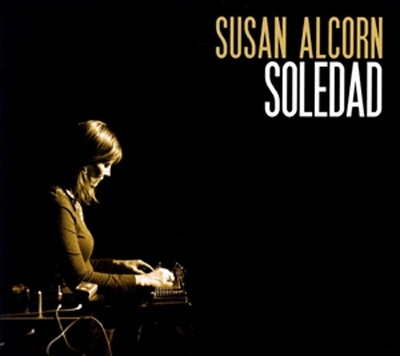 Astor Piazzolla's eccentricity as a composer is overshadowed by his reputation as one of the foremost exponents of tango music. The ostensible genre designation tends to mask his poignant and peculiar mixture of forlorn sentimentalism, tense dissonances, and covert use of noise. Susan Alcorn, herself an expert in oblique lyricism, understands this very well. Her translation of Piazzolla's compositions into the warm drawl of her pedal steel guitar on four of the five cuts on her CD Soledad brings this into sharp focus, while insinuating her own imagination into the equation.
The album opens with a drowsy yet assiduous take on the title piece—slowed to the point of the mere suggestion of a dance—and continues to unfold in a similarly dreamlike, nocturnal manner. In more typical readings of Piazzolla's work—even the slow stuff—its chromatic snakings tend to be imbued with a nervous agility, but here one is really able to appreciate each distinct melodic turn and the way it sits against the varying degrees of harmonic opacity.
With each successive track, Alcorn's enviable command of her unwieldy instrument is more and more revealed, but one never gets the impression of excessive displays of virtuosity or that she's fighting the instrument's innate resonant legato. Rather, the increasing number of surprising colours that emerge—gong-like chordal swells, brittle music-box-like figures, nimble contrapuntal dances and swooping glissandi—are blended progressively into a single cohesive palette of sound.
Her one original composition on the album, "Suite for Ahl" (the only track that's not a solo), fits in remarkably well, with opening nods vaguely in Piazzolla's direction. Bassist Michael Formanek frequently anchors the low end, freeing Alcorn to produce wild ripplings of texture and fluid high sweeps, while he also contributes bold gales of bowed tremolo and cleanly plucked melodies.
Soledad serves equally well both as an introverted homage to Piazzolla and as an introduction to Alcorn's own euphoniously exploratory artistry.