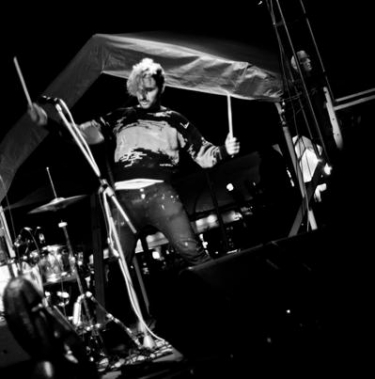 True to its moniker, Electric Eclectics is more than just a head-spinningly diverse festival of modern music. It's also a truly eclectic experience. Equal parts experimental music festival, bush party, camping trip, participatory art happening, and gathering of lovable misfits, EE is a one-of-a-kind event. In five short years, it has become a must-see summer highlight for the sonically adventurous.
Taking place, as always, on The Funny Farm—artists Gordon Monahan and Laura Kikauka's bucolic property south of the Georgian Bay town of Meaford, Ontario—the fifth edition of Electric Eclectics expanded beyond its existing mix of musical performances and sound installations to offer a bigger DJ presence.
This year, the fun kept going until dawn in the Bombay Boreal Tent, an eerily ecstatic dance party in the woods. Forest-bound revellers were confronted with one of the festival's best installations yet—London, Ontario artist Paul Walde's Composition for Light, Percussion and Ultrasound, which featured a circle of floor toms emitting light beams into the night sky, attracting curious insects. A microphone in each drum amplified the vibrations through a surround speaker system, while ultrasound recordings of bats knocked moths out of the sky. Truly an entrancing study of our technology's effect on nature.
But live music is still the number one reason to make the drive to Meaford. As with previous editions, Electric Eclectics 5 made a credible attempt to bridge the gap between "serious" experimental music and the scruffier risk-taking of the indie world. With a truly global reach, this year Monahan and co-curator Chris Worden's slate of invited artists came from as far away as Colombia. Bogota sound artist Ricardo Aria's performance answered the question of what would happen if a contact mike were to meet a gigantic red rubber balloon. Answer: happily expansive drones.
Resplendent in a vintage three-piece suit, American composer-educator Nic Collins engaged the crowd in a rousing round of . . . participatory circuit-bending. Only at Electric Eclectics would dozens of onlookers excitedly gather round a table, waiting for their chance to grab a jumper cable and hack a circuit board, thus contributing to a joyfully cacophonous symphony of destruction (to borrow a line from Megadeth).
The award for most innovative sonic technique of the weekend must undoubtedly go to New Yorker o.blaat, a.k.a. Keiko Uenishi, who explored the resonant acoustics of a series of tubes and pipes, using just a microphone and an electronic limiter, bringing wind-like tones to the brink of feedback. Wandering around the grass in front of the stage, testing each recycled cylinder, Uenishi embodied the essence of true experimentalism. The results were often gorgeous.
On the other end of the spectrum, local artists were also represented—as were more conventional musical modes. Owen Sound pianist-vocalist Kati Gleiser performed a pleasant afternoon set of ethereal pop that recalled the work of such U.K. innovators as This Mortal Coil.
Another group that's a little outside EE's usual purview is the female Vancouver duo Myths. Like Toronto sensations Crystal Castles, Myths mash up the buoyancy of electro music with the confrontational energy of punk. Singing and shouting along with beats composed in Ableton Live, twin vocalists Lief Hall and Quinne Rogers made creative use of digital effects to add unearthly, bird-like trills to vocal phrases, raising them above the crowded pack of party-hearty electro-punk.
Yet 2010 must go down as the summer that EE embraced noise rock—or the avant garage, that liminal space between the garage band and the academic avant-garde exemplified historically by groups like Pere Ubu and Sonic Youth. This made for some of the most vibrant performances of the weekend. One of the most exciting bands to emerge from the Toronto scene in 2009, Romo Roto are more likely to be seen on the floor of a gallery than one of the megacity's numerous rock clubs, so their appearance under the northern stars didn't seem so strange. The drum-voice duo of Alexandra MacKenzie and Tomas del Baiso stand face to face around a collection of floor toms and snare drums, howling out vocal parts that follow their cyclical drum patterns.
Del Baiso also took the stage with his main band, DD/MM/YYYY (DMY). Though all still roughly under thirty years of age, the members of the quintet are both veterans of the indie touring circuit and of Electric Eclectics—this was their third appearance in five festivals. It's understandable why: DMY exemplify the organizers' desire to bring experimental music to a younger audience—this is a band that makes complicated music that seriously rocks. A crew of young dudes who clearly enjoy playing together, and have done so for so long that they communicate telepathically, They are always a joy to watch and your brain is always willing to keep up with them, no matter how proggy their riffs get.
It's always great to see the younger generation play alongside their influences. The big-daddy trailblazer of T.O. noise since the early '80s, Brian Ruryk offered the most entertaining stage banter of the entire weekend: "Oh shit, I'm bleeding!" Smashing up one beater guitar after another, with an array of targets and projectiles such as giant cardboard boxes and film canisters, Ruryk made a virtue of destruction as he plowed headfirst through an epically brief set.
There is always one performer at EE that defies all categories, however, and this year it was Let's Paint TV! Performance artist and all-around gusto-buster John Kilduff got his start on public-access television in his native Los Angeles. His concept is simple: he runs on a treadmill while painting pictures and taking calls from his listeners. During this live set, Kilduff was accompanied by the EE house band and took "calls" from audience members brave enough to wander up to the mike. Though he fielded a range of questions, from guilty pleasures to how he feels when he stops his treadmill (answer: "Great!"), Kilduff always exhorted his callers to embrace the moment and heed the call to creativity—"Just go for it!" is his mantra. It's safe to assume that, at Electric Eclectics, he was happily preaching to the choir.
---
Image: Tomas del Balso performs a set with his drum-voice duo Romo Roto. Image by: John Fearnal/Good Noise Photography.