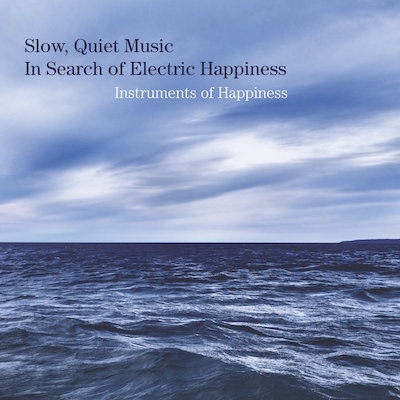 Tim Brady is the artistic director of Instruments of Happiness, under which group name he leads various guitar ensembles of up to one hundred axes. This latest studio release is a collection of four works commissioned for guitar quartet. Each composer was asked to create a piece of approximately fourteen minutes, using spatial elements while being mindful of the concept reflected in the CD's title: slow, quiet, and happy music. The works were first performed live with the guitarists (Brady, Jonathan Barriault, Simon Duchesne, and Francis Brunet-Turcotte) interspersed in a cavernous church, but were later re-recorded on a stage for the creation of this CD.
The album presents an interesting case study of how different composers can approach and interpret identical, and challenging, instructions. Electric guitars, with their typically short, percussive attacks, are not necessarily known for being quiet and slow, so all works made ample use of modulation effects to draw out long tones and create low-key soundscapes. All the composers also took a chamber-music approach with defined movements, and with small modifications, these pieces could easily be reimagined for a modern classical string quartet. Indeed, there is copious use of compression and saturation to transform guitar sonorities into something closer to bowed strings.
Similarities aside, each composer brought their own touch. Louise Campbell's Sideways joyfully haunts the listener, surrounding them with a wide variety of continuously morphing drones. Plucked strings occasionally pierce the serenity and eventually lead to a climax of increasing density. Nine Kinds of Joy by Rose Bolton also begins with slow, peaceful droning, and gradually reveals its multiple layers. Eventually, a low-register melody appears, which in turn shifts to higher chiming notes as the melodies gain prominence. Andrew Noseworthy contributes Traps, Taboos, Traditions, where downwards sliding glissandos, muted tones, and masses of scraping strings create an air of mystery. Finally, Andrew Staniland's Notre-Dame is Burning presents a low-frequency, churning drone over which strata of loftier tones float.
Overall, these works are certainly slow and tranquil, but the happiness arises more from quiet contemplation than overt expressions of joy. Listening though a good pair of headphones is recommended to fully appreciate the spatialization effects. While this is music to relax to, the encyclopedic range of guitar techniques and effects will keep six-string aficionados engaged.