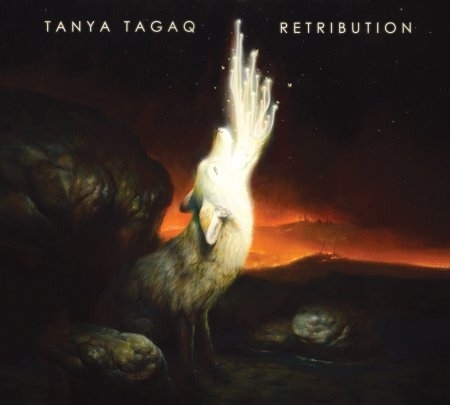 To follow her Polaris Music Prize-winning album Animism, Tanya Tagaq has gathered her considerable resources—her talented backing band of producer and violinist Jesse Zubot and drummer Jean Martin, plus her astounding vocal skills, musical inventiveness, electric energy, and powerful, incandescent rage—to create an album as defiant and uncompromising as it is brilliant and enthralling.
On Retribution, Tagaq doesn't provide many soft places for listeners to land; it's plainly and overtly about rape—of the land, of girls and women, of children, of indigenous culture, of the Earth's climate—and she administers lightning strikes of fear, pain, horror, and anger, like a super pissed-off Vulcan incarnate. And yet jolts of joy, exhilaration, ecstasy, sadness, and love temper the aggression.
Tagag uses her whole body as an instrument, incorporating the rhythmic breathing and guttural sounds of traditional Inuit throat singing as well as frail melodies, coos, laments, yells, hums, wails, whispers, and roars—and even talking: after the opening "Ajaaja," featuring the voices of her young daughter Inuuja and Inuk singer Ruben Komanjapik, comes the title track, which includes a spoken statement: "Our mother grows angry. Retribution will be swift. We squander the soil and suck out her sweet black blood to burn. We turn money into God and salivate over opportunities to crumple and crinkle our souls for that paper, that gold. Money has spent us."
And on "Cold," she elucidates the science of global warming in no uncertain terms. The messages in the other tracks may not be stated quite so clearly, but they get through just the same, hitting us in the gut or shivering down our spines. Zubot's myriad atmospheric violin sounds and Martin's pounding rhythms support Tagaq's voice in every direction it travels—which is everywhere from hip-hop to metal, folk, ambient, and experimental noise—as do guests like rapper Shad and the Tuvan throat singer Radik Tulush.
The album closes with a bleak, eerily sweet cover of Nirvana's "Rape Me," which, like Retribution itself, is as devastating as a punch in the gut.