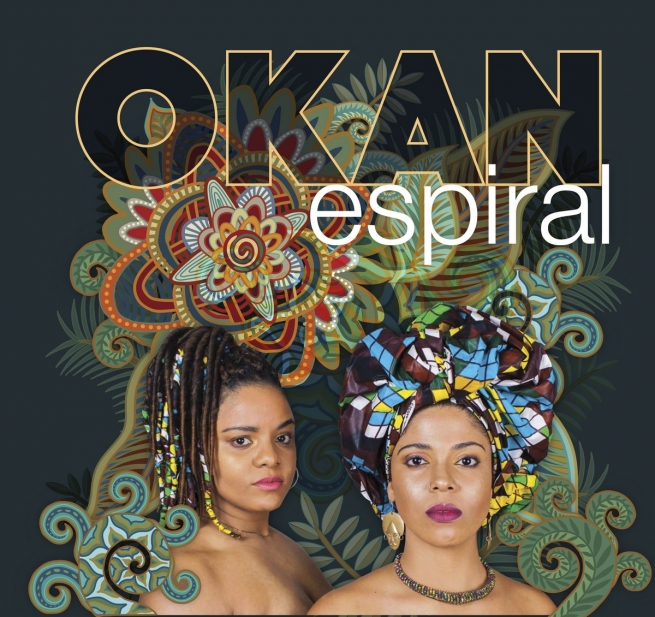 Since forming the Toronto-based Afro-Cuban jazz duo OKAN in 2017, Magdelys Savigne and Elizabeth Rodriguez have been trumpeting their island's eclectic sounds free of a Western filter or figure, steadily becoming stars of Canada's growing global sound. On the heels of their EP Laberinto, OKAN has released the full-length Espiral, which takes their sound to more vivid and confident spaces.
Thematic stories of immigration, family, and sacrifice continue to weave through their work. Sound-wise, the musicians delve more deeply into their roots, tapping into folk genres of Eastern Cuba with Santeria-derived chants on the album's titular, opening track. On "Mercedes" (featuring vocalist Telmary Diaz) they revive a fading native Cuban sound called Pilón—a rhythm inspired by a suggestive dance style that mimics coffee grinding. And instrumentation is as much a star as are the vocals, throughout the recording—particularly on the instrumental track "Trocado."
The duo is not afraid to embrace classic sounds that some may initially find quaint; Consuelo Velázquez's oft-covered 1940 classic "Besame Mucho" is given an alluring, modern spin, and they lean into the retro sound of "Águila" with such sweeping elegance that by the end of the track you understand why the channelling of these iconic, recently neglected, Cuban sounds are so important to keep alive. Their exciting merging of jazz, folk, and global rhythms make Espiral a party, transporting the listener to their lush, resilient island and abundantly creative culture.