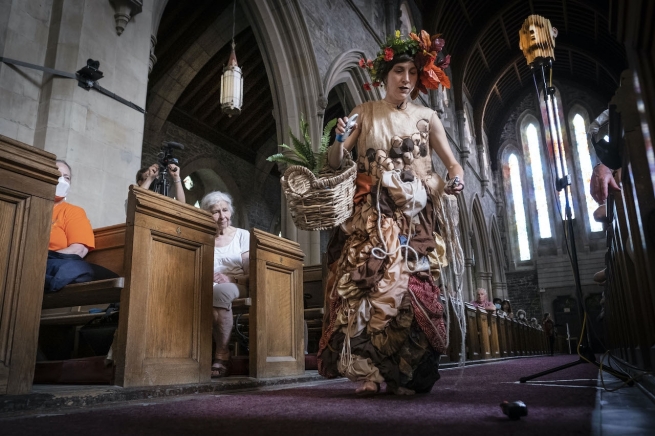 The Newfoundland and Labrador Sound Symposium returned in full form this year, delivering nine jam-packed days of events for its twentieth anniversary. There was a special energy to this year's festival, maybe because collaboration was something we had taken for granted pre-pandemic. In the 2022 program notes, associate artistic director Benton Roark wrote of the sacred values of both live music-making and togetherness, which SSXX paired through performances, panels, installations, and more. Artists and audiences came together in workshops, improvisational collaborations with makeshift bands at Night Music, and of course, the Symposium fanfare, Harbour Symphony, a composition commissioned anew each festival for the horns of the vessels in St. John's harbour.
I've always had a particular fascination with this festival because it's just so different from your typical music festival—which can feel almost boringly predictable in comparison. In a 2018 review, I referred to Sound Symposium as "the reigning king of weird events in St. John's." In 2022, it still rings true.
My experience started on Saturday, July 16 at the LSPU Hall (formerly the Longshoremen's Protective Union), where guitarist Ben Diamond kicked off the evening with two compositions by award-winning composer and Memorial University professor Andrew Staniland. Next came Resonantis, a piece created for Diamond by Marco Neri during the Twisted Spruce Music festival. Haunting and ethereal, it made me feel like I was being chased through the woods by what I interpreted as cawing crows, trickling water, and evil snarling. Diamond continued with the world-premiere performance of Luke Blackmore's Something Sawed for Guitar and Electronics, slapping and tapping his guitar while using pedals and other effects to add digital soundscapes. This set was followed by Bill Coleman and Gordon Monahan's wildly intriguing performance employing brainwave sensing technology to produce sound and music. The set began with Coleman moving robotically and writhing around on the floor as we heard crackles, snaps, and pops. At the end, as he removed his clothes, pieces of broken plastic fell to the floor, showing the crowd the source of these strange sounds. After being hooked up by Monahan to an EEG interface, Coleman began slowly moving, deliberately and cautiously at first, his slight movements reflected in the lights and soundscape we were seeing and hearing. Even after reading about the performance, attending it, and discussing it with other audience members, I still don't quite understand how they created and presented this fascinating piece, but I would happily watch it again.
On Sunday afternoon, I donned a swimsuit for Amy Brandon's sonic installation Boundary at the Memorial University pool. Speakers placed below and above the water allowed attendees to hear two different soundscapes, ever-changing with individual depth and movement —it was innovative in its simplicity and ethereal in its execution.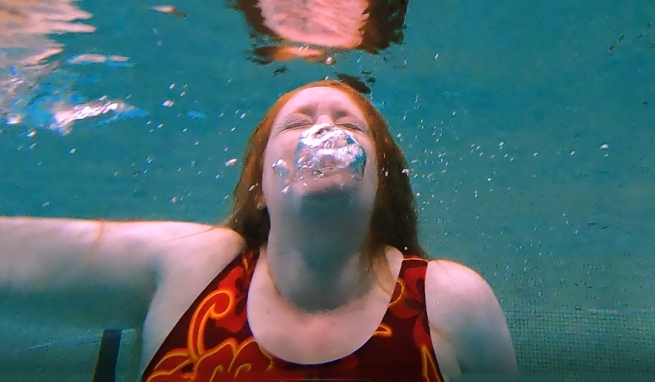 The next evening, I headed to the LSPU Hall where local darlings Eastern Owl, an all-nations, all-women drum circle, kicked off the evening with a short set that included "Henrietta," an original Eastern Owl song about Inuit woman Henrietta Millek, who went missing from the St. John's area in 1982 and has still not been found. The Offering of Curtis Andrews—a supergroup composed of Trichy Sankaran (mridangam, kanjira), Curtis Andrews (percussion), Jarred Burrows (guitar), and Patrick Boyle (trumpet)—began its set with The Rainmaker, intended to bring rain, something Newfoundland and Labrador needed desperately at the time. Most songs were performed as ragas and talas. Sankaran and Andrews explained these musical rules, patterns, and rhythmic structures, simplifying it all as best they could. Admittedly, I was still a little lost, but that did not detract from my enjoyment of this mesmerizing performance, especially the set's third offering, a solo piece by Sankaran, during which Andrews demonstrated the math in the music by counting beats on his hands. The group continued to amaze and received a lengthy standing ovation.
Sound Symposium XX wrapped up on July 23 at the Anglican Cathedral of St. John the Baptist, with Trio Lyrical, Gayle Young, Sarah Albu, Noam Bierstone, and David Buley. Serving as a "beautiful punctuation" to the festival, as Benton Roark remarked, the trumpeters Trio Lyrical performed first, exploring themes of nature while employing medieval techniques. Memorial University School of Music alumni Michael O'Keefe, Katherine Moffatt, and Emily Finch began with Barmp, a Robert Humber composition inspired by the Harbour Symphony. Next was a medley composed by Anthony St. Pierre and Call of the Sparrow by Aiden Hartery finished off the set.
Sarah Albu and David Buley's performance of
Phantom Voices
was one of my favourite SSXX moments. Walkie-talkies were strategically placed in the pews of the massive Gothic Revival stone cathedral. Wearing a floral crown and handstitched wearable-art dress by local textiles artist Bruno Vinhas, Albu walked down the aisle, collecting and turning on the walkie-talkies and singing into them, creating layers of feedback and distortion over Buley's hurdy-gurdy. Describing this performance with words simply doesn't do it justice. Albu and Buley were joined by Jan Buley and Gayle Young for some collaborative and musical spoken-word pieces that illustrated "the difference between hearing and listening," as Young explained.
ArbreTreeBaum
was a particularly interesting work, as Young and concert attendees called out names of tree species, repeating and whispering them. Partially developed in Newfoundland,
Ancient Ocean Floor
[featured on the
Musicworks 142
CD] had Albu and Young describing the sounds of a river valley over tuned resonators that had been inserted into twenty-two feet of ice in a frozen waterfall. Around the cathedral, audience members closed their eyes, on a much different kind of spiritual journey in this hallowed space.
---
PHOTOS BY GREG LOCKE
Top: Sarah Albu performs with David Buley (not pictured) in Phantom Voices.
Middle: Gordon Monahan (left) and Bill Coleman (right) demonstrate brainwave-sensing technology.
Bottom: A visitor experiences Amy Brandon's sonic installation Boundary.