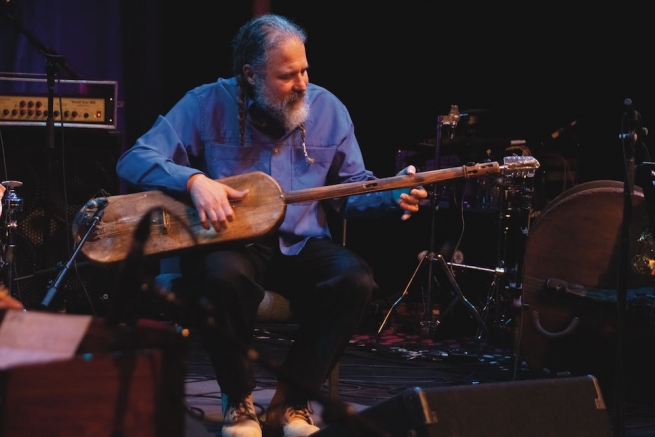 The 2022 edition of the Guelph Jazz Festival marked a singular recovery from the rigours of the COVID-19 pandemic, with more presentation venues engaged than at any time in its twenty-eight-year history.
Following the cancellation of the 2020 season, the festival's creative team of Scott Thomson and Karen Ng found imaginative ways to keep performers and audiences within hearing distance, but far enough apart to avoid infection. In March 2021, there was One on One, a two-day concert series in which individual musicians performed short sets for audiences of one in a large, otherwise empty room. Next was Thomson's Arborienteering in the University of Guelph Arboretum in July 2021, an environmental piece in which socially distanced audience members walked a mile-long route as individual musicians played ten-minute sets, each next to an assigned tree and starting five minutes apart, creating a series of impromptu duets for the meandering audience. The 2021 edition was modest by the festival's standards, with limited seating, fewer concerts, and primarily Southern Ontario musicians. What was new, though, was a series of open-air concerts with bands setting up throughout Guelph's extensive park system.
The 2022 edition returned to traditional ticketed indoor programming, with musicians drawn from a larger catchment area (including France and Chicago). It also revived the free all-day series of band performances in the city's Market Square, a hallmark of the festival, complete with extensive seating, an area for dancing, and drink stands. The performers there included Chippewa Travellers, an Anishinaabeg family drum group that produces collectivist trance music; the Heavyweights Brass Band, a New Orleans-style street band with repertoire stretching from Thelonious Monk to funk; and Lido Pimienta, a Polaris Music Prize-winning singer who mixes electronica, pop, and Colombian folk music with a special energy. James Brandon Lewis, a stellar New York-based tenor saxophonist, embodied spiritual jazz, at different moments channelling the timbres of John Coltrane and Albert Ayler.
The festival continued the neighbourhood parks concerts begun in 2021, but included some of the Market Square performers, resulting in moments when four different bands were performing across the city simultaneously. Even more programming, under the rubric GJF Around Town, took place in spaces ranging from restaurants and bars to Silence, a casual venue for radical music. In 2022, the festival presented more music—and more diverse music—than ever before.
At the ticketed indoor events, the range and quality of Canadian music stood out, stretching from Ontario to Quebec, New Brunswick, Nova Scotia, and, in one case, Yukon. Plinc! Plonc!, the duo of saxophonist Jean Derome and percussionist Pierre Tanguay, who have been musical partners for over forty years, defines the spirit and variety of musique actuelle—at times playing free jazz with a cutting, blues-drenched energy, at another moment creating lustrous melody, then drawing up folding chairs at the apron of the stage to play a wonderfully fraternal duet on jaw harps. A Saturday-morning event presented solo performances by Montreal-based harpist Sarah Pagé and New Brunswick-based trumpeter Nicole Rampersaud. Each used electronics to achieve radically different ends: Pagé tending toward the rhapsodic and ethereal, Rampersaud to the expressionist and industrial.
Pete Johnston's song project Stranger Still played music profoundly rooted in the culture of his native Nova Scotia, setting works by the foundational Maritime poet Alden Nowlan. Johnston played guitar, Rob Clutton played bass, and Mim Adams and Randi Helmers sang pieces honed to a warm evocation of Nowlan's work, suggesting medieval chant, minimalism, and folk music in a lucid rendering of hard-edged struggles suspended between vision and loss.
A bridge between the Maritimes and Quebec appeared in the last indoor event of the festival, a Sunday-morning presentation of the improvising trio Collateral, made up of Montreal- and Cairo-based guitarist Sam Shalabi with the Haligonian duo of cellist Norman Adams and pianist Tim Crofts. It was a subtle and empathetic set that moved through different densities and terrains, highlighting Crofts' rapidly evolving textures, Adams' gift for rhapsodic invention, and Shalabi's acute sense of timbre, which created edgy, metallic contrasts to his partners' more mellifluous tones.
The night before, Shalabi had led the largest ensemble of the festival, Land of Kush, in the longest piece, his eighty-minute Sand Enigma, which debuted four years earlier at Toronto's Aga Khan Centre. The sprawling work embraces and contrasts multiple musical and cultural modalities, employing around twenty performers (it was hard to keep track from an upper balcony).
Eric Chenaux left Toronto for France in 2010, but while he lived in the city he was at the heart of a musical revolution, stretching possibilities with Drumheller, the Draperies, and the Reveries, and documenting it on his Rat-Drifting label. On Thursday night, Chenaux performed solo pieces from his recent CD Say Laura, singing and playing guitar in divergent and extraordinary ways. During an hour-long performance, his songs repeated short phrases at hypnotic lengths, with a certain hollowness in his voice, oddly reminiscent of Carmen McRae or Nina Simone, becoming a repository for emotion. Joining that was a virtuosic exploration of looping, counterpoint, and guitar effects that combined tremolo and pedals to create a forest of lines and varied electronic voices over fundamental bass figures that somehow both surrounded and highlighted the vocal lines. The following day, Chenaux appeared in a duet improvisation with dancer Aimée Dawn Robinson, the festival's Yukon representative. Renewing a long-standing creative partnership, the two constructed a dynamic relationship between space, movement, and sound in the already emblematic environment of Heritage Hall, a nineteenth-century church built by formerly enslaved Black people who had arrived via the Underground Railroad.
The other artists to appear twice were
Chicago-based Natural Information Society
(Community Ensemble with Ari Brown), a nine-member expansion of composer and
guimbri
player
Joshua Abram
s' usual NIS group. With veteran tenor saxophonist Brown erupting through the compounding rhythmic figures of five other winds, Abrams' ostinatos, drummer Mikel Patrick Avery's polyrhythms and Lisa Alvarado's keening harmonium, the band suggested a fusion of Terry Riley's 
In C
 (Mali edition) and John Coltrane's 
Africa
, creating a sense of time itself multiplying and standing still. In a Friday-night concert at the Royal City Mission, they played the entirety of their forthcoming recording 
Since Time Is Gravity
, then threw in a twenty-minute segment of a new work that sounded like kin to 
A Love Supreme
. The next night in Market Square, they played a version of NIS's most recent release,
descension (Out of Our Constrictions)
, that, true to its name, lasted an hour and had a permutating crowd dancing in front of the bandstand throughout. It was a fine coincidence of radical creativity and spontaneous adaptation.
---
Top photo of Joshua Abrams by Lily Ramsey (Guelph, 2022).