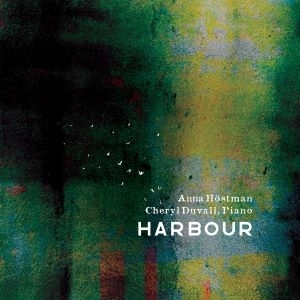 As a child, Anna Höstman loved to play piano.
She gave a performance of her earliest written work at age twelve, a joyful experience that she later compared to setting a boat on a river and being carried downstream. On
Harbour
, recorded at Toronto's Glenn Gould Studio, and the first release devoted entirely to Höstman's compositions, she has entrusted the steering of her craft to the eminently capable hands of
pianist Cheryl Duvall
. Höstman's music still conveys an elated sense of being transported by sound. Although this set opens with an allemande and concludes with an adagio, her approach to formal design is manifestly intuitive, personal, and flexible, rather than imitative or bound to historical models.
Duvall nurtures the intrinsic suppleness and buoyancy of each of these six alluring pieces, their melodic trails that seem to wander yet never appear directionless, and yielding harmonies that suggest dappled light and ventilation, even amid the pensive shadows of darkness . . . pines or the austere clarity of late winter (written for left hand only). This unforced yet compelling music, finding its own bearings while negotiating sonic swirls and eddies, brings to my mind Emily Dickinson's wonderful notion of "rowing in Eden" without chart or compass. Höstman's phrasing and cadences, her unhurried progress and sensitivity to rays of illumination seem—like Dickinson's poetry—to be charged with quiet ecstasy, taking intense but gently articulated pleasure in their own fleeting existence within music's unbounded and mutable flow.