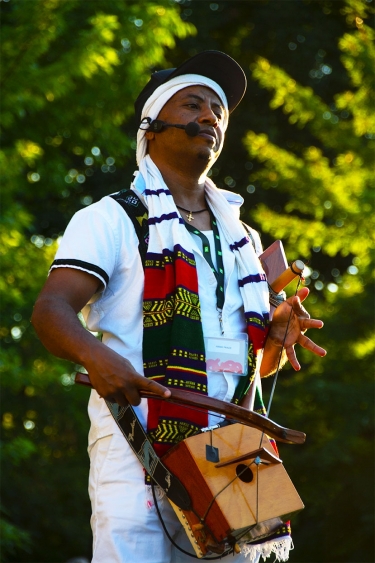 Since its inception in 1994, the Guelph Jazz Festival has delivered a thoughtful blend of international and local jazz, academic discourse, and strong community engagement.
Cancelled in 2020 due to COVID-19 public health concerns, the festival returned this summer, striking a fine balance between musical quality and public safety. Gone were the festive strings of bands in the city's market square; gone, too, were international artists. The usual academic colloquium presented by the International Institute for Critical Studies in Improvisation (IICSI) was limited as well, and consisted of a sponsored sound installation and one post-concert interview. The few indoor events could have only limited attendance, in observance of social distancing protocols. Somehow, though, despite all those limitations, the Guelph Jazz Festival was a triumph, a creative return to live music.
The festival included two unique performances involving the Guelph urban environment. The IICSI sponsored a free public installation by sound artist Lisa Conway in the Goldie Mill Ruins, which transformed the remains of the nineteenth-century riverside structure with the shifting sounds of underwater microphones, with neon sculptures and a light show. The first ticketed indoor performance was a project by Toronto turntablist SlowPitchSound that integrated Guelph field recordings with sometimes dense, sometimes tranquil electronic music.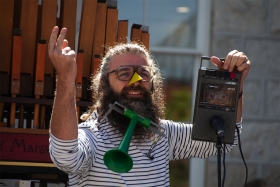 Friendly Rich Marsella performed his piece The Birds of Marsville three times in diverse open spaces. He merged manic energy and invention in a brilliant all-ages performance that combined an array of traditional and homemade instruments (including an orchestrion) with a series of paintings and songs about birds from an imaginary island. For an hour, Friendly Rich talked, sang, danced, and played a kazoo strapped to his face. The birds, painted in satirical figures comparable to a medieval bestiary, were ascribed human traits in a kind of street theatre. Rich would pick up a painting of a bird, hang it on a clothesline, and begin a song about it; sometimes playing a kazoo or synthesizer, sometimes squawking on a clarinet, and at one point dancing a flatulent melody on whoopee cushions connected to long PVC pipes. If anything existed to which it could be compared, The Birds of Marsville would be the best of its kind.
The usual stream of bands at Market Square was replaced by a series of concerts that rotated through parks across the city, celebrating the range and scale of Guelph's green spaces. Each program featured three musical groups and celebrated a different facet of jazz. The program Pops Said All Music Is Folk Music celebrated Louis Armstrong's spirit of inclusivity and drew on Ontario's richly multicultural fabric. It climaxed with a brilliant performance by Ethio Azmari, an Ethopian band led by Abebe Fikade [top photo], who sings, plays masenqo (a one-stringed fiddle), and leaves no doubt about the African roots of blues and jazz. A highlight of Percussion International was the stirring, ceremonial, traditional Korean music of Ensemble Jeng Yi.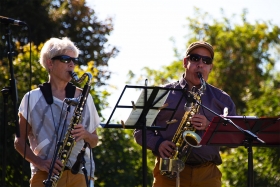 Old Jazz Made New presented three bands, opening with pianist Teri Parker's Free Spirits bringing a fresh perspective to music composed by two relatively neglected pianist-composers: Mary Lou Williams and Geri Allen. Trumpeter Ellwood Epps's Montreal-based quintet Togetherness! focused on the 1960s emergence of South African jazz musicians who, upon escaping apartheid, brought a rhythmic élan and hard-earned joy to European free jazz, adding celebratory, danceable themes and expressionist improvisations. Two brilliant reed players, clarinetist Lori Freedman and alto saxophonist Jean Derome [photo]  fused with bassist Stéphane Diamantakiou and drummer Ivan Bamford on such anthems as Mongezi Feza's "You Ain't Gonna Know Me ('Cause You Think You Know Me)," Abdullah Ibrahim's "Jabulani" ("Rejoice"), and Don Cherry's "Happiness."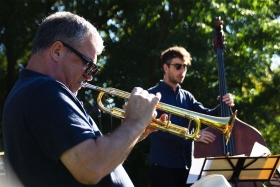 Toronto-based arranger-saxophonist Ted Crosby has led several versions of the Revival Ensemble [photo] in his reimagining of Far East Suite, Duke Ellington's last collaboration with his composing partner Billy Strayhorn. Crosby has done a masterful job of re-voicing the work for a twelve-member band, shrinking the original horn sections while broadening the palette with violin, vibraphone, and two electric guitars. Vibraphonist Michael Davidson, drummer Nick Fraser, and bassist James Meger created a foundation that was at once profoundly rooted and subtly nuanced. Further, Crosby's reworking delighted with subtle combinations of small groups across instrumental families. The greatest shift, however, was in the expanded language of the improvised solos: free jazz was paired with abstracted improvisations from Crosby, trumpeter Kevin Turcotte, tenor saxophonist Glen Hall, and guitarist Colin Fisher, all sown into Ellington's heady invocation of far—and more often near—Eastern harmonies.
The River Run Centre foyer, with its sun-filled, high, glass walls overlooking the river, was the venue for three afternoon solo performances on pianist and piano technician Andrew Wedman's Bass Piano XII, an ancient upright retuned an octave lower than standard to create an instrument of strange resonances, distant echoes, and shifting, unpredictable timbres. As the daily performances proceeded, the bass piano revealed its distinctive character; its unique timbres a welcome deconstruction of a piano's characteristic evenness of tone. Casey Sokol's improvised set began in a high register that somehow assumed the sound of a marimba, moved to a zither-like middle, and then gradually expanded over the range of the piano, finding timbres that Ives and Debussy might have welcomed. Tania Gill found a koto-like sound in the middle register in her performance of intriguing melodic touchstones. Her extended improvisation on "Body and Soul" created a sense of dilation in time. Ryan Driver used the bass piano along with a synthesizer to add myriad subtle touches to his singer-songwriter set.
The full impact of the COVID-19 lockdown was brought to life in a concert by bassist Rob Clutton's trio with alto saxophonist Karen Ng and drummer Nick Fraser. The group released a fine CD of Clutton's compositions called Counsel of Primaries very near the beginning of the first Toronto lockdown in the spring of 2020. Upon its release, it was a subtly etched group of pieces, almost minimalist in tone, quietly involved and involving. More than a year later, in the strange isolation ward of the Royal City Mission church, the same compositions became firestorms and free-for-alls of impassioned tumult, with the three instrumental voices stretching against any formal, emotional, or technical constraint. Another ticketed concert presented the improvising duo of trumpeter Jim Lewis and percussionist Jean Martin, who used electronics to combine, multiply, and transform their individual voices. The festival closed with the Montreal string quartet Quatuor Bozzini performing a trilogy of engaging pieces by Toronto composer Martin Arnold.
All things considered, the Guelph Jazz Festival was a tribute to its city, its organizers, its audience, and its community. One can only imagine how good the next one might be under anything resembling usual circumstances.
---
All 2021 Guelph Jazz Festival photos by Lily Ramsey.