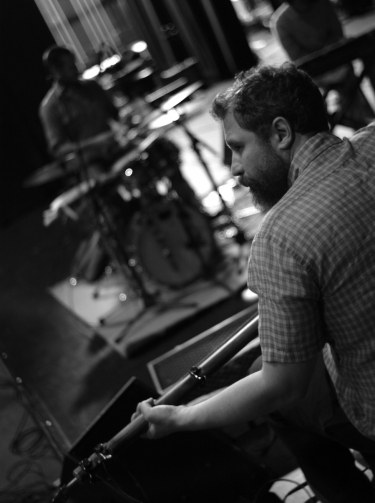 THERE'S AN ENGAGING CATCH-AS-CATCH-CAN LOOK
to Joshua Abrams' Natural Information Society, something that immediately conveys a certain spontaneity, yet disguises—slightly—the complexity of the music. During the band's North American tour in May 2015, which included performances at
Festival International de Musique Actuelle de Victoriaville
and Toronto's Array Space, an unusual combination of instruments was put into action—an international array of percussion (drum kit, congas, tablas, frame drum, a small gong), a Rickenbacker twelve-string electric guitar, an autoharp, harmonium, and Abrams' own guimbri, a North African bass lute wrapped in a camel skin. Natural Information Society may look like a globalized jam-band, but its sound is tightly focused, Abrams' guimbri or bass generating pulsing ostinatos that are touchstones in a maze of overlapping rhythms, textures, and drones.
Natural Information Society is a group with a mission—a singular emphasis on the human and the humane in music in the midst of a galloping digitized industry. Its work resonates with Moroccan Gnawa music, the rhythmic minimalism of Steve Reich, the modal improvisations of John Coltrane and Terry Riley, the early cross-cultural jam of Don Cherry's Brown Rice, Anthony Braxton's pan-cultural Ghost Trance Music and shifting echoes of Roger McGuinn's clanging Rickenbacker and Allen Ginsberg's harmonium.
Joshua Abrams has covered more styles than most musicians, since setting out as a member of The Roots as a Philadelphia teenager. That early experiment of combining the style and technology of hip-hop with musical instruments helped shape his vision, in both his willingness to take chances and his particularly creative sense of a genre's possibilities. In 1991, Abrams left Philadelphia to attend Northwestern University in Evanston, Illinois, and soon found himself immersed in Chicago's rich musical heritage. Its reputation as America's Second City may name a comedy troupe, but in terms of blues and jazz, Chicago has been America's first city, a place where different musics merge with greater freedom than other places. As Anthony Braxton once remarked, "Even Louis Armstrong had to go to Chicago to invent the solo."
The city's rich music scene proved more fruitful for Abrams than did school. Work for musicians back then was still plentiful, and he found himself subbing in bands of veterans as well as musicians his own age. "For me, jazz is a social music and you gain some of the most important experience while you're actually working," he explains. "In Chicago at that time, there were still working bands, and I got to play often with members of different generations, which is different from learning jazz in college and then playing mostly with peers. I had the chance to play for months with Lin Halliday [the veteran tenor saxophonist who passed away in 2000] and with [guitarist] Bobby Broom, both huge learning experiences."
In the '90s, Chicago was becoming a magnet for musicians. The Association for the Advancement of Creative Music, founded in the '60s, still endured, and the migration of musicians like Ken Vandermark, Dave Rempis, and Nate McBride—all from Massachusetts—added to the ferment. Chicago also became a rare haven for members of the European avant-garde—such as Peter Brötzmann, who did the unthinkable by organizing a free-jazz big band, his Chicago Tentet.
Along with Vandermark's extraordinary organizing activities and numerous bands, there are also strong ties in Chicago between the further edges of jazz and the rock community, with post-rock ensembles like Tortoise blurring readily into free jazz and drone music; Abrams, who has appeared on Tortoise records, played a weekly club date with Tortoise's John Herndon and Jeff Parker from 2004 to 2008.
Abrams has been an integral player in Chicago's creative ferment for over two decades now. Part of his importance has to do with his sheer rhythmic acumen. When he started playing in The Roots, the band called him The Original 808, after the early drum machine known for its particular bass sound. In the mid '90s, Abrams was the house bass player at veteran tenor saxophonist Fred Anderson's Velvet Lounge, a key locale where Anderson comfortably bridged free jazz and the strongest traditions of hard bop.
Moving fluidly between styles, Abrams further extended himself beyond jazz and hip-hop to embrace minimalism, free improvisation, and soundscape. In the late '90s, he became part of Town and Country, a quartet with Ben Vida, Jim Dorling, and Liz Payne, that devoted itself to acoustic minimalism, with a refreshing openness that saw them move from the textured, spatial style of Morton Feldman to extended drone pieces that suggest folk sources from Africa to Appalachia.
Cipher, released in 2003 on Delmark, was recorded with a freely improvising acoustic quartet that included Axel Dörner, Guillermo Gregorio and Jeff Parker. Abrams worked in his home studio constructing the complex soundscapes After and Busride Interview (both on Lucky Kitchen) in which he mixed instruments, electronics, drones, and field recordings. Using the moniker Reminder, he mixed beats and live instrumentation, releasing Continuum (Eastern Developments, 2005) and West Side Cabin (Easel, 2007).
Yet as Abrams worked on so many fronts, one instrument in his collection remained largely unplayed: the guimbri, which he'd acquired during a 1998 trip to Morocco. "The sound of the guimbri on The Trance of Seven Colors [by Maâlem (master) Mahmoud Ghania and Pharoah Sanders] became almost a guide," Abrams recalls. "I had the chance to hear Gnawa music live in Marrakesch's Jemaa El Fna. In Essaouira, I met Maâlem Najib Soudani, who gave me a basic understanding of the instrument, as well as my first guimbri. Back in Chicago, I wondered if it was right to take it up, but Hamid Drake [a drummer who recorded with Mahmoud Ghania in 1996] kept encouraging me [to play it]."
Abrams eventually succumbed. A bass-player's bass player, he is a connoisseur of the ostinato, and a keen student of the different ways bass players can approach it: "Malachi Favors often played ostinatos in a really strict way, only altering them gradually, whereas Bootsy Collins was constantly altering them in his early work with James Brown." That leap from free jazz to soul signals Abrams' breadth, but his current music owes much to the repetition of the Gnawa's music and to the kind of percussion music created by Steve Reich, itself related to some schools of African drumming.
His first two recordings on guimbri both use hypnotic drones but are very different. In 2007, Town & County developed another identity, DRMWPN (pronounced Dreamweapon), expanding to a tentet with additional members, like drummer Michael Zerang and guitarist Emmett Kelly, to develop long psychedelic drone jams filled with tinges of Indian and North African music. The group released the LP-length live recording Bright Blue Galilee (Reckless Records) that includes Abrams' guimbri deep in the mix. The second recording is at the heart of drone-centred, modally based free jazz, a profoundly elegiac piece called From The River To The Ocean by a band co-led by Fred Anderson and Hamid Drake.
Abrams' expanding interest in the guimbri's potential put it at the heart of a series of almost casual home recordings, experiments in drones and continuous texture involving overdubbing and a range of instruments. The music eventually released as Natural Information (2010) is clearly the result of an intensely personal exploration of sound. Abrams plays guimbri, bass, assorted percussion, and electronics—sampling machine, a synthesizer—with occasional appearances of folk instruments: harmonium, dulcimer, and donsa ngoni, a low-pitched African string instrument.
The opening invocation is all Abrams and all shimmering space, filled with the sound of the dulcimer; another overdubbed solo piece consists of ethereal loops. The other musicians come in pairs. Abrams plays two pieces with guitarist Emmett Kelly and drummer Frank Rosaly, distinct harbingers of what the project would become. It's concentrated, hypnotic music rooted in rhythmic density and constant subtle permutation, with the bright, pulsing sound of Abrams' guimbri its central focus. The other trio has drummer Noritaka Tanaka and vibraphonist Jason Adasiewicz playing bright, metallic music. The work has a special quality, with its constant shifting and evolving rhythmic figures creating a dynamic relationship to time, as the music seems to pulse and stand still at once, ever changing while maintaining a constant identity.
Abrams gave a copy of the Natural Information tape to Michael Ehlers of Eremite Records, a passionate advocate of the post-Ayler branch of free jazz, whose response was immediate. All of Abrams' recordings on the label have been released in limited editions as twelve-inch LPs in heavy jackets, each designed by Lisa Alvarado, Abrams' wife, who is also a performing member of the band.
The second Abrams LP, Represencing (2012), established a new visual presence, an Alvarado painting that consists of a geometric pattern made up of five interlocking colours. Used as a backdrop for performances, it's a modular visualization of the music itself. The pattern of the music continues, with Abrams creating small ensembles (duos and trios) with powerful rhythmic duets with drummer Chad Taylor and individual appearances by frequent collaborators such as Nicole Mitchell and Jason Stein.
By 2012, Abrams was performing this music as Natural Information Society, a modular group that appeared as a small duo, Abrams and Frank Rosaly, but more often as a trio or larger, its members likely to include Rosaly, Kelly, drummer Mikel Avery, Alvarado on gong and harmonium, and Ben Boye on autoharp—the full group that toured North America in the spring of 2015 and which featured guest percussionist Hamid Drake in Victoriaville.
For the recent two-LP Magnetoception, Abrams put more emphasis on a consistent band than he had for previous recordings, working with a quartet of Drake and guitarists Kelly and Jeff Parker, adding additional elements of harmonium and chromatic electric autoharp from Alvarado and Boye.
From the loop pieces of Natural Information to Abrams' unaccompanied clarinet solo on Magnetoception, the records might seem like a studio project, but they form a distinct continuum, an evolving musical language, touching on many of Abrams' key experiences and further rooting them in a fundamental idea: "I like music with an undulating repetition, so that it sounds like it's repeating but there's constant change." The guimbri acts as Abrams' central organizing voice for his Natural Information Society compositions: "Sometimes the composition is cellular, such as in Translucent. The musicians move through multiple possible counter melodies in relation and response to the other musicians doing the same process, some working with different material. Orchestration is always important. The improvisations have structural anchors as well, sometimes a harmonic progression (Spiral Up, San Anto and Cloud Walking) or limitation (Lore and Translucent), as well as rhythmic and conceptual direction.
"A piece like By Way of Odessa is a head chart that proceeds glacially. I created a nine-note scale that helped me write the melody. I wanted the feeling of held breath, or being on a precipice. The title refers to my grandfather's route of emigration from Europe to New York." The side-long piece on Magnetoception emphasizes the emotional character and depth of Abrams' music, somehow bridging the ancient worlds of Eastern Europe and North Africa both tonally and timbrally.
Abrams articulates the differences between the guimbri's role in the Gnawa's ceremonial traditions and the pluralistic, technological world in which he works: "I aim to create compositions and arrange environments that highlight the instrument's strengths in new contexts. The guimbri hails from a longstanding, codified, mystic healing tradition as well as appearing in secular music. That tradition is an inspiration for the group, as are many spirit musics, both non-Western and Western.
"Being from the West, we don't have an exact tradition of how our music affects people, but we aim to produce a space of slowness and flow that acts as counterbalance to the pace and short attention span of contemporary technological society."
FYI: Joshua Abrams performs at OBEY Convention IX in Halifax (May 26-29, 2016). Abrams' Magnetoception was released as a double LP on Eremite Records, and is available as a download from itunes. Automaginary, a collaboration between Natural Information Society and Bitchin' Bajas, was released in August 2015 on Drag City Records.
---
Audio: Represencing. Composed by Joshua Abrams, performed by Joshua Abrams' Natural Information Society. Recorded in concert at ArraySpace, Toronto, May 2015. Photo of Joshua Abrams with guimbri by: Mikel Avery