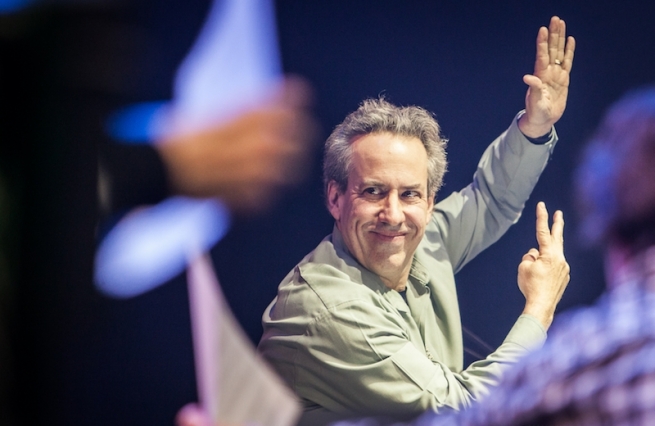 In 2014, FIMAV celebrated its thirtieth edition—a testimony to founder and artistic director Michel Levasseur's vision and pragmatism. He has built a loyal audience, secured firm community, government, and industry support, and developed a team that year after year delivers musicians from around the world to this hamlet midway between Montreal and Quebec City.
Having reached the thirty-year milestone, Levasseur has clearly been reexamining the festival's vision and purpose. While FIMAV retained its usual breadth this year—concerts featuring veteran European artrockers (Laibach, Magma), electroacoustic music and video (Canadian duo Instant Places) and elegiac chamber music (cellist Erik Friedlander's Claws and Wings)—a fresh emphasis was placed on projects of scale (large bands and works that can rarely find a stage and are even less likely to travel).
This was evident in the opening night concerts. Jason Kao Hwang's Burning Bridge, a five-movement work for octet, matches brassy Western winds and Chinese string instruments with a free jazz rhythm section and Hwang's own violin, its tone clearly the product of European classical traditions, and his vocabulary a global compound. A striking work from the start, the piece was no mere pastiche of jazz and Asian elements, but rather an alchemical fusion, the sound and pitch of Steve Swell's muted trombone merging with the bright sounds and bending pitches of Wang Guowei's erhu and Sun Li's vivid pipa. The work passed through many dimensions in its eighty-minute course, but what was most remarkable was the musical language that developed in its improvised duets, whether it was Swell matched with Guowei or Herb Robertson on flugelhorn with Li, or Hwang with bassist Ken Filiano, each combination celebrating weddings of timbres and collisions of pitch (and vice versa).
More ambitious still was
Jean Derome's Résistances
, a debut that marked the beginning of a thirteen-month performance series that Derome
[see FIMAV 2015 photo above]
is undertaking
in celebration of his 60th birthday
. FIMAV has provided Derome with a platform for large-scale projects through the years, but the twenty-member orchestra was the largest yet, a symmetrically arranged assembly of many of Montreal's most creative musicians exploring a vast score that merged written components, conduction, multiple conductors (among them, an iPad) and improvisation in an exploration of electricity in many of its dimensions, including a sixty-cycles-per-second hum as the key to the North American power grid. It was witty and explosive, ranging from a repeating sequence of electronic blasts to gospel and R&B-fuelled passages that linked to Charles Mingus and the big-band jazz tradition and further on, to Derome somehow getting his computer to function as a Jew's harp in a solo interlude. The materials used in
Résistances
will evidently lend themselves to numerous and divergent incarnations, but this debut was a fitting introduction to the composition's potential.
Hans Tammen set aside his "endangered guitar" to conduct the fifteen-piece Third Eye Orchestra, employing a set of organizing tools akin to Derome's (conduction, cues, notated passages) in a work that gave freer rein to individual voices (both literal and figurative), at the risk of turning into strings of solos. Emphasizing contrasts between sub-groups of strings and woodwinds, the group was propelled by the flexible force of brothers Stomu and Satoshi Takeishi on, respectively, bass and drums. Certain soloists were irresistible, among them pianist Denman Maroney, with his unique expansion of the idea of prepared piano, Ned Rothenberg, for the reflective depths achieved via circular breathing on bass clarinet, and violinist Sarah Bernstein, an incendiary improviser, and a stand-out on a stage littered with New York virtuosi.
While Derome and Tammen bridged free jazz and orchestral new music, The Nels Cline Singers Unlimited—expanding from a trio to a septet—managed to combine elements of free jazz and arena rock. A performance that began with sparse arpeggios from Cline's guitar accumulated tremendous mass from paired drummers, electric harp, bass, and keyboards, the best moments found in the stylistic contrast between Cline's relatively smooth, high-speed runs and the edgy, raucous bricolage of fellow guitarist Marc Ribot.
Joshua Abrams' Natural Information Society, on tour at the time as a sextet, added one guest member for its FIMAV set, percussionist Hamid Drake, who brought further dimension with his congas and tablas. The rhythm-centric band includes two drum kits, autoharp, and harmonium (played largely as drones), with Abrams on guimbri and guitarist Emmett Kelly often playing ostinatos. Abrams, who has made the North African three-string bass the ensemble's distinguishing sound, played complex ostinatos where one expected melody, creating a sonic centre for the group's pulsing, teeming rhythm. The music changes imperceptibly, but it's constantly evolving and involving, a continuous stream of dynamic, overlapping patterns that bring each instant to life.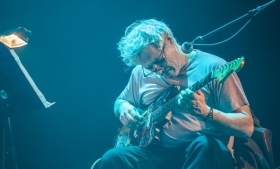 Small groups, however, provided the festival's most luminous moments. Marc Ribot's Ceramic Dog [left: Ribot]—including drummer Ches Smith and multi-instrumentalist Shahzad Ismail—presented a highly improvisatory and corrosively dissonant panorama of Americana, taking in the recently deceased B.B. King's "The Thrill Is Gone," Hank Williams' "Cold, Cold Heart," Paul Desmond's "Take Five," and Ribot's own "Lies My Body Told Me." The polar opposite to Ribot's visceral guitar, Akio Suzuki and Aki Onda produced subtly imaginative, fleeting sonic art, Suzuki playing invented wind and percussion instruments, while Onda worked with various sound sources, among them a cassette of water sounds, cymbals placed on the floor, and a metal detector.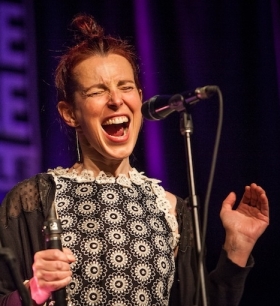 An improvising quartet—turntablists Dieb 13 and Martin Tétreault, quarter-tone trumpeter Franz Hautzinger, and vocalist Isabelle Duthoit [right photo]—created an hour-long piece of rare intensity, often focused around Duthoit's extraordinary voice, which stretched from bass falsetto to whistling highs that hit a kind of musically controlled scream. Just as remarkable was Kaze (pianist Satoko Fujii, drummer Peter Orins, and trumpeters Christian Pruvost and Natsuki Tamura), which touched convincingly on the rapid unisons of post-bop jazz, and reached its finest moments in explorations of extended techniques, highlighted by Pruvost's command of harmonics and Tamura's witty use of toys as an alternative to his horn.
By welcoming regional and far-flung music of different genres and divergent moods and methodologies—from subtle to aggressive, from rehearsed to arbitrarily juxtaposed—FIMAV remains a special festival, where you can explore your preferred tastes and also venture beyond.
---
All FIMAV 2015 photos by: Martin Morissette