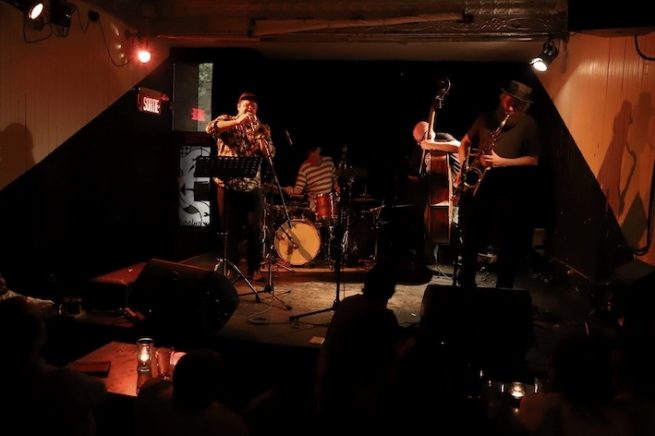 Spread across four main halls and seven auxiliary venues, the sprawling 2019 Suoni per il Popolo Festival encompassed close to two hundred acts covering the musical spectrum, including electronic, jazz, rock, and the less easily classifiable. The festival is breathtaking in its scope, and—with most evenings presenting four or more simultaneous concerts—impossible to exhaustively cover. Nevertheless, here is a taste of what I was able to take in over the span of twenty days.
The Dedalus Ensemble, a septet founded by Didier Aschour, presented an evening concentrating on the formalized and minimalist compositions of Tom Johnson. Counting to Sevens did exactly that, running through the numbers from one to seven in about thirty languages while clapping time, reminiscent of Philip Glass' Einstein on the Beach. Narayana's Cows follows the growth of a herd through the years. A narrator states the number of cows in a given year, and the musicians then play the same number of staccato hits to hilarious effect as the herd grows exponentially. The second half of the evening had Quatuor Bozzini playing the music of Andrea Young, with the composer participating on vocals and live electronics. Two of Young's works were performed, Charred and L'enfumée, the latter consisting of parallel glissandos from the strings and Young's voice.
Niels Løkkegaard's Triangular Mass had seventeen triangle players—sixteen from the community, plus Løkkegaard—arranged on the perimeter surrounding the audience. The resonances of the continuously struck triangles merged into one shimmering sheet of metallic sound. The effect was enhanced by pulsating ghost tones arising from interfering acoustic waves and the natural eight-second reverb in the Gesù church. Løkkegaard later performed a related piece with Montrealer Nicolas Bernier, using ten oscillators. The effect was similar to La Monte Young's New York City Dream House, with sine waves interacting to create changes of volume and frequency in time and space, so that even making small head movements caused listeners to perceive different frequencies.
Cloud Circuit is a trio with Jeremy Young on guitar, Philippe Vandal on saxophone, both also playing assorted vintage and homemade electronics, and Deanna Radford on voice. Like electronic clouds floating above land, static filled the air above low pedal tones, spiced with sax and scraped objects amplified by contact mikes. Radford stood calmly within the noise storm reciting from a collection of poems which were scattered about the floor. In a perfect match of music and text, the words touched on different types of clouds, from the vaporous objects in the sky to the computer variety.
The René Lussier Quintet tightly wove disparate styles from Quebec folk to circus pomp, funky beats, and underlying noise. Sections of heavy guitar were followed by an accordion solo punctuated by tuba. With a Lussier daxophone solo bringing the humour underlying the show to the fore, this was musique actuelle brought to a brilliant new level. Opening were Vicky Mettler and Cole Schmidt in a jagged display of modern guitar improvisation. Schmidt's jangled atonality overlay Mettler's distorted spikes and shrieks that looped into a barbed wall of grinding metal.
A Suoni tradition, the Trading Places series, has West Coast improvisers flown in to conduct workshops and concerts with their Montreal counterparts. This year Vancouverites James Meger on bass and cellist Marina Hasselberg joined with a quintet of local players, including guitarists Mettler and Bernard Falaise, clarinetist Lori Freedman, Pierre-Yves Martel on cello, and Isaiah Ceccarelli on drums. Rises and falls in intensity depended on who jumped in or laid out. While each musician was given ample space to display their chops, the moments with everyone in were peaks.
This year's edition placed Le Jazz Libre du Québec in the spotlight. The province's first free-jazz unit saw the launch of Eric Fillion's book on the history of the group, a four-CD archival release on Eric Normand's Tour de Bras label, and a Suoni concert anchored by original Jazz Libre drummer Guy Thouin. The concert commenced with Thouin's current group the heArt Ensemble, a duo with saxophonist Félix-Antoine Hamel, here expanded into a quartet with trumpeter Craig Pedersen and bassist Nicolas Caloia. They played tunes from the Quatuor de Jazz Libre catalogue in a superb set that was both nostalgic and modern. The second set featured Thouin with a succession of saxophonists from past and present, including two duos first with Hamel and then with Claude Maheu, the latter as vibrant a player today as he was in the 1970s. Next up was a trio with Bryan Highbloom and Raymond Torchinsky, players who have been together for decades, their tightness evident as they went through a hocketing fast-paced number. A finale brought all back for a bluesy shuffle entitled "Dump Trump."
The Black Seas Ensemble performed a two-part work, based on five years of research on hallucinogenic vibrations, by Steve Bates, with films by Michaela Grill. Part 1 screened rising and falling seas, the waves cresting in time with slow overdriven guitar chords from Bates. Part 2 was an episodic work with highly variable sections, the lyrics and spoken words detailing various dreamy illusions. A haunting solo ballad from Elizabeth Anka Vajagic stood out, followed by an intense crescendo of cymbals which gave way to Sam Shalabi's melodic shredding on oud over sustained strings and electronics.
Pianist Dave Burrell's stellar solo set showcased thundering block chords with dissonant high-end splashes, free but deeply rooted in the blues. The previous afternoon he led a workshop that included a young child on drums as well as experienced performers like Caloia and pianist Karoline Leblanc. The diverse group improvised in harmony, a moment that perhaps best captured the spirit of the Suoni per il Popolo Festival: bringing everyone together.
---
PHOTO:  Le Jazz Libre du Québec at the 19th Suoni per il Popolo festival.
Photo by Pierre Langlois