The historical importance of the Quatuor de jazz libre du Québec has been well recognized. Recent book (Eric Filion's Jazz libre et la revolution québécoise, M Éditeur) and archival CD (Jazz libre du Québec: musique-politique—1971-74, Tour de bras) releases have highlighted the cultural role the group played in Quebec and the continuing vitality of their music. Two albums of new music from founding Quatuor member Guy Thouin confirm that the tradition begun in the mid 1960s remains vibrant more than half a century later.
Early studies in sculpture stimulated drummer and percussionist Thouin's interest in experimental art and he soon turned towards contemporary music and free improvisation. Aside from cofounding the Quatuor in 1967 and l'Infonie in 1968 (the latter with Société de musique contemporaine du Québec artistic director Walter Boudreau), Thouin studied music at McGill University and in India. Originally formed in 1986 with different members than heard on these two discs, the heArt Ensemble is, in name and deed, a nod to the pioneering music of the Art Ensemble of Chicago. Still active in the Montreal improvised music scene, Thouin hosts weekly sessions of experimental music in his basement.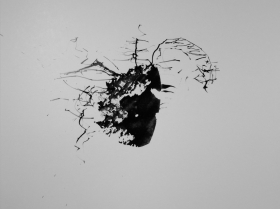 Thouin's background in free-jazz, Indian, and contemporary music is evident in his two latest albums. From the Basement collects eight tunes from Thouin's regular weekly sessions with saxophonist Félix-Antoine Hamel, who is a mainstay in the free-jazz and noise scenes in Montreal, playing in several of the city's more fiery formations, including Ninja Simone and the David and the Mountain Ensemble. Almost inevitably with any free-jazz sax-and-drum duo, there are moments that conjure John Coltrane and Rashied Ali's Interstellar Space. For example, "Black Hole" would not only have fit right in with the earlier disc's astronomical concept, but also occupies a similar sonic world. Other works, such as the polyrhythmic "Tehai (Takedhin)," are more refined, with a soprano saxophone line floating over a bed of hand drums, sandwiched between an intro and an outro of percussive vocal utterings.
The music assumes a softer edge in the eleven-track Oréade, as the heArt Ensemble adds harpist and electronic musician Marilou Lyonnais-Archambault to the From the Basement duo. While strains of free jazz remain, the music becomes more structured as the harp envelops the music in an ethereal gauze. The aptly titled "Day Dream" features soothing harp glissandi and sparse percussion, over which Hamel lays gradually morphing repetitive lines. Other tracks, like "Industrial Jazz," hit harder, the sax and drums largely dominating Lyonnais-Archambault's ambient electronics, which occasionally punch through with white-noise wind or an anguished whine.
Not surprisingly for modern recordings of weekly basement get-togethers, the sound quality approaches that of a good studio recording while retaining the edge of a bootleg, the live feel serving the music well. With weekly gatherings ongoing for almost five years now, it is good to see heArt Ensemble's music getting out of the basement to reach a wider audience.