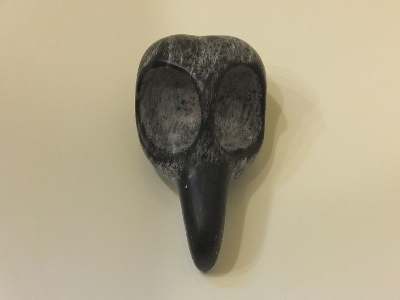 Truro-based guitarist and composer Amy Brandon is a quietly singular figure whose musical language hovers softly between numerous familiar styles—notably outside jazz, fingerstyle, and modern composition. Scavenger, her debut recording, isn't especially conspicuous, yet it's nearly impossible to think of any cohabitants of her very particular universe.
While nylon-string guitar is unquestionably in the foreground on the disc, much of it is also underpinned by a dark smear of guitar-derived electronics. These soft, quivering nocturnal contours offer gentle textural friction and cast a bold tonal shadow, providing the perfect counterpoint for her dense guitar murmurings. Where many guitarists—even other quiet ones—play in a manner that asserts a driving directionality, Brandon's phrasing is as nimble as it is Delphic, tracing uneven coils that swiftly fall inward. There may often be, thanks to the aforementioned electronics, a consistent tonic—a quality that lends the music its vague folk tenor; but otherwise, the harmonic fabric is peculiar, skillfully woven from disparate stray fibres.
At points, Brandon shares the aural scene with collaborators. The fleeting appearance by vocalist Laura Swankey on "Stella," midway through the record, offers a beautifully surreal mirage—one that only furthers the music's strange ethereality. The other guests—two very competent guitarists—exert a pull toward more conventional territory, which only sets Brandon's singular vision in sharp relief. Scavenger is strongest and most magical when Brandon's enigmatic personality comes through without any adulteration.
Even with its diversions, Brandon's hypnotic music is successful in establishing a clear sense of place. It's not the sort of music that bludgeons the listener with token displays of virtuosity or modernity. Instead, it disorients its audience, surreptitiously enveloping the listener in rich, unfamiliar surroundings.