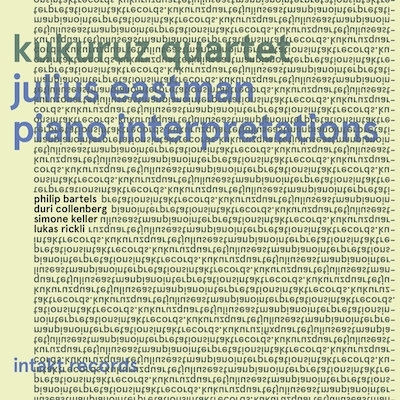 One outcome of the streaming era—not a necessary one, but a likely one—is the devaluation of liner notes. It's not that they don't exist; for example, George Lewis's excellent notes to this collection of Julius Eastman piano works by the Kukuruz Quartet appear both in the CD booklet and as a PDF with the download version. But they should be recognized and treated as the scholarship they sometimes are, and not left by the wayside when digital files make their way along the stream to other paid (and illicit) streaming services. That's because Lewis—himself, of course, a musician, composer, academic, and author—frames so precisely in his essay what is so important about the four compositions performed here by the four pianists of the Kukuruz Quartet.
More than a quarter century after his demise, Eastman (who faced homelessness and drug addiction during his latter years, and was all but unknown when he died at age forty-nine in 1990) has become something of a new-music cause célèbre in recent years. He was the subject of a concert and gallery retrospective at the Kitchen in New York City, a venue where he had performed in a city where he had lived, and his spirited New York minimalism has been recorded anew and included in concert and festival programs around the world. The Kukuruz Quartet album is a worthy addition to the groundswell. They don't shy away from the profound descending theme of Evil Nigger and they find the fragility in Gay Guerrilla (both composed in 1979). At twenty-one and thirty minutes respectively, those two compositions dominate the disc. The program is rounded out by a pair of less frequently heard works, the tilting and swaying Fugue No. 7 (1983) and the nearly translucent Buddha (1984). Eastman had a penchant for composing for ensembles of like instruments, and his work for multiple pianos is his strongest. The Swiss pianists might not have a wealth of material for their ensemble, but they embrace and inhabit Eastman's work with full commitment.
In his liner notes, Lewis compares the collective forgetting of Eastman's work to that of another African American composer, Julia Perry, who died eleven years earlier than he and is still awaiting her own rediscovery. Lewis writes that composer, bassist, and visual artist Benjamin Patterson has until recently also been left out of the histories. There are other examples, and Lewis provides them.
This perhaps wilful forgetting, Lewis suggests, is the result of persistent framing of the avant-garde as an extension of European (read: white) artistic traditions. Eastman—a gay American of African decent—seems, even feels, to have been plenty aware of his cultural confinement. His titling of works (his portfolio also includes Nigger Faggot, Crazy Nigger, Dirty Nigger and If You're So Smart, Why Aren't You Rich?) is confrontational, even aggressive, while the works themselves are sometimes meditative, sometimes intellectually stimulating. Eastman isn't challenging us to forget him, though, so much as he's saying that he knows we will. It's our job to prove him wrong, so that future generations see a late twentieth-century minimalism that doesn't only have the complexion of Cage and Feldman. Kukuruz has done much to help stave off that near certainty. And so long as his text isn't left along the edge of the information superhighway, Lewis has done so as well.